There has been ongoing speculation that Florida Governor Ron DeSantis is planning on running for president in 2024, setting up a possible showdown with longtime ally Donald Trump.
While neither the former president nor the governor have formally declared their intentions for the GOP nomination, both men have long been considered the two leading candidates to eventually face off in the Republican primary.
Almost every poll states that Trump is the overwhelming favorite to clinch the GOP nomination should he decide to run again, something he has been hinting about from almost the moment he left office last January.
Recently, Trump dismissed DeSantis' chances of beating him in a hypothetical primary election, insisting that he is still the biggest name in the GOP.
"I don't know if Ron is running, and I don't ask him," Trump said. "It's his prerogative. I think I would win."
Below, Newsweek details five examples why Trump may not be the guaranteed name on the ballot in 2024 and why he may need to start taking DeSantis more seriously.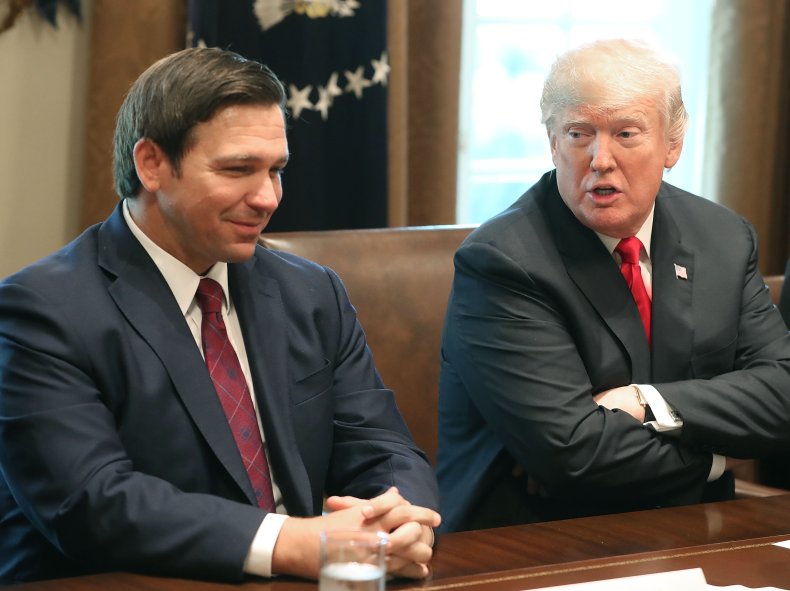 DeSantis Already Indicating His Intention To Run
The governor's name is starting to gain prominence within the GOP outside of Florida, and he has been seen in campaign events and fundraisers in Nebraska and South Carolina over recent months.
DeSantis also frequently implements himself, and the state of Florida as a whole, as key figures in a wide range of conservative talking points, whether it be the reaction to the coronavirus pandemic or the teaching of critical race theory in schools.
It has been noted that DeSantis appears to be trying to distance himself from Trump ahead of a potential 2024 presidential bid.
According to a recent Politico report, DeSantis will not be seeking a highly sought-after Trump endorsement as the Florida governor looks to win reelection in November's midterm.
Republican figures have also noted that DeSantis may actually be the better candidate over Trump.
"DeSantis has a better shot, in my opinion," Jim Dornan, a veteran GOP strategist who worked on Trump's 2015 exploratory campaign committee, previously told Newsweek.
"Trump versus Biden would be a toss up-a total 'hold your nose' contest. DeSantis hasn't p****d off as many people as Trump. He's Trump without, mostly, the personality baggage."
Polls Stating To Move In DeSantis' Favor
While surveys have constantly named Trump as the overwhelming favorite to win the GOP nomination, with the Florida governor a distant second, DeSantis' numbers have started to improve.
On Wednesday, a public opinion survey conducted by the University of New Hampshire Survey Center revealed that DeSantis narrowly beat Trump in the statewide poll that 39 percent to 37 percent, albeit DeSantis' margin was well within the survey's sampling error of 5.5 percent.
The poll takes on added significance as DeSantis only received 19 and 18 percent support in the previous polls conducted in July and October 2021.
"Trump slipping in pre-primary polls is part of a typical pattern," Director of the UNH Survey Center Andrew Smith said in a statement.
"A party's losing candidate in the prior election is typically the best-known person in their party. As the primary gets closer, new candidates emerge and attract more media attention, and therefore more voter attention, than the losing candidate from the previous election."
Ability To Acquire A War Chest
Recent funding figures prove that DeSantis is catching up to Trump with regard to how much of a war chest he can accumulate.
It was revealed in April that DeSantis pulled in nearly $10.5 million in donations in yet another record breaking month for him.
April's total meant that DeSantis managed to raise more than $113 million during his Florida re-election campaign cycle.
DeSantis is now steadily approaching the $122 million war chest that the former president has managed to raise on a national level via his Super PACs in 2021.
DeSantis' ability to raise more than $100 million in donations without campaigning on a national scale shows the governor is "in a new category" with regards to fundraising, according to former Florida Senate President Bill Galvano.
"I think it's less about fundraising skill and more about the fact that he's created this reality in Florida that everybody wants to be part of the freedom that he's created," Galvano told the Sarasota Herald-Tribune.
Murdoch Empire Switching Allegiances
As noted by Vanity Fair, the highly influential Rupert Murdoch media empire appears to be moving away from Trump and urging its readers to back DeSantis instead.
This month alone there been two pieces in the New York Post saying Republican voters should move on from Trump, including one from former CNN host Piers Morgan that explicitly states DeSantis should now lead the party.
An editorial in The Wall Street Journal also said Trump is entirely responsible for the January 6 attack and the ongoing committee hearings into the insurrection are a "reminder of the violence and how Trump betrayed his supporters."
On top of this, DeSantis is already a figure who enjoys frequent positive coverage and support on widely watched conservative channels such as Fox News, with no sign this will end soon.
Trump's Advantages In 2016 Don't Exist
During his first election campaign, Trump framed himself as the outsider wanting to "drain the swamp" and battle against several established Republican figures.
However, in 2024, Trump will be considered the establishment figure having already been in the White House, with no indication that there will be as many candidates willing to accept the daunting challenge of going up against the former president.
As noted by FiveThirtyEight founder Nate Silver: "It's still something of an open question whether Trump would have won the GOP nomination in 2016 had the opposition not been so fragmented, so the fact that *one* clear alternative has already emerged for the next nomination, DeSantis, potentially makes 2024 a different story."