Donald Trump recently declared that he would win in a hypothetical matchup against Florida Governor Ron DeSantis in the 2024 presidential election, with polls and oddmakers suggesting this may well be the case.
The former president dismissed suggestions that DeSantis would be a formidable opposition should both men decide to run for the presidency.
While neither man has formally declared that they will run for the White House in 2024, Trump told The New Yorker that said he was "very close to making a decision" on his own candidacy while dismissing DeSantis' chances.
"I don't know if Ron is running, and I don't ask him," Trump told the New Yorker. "It's his prerogative. I think I would win."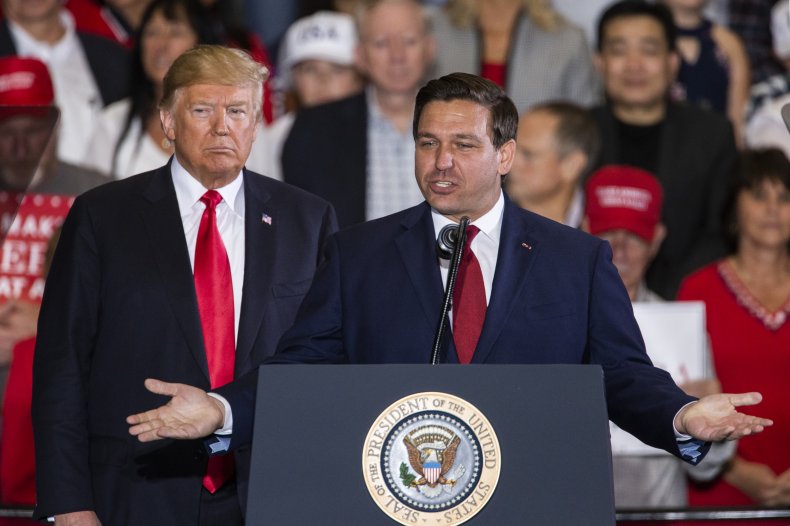 DeSantis has long been considered one of the main candidates for the Republican nomination, with polls suggesting that he will be the favorite to clinch it should Trump stay out of the race.
The Florida governor also got a boost as for the second year in a row he beat Trump in a straw poll at a conservative summit in Colorado and has started to close the ground on Trump in surveys and with bookmakers over the past few months.
However, Trump is still the overwhelming favorite to claim the nomination if he decides to run.
Trump comprehensively beat DeSantis in a Chicago Sun-Times/WBEZ poll conducted between June 6-7 by 51 percent to 23 percent and by a greater margin of 51 percent to 18 percent in a Morning Consult/Politico poll conducted around the same time.
According to a Baltimore Sun/University of Baltimore survey conducted between late May and early June, Trump is the leading candidate with 48 percent, while DeSantis (12 percent) was edged out for second place by Maryland Governor Larry Hogan (25 percent).
In a collection of national polls since November 2021, compiled by Polling USA, as of June 16, Trump's average polling stands at 55.3 percent, with DeSantis a distant second at 19.3 percent.
While DeSantis' numbers have been improving, it is still a longshot for him to overtake Trump in the polls, barring an outside influence such as the former president being barred from running for office again over his actions around January 6.
In April, in an Echelon Insights poll of 377 Republican registered voters, Trump was still the top candidate with 55 percent of the votes, with DeSantis behind with 34 percent.
However, as noted by Florida Politics, the Echelon Insights poll was DeSantis' best national performance when matched up against the former President in a survey regarding a hypothetical 2024 race.
In a separate poll in which Trump was removed from the equation, DeSantis was the clear leader at 35 percent, more than the combined total of the next four potential candidates: Mike Pence (15 percent), Ted Cruz (7 percent) Nikki Haley (6 percent) and Donald Trump Jr. (5 percent).
Oddschecker, which aggregates betting odds from numerous sources, lists Trump as the overwhelming favorite to secure the GOP nomination for 2024, if he chooses to run.
The betting company currently gives Trump a +110 chance of winning the nomination, compared to Desantis with +250. The odds mean that if $1 was placed on Trump to win, that bet would pay out $2.10. A bettor who placed a $1 wager on DeSantis would expect a $2.50 return.