The odds on Florida Governor Ron DeSantis winning the 2024 presidential election have been slashed over the past year, as he has emerged as a popular figure among Republicans.
Irish betting firm Paddy Power told Newsweek on Thursday that the Republican governor's odds had moved significantly over the past year and that he's "done some impressive climbing."
Paddy Power was offering odds of 9/1 on DeSantis to win the 2024 presidential election on Thursday, while Trump's odds stood at 3/1 and President Joe Biden's odds were 4/1.
This time last year, DeSantis' odds of winning the 2024 election stood at 66/1.
When odds shorten - or are slashed - that generally means bettors believe an outcome to be more likely.
At 9/1, a $1 bet on DeSantis to win in 2024 would win the bettor a profit of $9 if he succeeds.
A spokesperson for Paddy Power pointed to President Biden's low approval rating as one reason why DeSantis' odds have improved.
The president actually saw a slight bump in his approval rating in the early days of 2022, reaching a high of 43.5 percent on January 3. His approval has since fallen back and stood at 41.8 percent as of Wednesday, according to analysis from poll tracker FiveThirtyEight.
"Trump is so entangled in his web of legal battles that his wide lead in the polls is diminishing, leaving the door wide open to DeSantis to crawl his way into contention," a Paddy Power spokesperson told Newsweek.
The spokesperson said DeSantis "has the potential to become a major fly in the ointment."
"For context, this time last year he was available at odds of 66/1, putting him in the range of Kanye West (50/1) and Jane Fonda (75/1) in the betting for the next U.S. president," the spokesperson explained.
"By February 2021, his price had halved, placing him behind Dwayne 'The Rock' Johnson - currently 33/1 - in the betting," the spokesperson said.
However, DeSantis' odds have shortened significantly since February last year.
"By November 2021, his price was a fraction of that, seeing him shoot into an entirely different social set," the Paddy Power spokesperson said.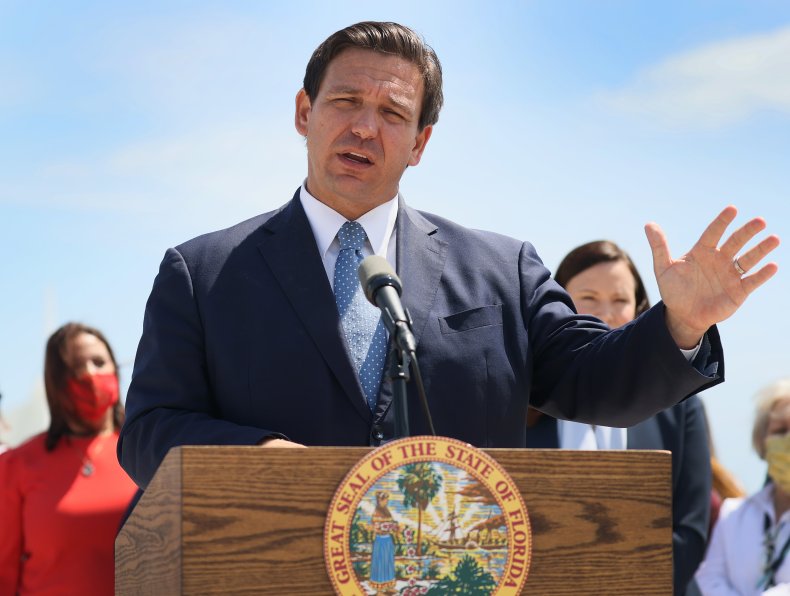 The spokesperson went on: "He currently sits at odds of 9/1, putting him directly behind the big three in the betting in Donald Trump (3/1), Joe Biden (4/1) and Kamala Harris (5/1) in the betting."
"Only the voters will decide if he'll be the next U.S. President, but if our betting could be compared to a social ladder, he's done some impressive climbing," the Paddy Power spokesperson told Newsweek.
Former President Trump has remained the favorite choice for the Republican presidential nomination in 2024 in a series of recent polls, but there are some indications that DeSantis could be a viable alternative.
A Suffolk University/USA Today poll released on Tuesday asked 176 likely 2024 Republican primary voters in Florida who they would choose in a primary. Trump beat DeSantis by 47 percent to 40 percent, but the margin of error for that question was +/-7.4. - putting the governor within range of defeating the former president.
Nonetheless, DeSantis is still facing an uphill battle if he hopes to challenge Trump in 2024. The governor has repeatedly said he's currently focused on his own reelection bid.