Ron DeSantis Willing to Make Vaccines 'Wedge Issue' Against Trump, Says Ex-GOP Lawmaker
Former congressman David Jolly suggested Friday that Florida's GOP Governor Ron DeSantis is willing to make COVID-19 vaccines a "wedge issue" between him and former President Donald Trump.
DeSantis confirmed last year that he received the one-shot Johnson & Johnson vaccine but has not publicly said whether he's been boosted as the novel coronavirus pandemic continues nationwide. This week, his surgeon general in Florida, Joseph Ladapo, declined to give a simple yes or no answer over whether the vaccines work.
During an MSNBC segment yesterday, Jolly was asked about DeSantis' stance on the vaccine and Ladapo's unwillingness to say the vaccines are effective against COVID-19.
Ladapo "is quickly becoming a national embarrassment for the state of Florida," responded Jolly, who served as a Republican representing the southern state's 13th District from 2014 to 2017. He said there is a "pandemic of lunacy" infecting the Republican Party.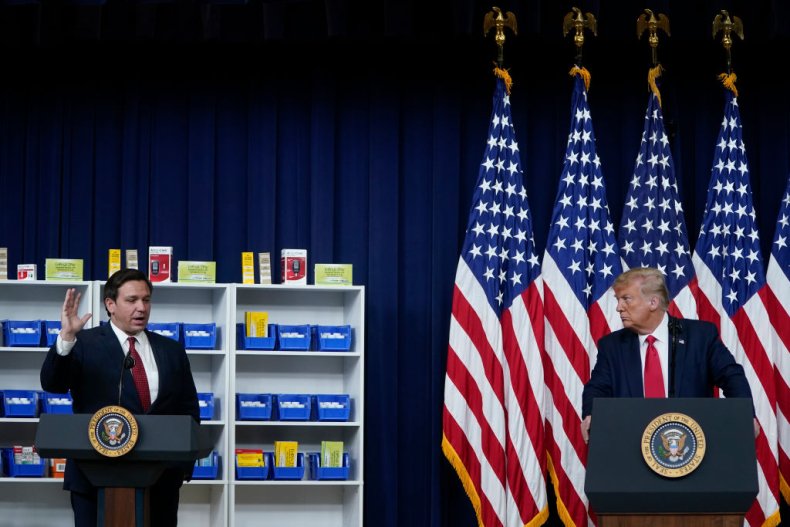 Jolly suggested that Ladapo answered the way he did due to DeSantis' influence. The former congressman said that the Florida governor's views on vaccines contrast with those of Trump, who has repeatedly touted the rapid development of the life-saving shots through Operation Warp Speed as a landmark achievement of his administration. Trump also said publicly in December that he's received a booster dose, despite drawing boos from a crowd of supporters in Texas.
"Something very interesting here is the emerging wedge issue on the vaccine between Ron DeSantis and Donald Trump. Does the Florida governor agree that Trump's Operation Warp Speed was successful or not?" Jolly asked.
"Welcome to the big leagues, Ron DeSantis. Tell us," the former Florida representative added. Jolly said that beyond the "public health tragedy" unfolding, there is also "political intrigue" at play.
"Is this a wedge issue now that Ron DeSantis wants between him and MAGA national, and between him and the former president?" Jolly asked. "And I would suggest the surgeon general is doing the governor of Florida's bidding on this. And Governor DeSantis is willing to make vaccines a wedge issue between him and Donald Trump."
When reached for comment Monday about Jolly's comments, a spokesperson for DeSantis told Newsweek, "The left and their media allies must stop attempting to politicize COVID-19 and individuals' personal medical decisions."
Many analysts see DeSantis as a frontrunner for the GOP's 2024 presidential nomination. However, Trump has consistently teased another White House bid. While Trump has spoken favorably of DeSantis and the two men have generally been aligned politically, rumors of tensions between the prominent Republicans have circulated in recent months.
Trump denied that there were tensions between him and the Florida governor in an interview with Fox News earlier this month. "I get along great with Ron," he said, calling the rumors of a rift between him and DeSantis "totally fake news."
Polls have generally shown that Trump is widely favored to win the Republican Party's 2024 presidential nomination if he formally launches another campaign. However, polls have also often shown that DeSantis could be Trump's top challenger, or the top contender if the former president chooses not to run.
Jolly has previously criticized DeSantis and Trump. In an interview with MSNBC last week, he said the Florida governor would be "far more dangerous" than Trump in the White House.
Updated 01/31/2022, 11:44 p.m. ET: This story has been updated with comments from a spokesperson for Florida Governor Ron DeSantis.