Right-wing strategist Roger Stone shared a video clip this weekend of him greeting former President Donald Trump and telling him that Florida's Governor Ron DeSantis, a Republican, is a "piece of s***."
Trump has spoken favorably of his relationship with DeSantis, but there have been reports of a feud between the two prominent Republicans. The Florida governor is speculated to be considering a potential GOP bid for the party's 2024 presidential nomination, which Trump has also strongly hinted he plans to seek. The former president in January called rumors of tensions between him and DeSantis "fake news."
Stone posted a 14-second video clip to Rumble and then shared the link to Telegram and Gettr on Saturday. The prominent Trump ally titled the clip: "Roger Stone and Donald Trump together again."
The video starts out focused on Trump at what appears to be his Mar-a-Lago club resort in Florida, where he resides.
"Roger, my man, I didn't even see you," the former president says, coming up to give Stone a slight hug. "How can I not see my friend?"
"God bless you," Stone says in response. Trump then says something inaudible before his friend leans in, gesturing with his hand, as he says, "Ron DeSantis is a piece of s***." The video then cuts abruptly.
Stone has previously slammed the governor over what he described as "disloyalty" to the former president.
"Governor Ron DeSantis refuses to put his own presidential ambitions on hold until President Donald Trump has decided to whether he wants to run again," he said in a January video. "I consider that to be an incredible act of disloyalty and ingratitude."
In November of last year, Stone sent an email to supporters saying that he wouldn't support DeSantis if he chose to run in 2024.
"Let's just say that in the event that he does not elect to run, let's just say that Governor Ron DeSantis would not be the candidate I support," Stone wrote, Politico reported. "Republicans, conservatives and Trump supporters across the nation, who are impressed with our governor with his high flying rhetoric, must focus carefully on his public policy decisions."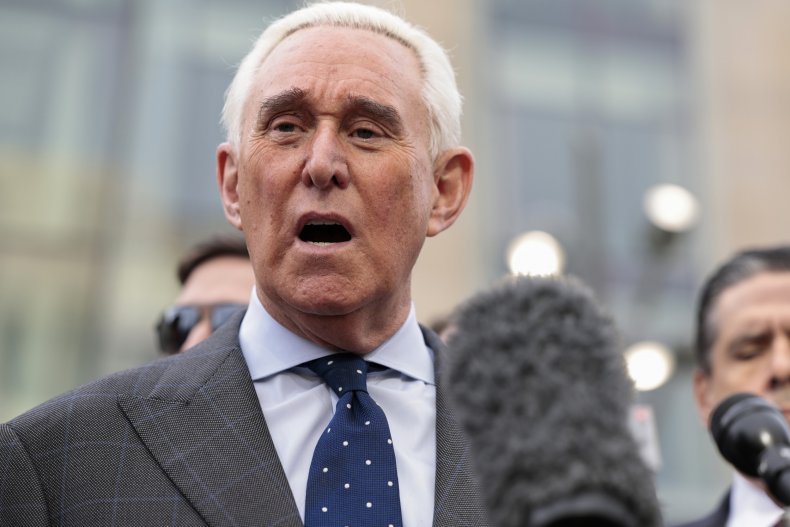 However, he also praised DeSantis as recently as this this month. "Governor Ron DeSantis is a hero for mounting the ramparts in the culture war," he wrote in a post to his Telegram channel on April 4.
Trump was asked about a potential DeSantis candidacy in 2024 during an interview with The Washington Post earlier this month. The former president said that he didn't think the Florida governor—as well as several other high-profile Republicans—would want to run against him.
"If I ran, I can't imagine they'd want to run. Some out of loyalty would have had a hard time running. I think that most of those people, and almost every name you mentioned, is there because of me. In some cases, because I backed them and endorsed them. You know Ron was at 3 percent, and the day I endorsed him, he won the race," the former president said.
In a January interview with Fox News, Trump asserted: "I get along great with Ron" and that rumors of any rift between him and the Republican governor were "fake news."
DeSantis similarly dismissed reports of tension.
"He wants to see Republicans doing well," DeSantis said of Trump in an interview with Fox News in February. "And I think when media is trying to act like he's upset at me for doing well, I think that's total bunk. I think they're just making it up."
The governor has previously dismissed speculation about any 2024 presidential ambitions. "All the speculation about me is purely manufactured. I just do my job," he said last September during a press conference. "I hear all this stuff and honestly, it's nonsense."
Newsweek reached out to DeSantis' spokesperson and Trump's press office for comment.