Ron DeSantis Most Popular GOP Option if Trump Doesn't Run in 2024: Poll
Florida Governor Ron DeSantis is the most popular option among potential Republican presidential candidates in the 2024 election if former President Donald Trump is not in the race, according to a new poll.
In the survey conducted by McLaughlin & Associates, 26 percent of respondents said that they would vote for DeSantis in the Republican primary if Trump was not an option. Donald Trump Jr. received 16 percent of the vote and former Vice President Mike Pence received 15 percent.
When Donald Trump is included as a potential candidate, 55 percent of respondents indicated they would vote for the former president. DeSantis came in second place with 15 percent.
Trump, who has not officially declared whether he intends to run again in 2024, has teased a potential candidacy, which last week attracted accusations that he could potentially be breaking campaign finance laws. The possibility that he will not make another bid for the White House has left many weighing who could potentially become the next face of the Republican party and run instead.
Many believe that DeSantis, a Trump ally, could be that person. A separate recent poll conducted by Morning Consult/Politico found that DeSantis is the top choice among Republicans to be Trump's running mate, should the former president decide to run again for the presidency.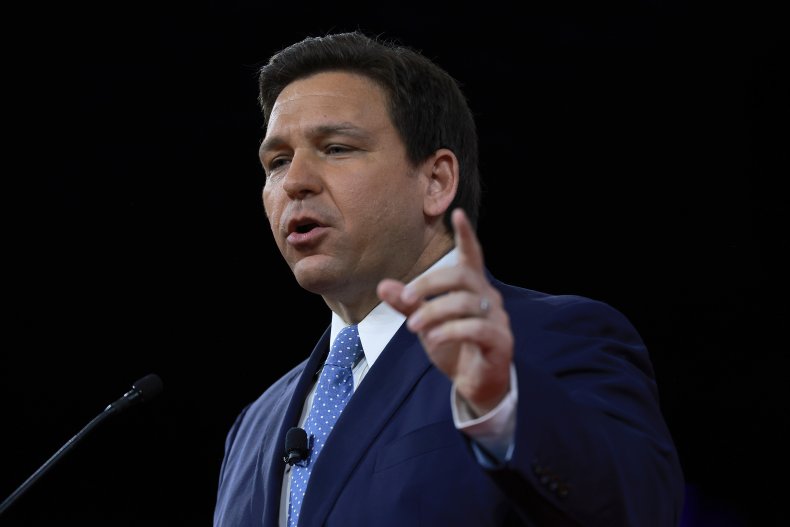 The McLaughlin & Associates poll collected data from March 17 to March 22. In the survey question that did not include Trump, DeSantis' share of the votes was well above those of the other candidates, besting second-place finisher Donald Trump Jr. by 10 percent. In the question that did include Trump, DeSantis came in second, but the differences were smaller between his share of votes and those of lower-ranked candidates. Pence, for example, received 13 percent compared to DeSantis' 15 percent.
DeSantis' administration and Florida lawmakers have been criticized in connection to several recent pieces of legislation. A controversial bill commonly referred to as the "Don't Say Gay" bill would restrict teachers from teaching kindergarteners through third graders about sexual orientation or gender identity.
Additionally, the state's "Stop WOKE (Wrongs to Our Kids and Employees) Act," which was passed by the Florida Senate earlier this month, would limit certain discussions on race and racism in classrooms and workplaces, CBS reported.
In a December statement about that bill, DeSantis said that Florida was "taking a stand against the state-sanctioned racism that is critical race theory."
Both pieces of legislation have received some backlash. In response to the "Don't Say Gay" bill, a Democratic fundraiser that had been slated to be held at the Disney resort was canceled. Andrew Spar, the Florida Education Association president, said in a statement late last month that both bills "mean some of our students will no longer feel safe and secure, or even seen, based on who they are."
Newsweek has reached out to DeSantis' office for comment but did not hear back by publication time.
Update 03/25/22, 3:39 p.m. ET: This story was updated with additional information and background.