Florida Senate Passes Bill Barring Race-Related Discussions at School, Work
The Florida Senate passed a bill Thursday that would prohibit, among other topics, certain race-related discussions in schools and workplaces.
The "Individual Freedom" bill, which passed the state Senate in a 24-15 vote, seeks to ban any teachings or training that can cause feelings of "guilt" in an individual because of their "race, color, sex or national origin." Florida Governor Ron DeSantis is now expected to sign the legislation into law.
The bill's passage highlights efforts in several U.S. states to adopt legislation that limits discussions of certain racial topics, with the term "critical race theory" often invoked, in classrooms and beyond. DeSantis has been a particularly strong proponent of such legislation.
He announced the proposal of the Individual Freedom bill, which is also referred to as the Stop W.O.K.E. (Wrongs Against Our Kids and Employees) Act, in mid-December. In a news release, DeSantis said that the measure took aim at the "state-sanctioned racism that is critical race theory."
The bill states that "subjecting any student or employee to training or instruction that espouses, promotes, advances, inculcates, or compels" students or workers to believe certain concepts "constitutes discrimination based on race, color, sex, or national origin."
For example, the legislation designates as an unlawful employment practice any teachings that indicate those of "one race, color, sex, or national origin are morally superior" to others and that one's "status as either privileged or oppressed is necessarily determined by his or her race, color, sex, or national origin."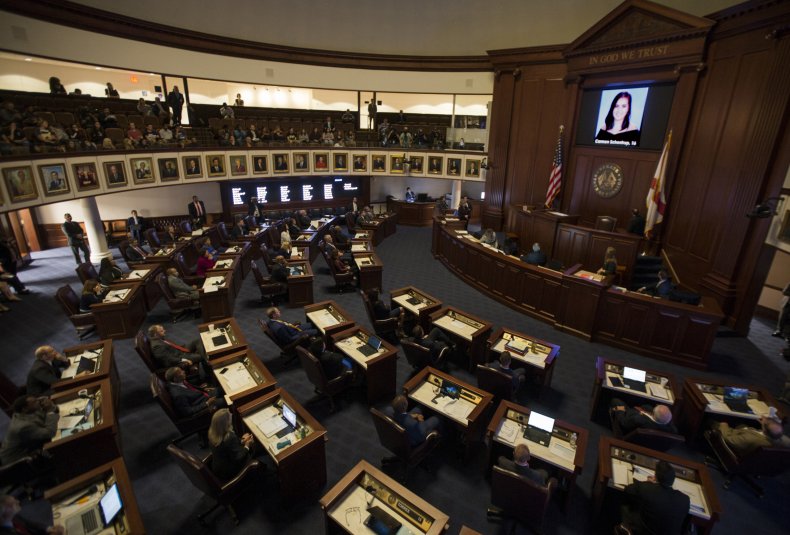 It also bars any classroom lessons or curricula that aim to "indoctrinate" students with ideas outside state academic standards.
The legislation, and several other bills under consideration by Florida lawmakers, has received some backlash.
Andrew Spar, the Florida Education Association President, said in a statement late last month that the Individual Freedom bill and another referred to as the "Don't Say Gay" bill "mean some of our students will no longer feel safe and secure, or even seen, based on who they are."
"Both bills promote discrimination and censorship, and send the clearly un-American message to students that individuality is not valued, that everyone must conform to a single point of view," Spar said.
Though DeSantis said in his announcement of the Stop W.O.K.E Act that it would take aim at critical race theory, the theory is not currently taught in any Florida schools, according to Tampa Bay news station WTSP.
The NAACP Legal Defense and Educational Fund defines the theory as an academic and legal framework that suggests systemic racism is ingrained in facets of American society, including education and employment.
"Critical Race Theory recognizes that racism is more than the result of individual bias and prejudice. It is embedded in laws, policies and institutions that uphold and reproduce racial inequalities," the organization states.
Newsweek reached out to DeSantis' office for comment.
Update 03/10/22, 4:50 p.m. ET: This article was updated with additional information.
Update 03/10/22, 3:45 p.m. ET: This article was updated with additional information and background.