Governor Ron DeSantis' attempts to ban critical race theory in Florida moved forward on Tuesday as an education panel gave first approval to a bill that would prohibit schools and private businesses from making people feel "guilt" about the country's racist past.
The state's Republican-controlled Senate Education Committee approved the legislation—called "Individual Freedom"—in a vote along party lines.
The bill would bar employers from subjecting "any individual, as a condition of employment, membership, certification, licensing, credentialing or passing an examination, to training, instruction, or any other required activity" that promotes certain concepts related to race and racism.
For instance, it would prohibit employers from providing training that "espouses, promotes, advances, inculcates, or compels" people to believe they bear "responsibility for, or should be discriminated against or receive adverse treatment because of, actions committed in the past by other members of the same race, color, sex, or national origin."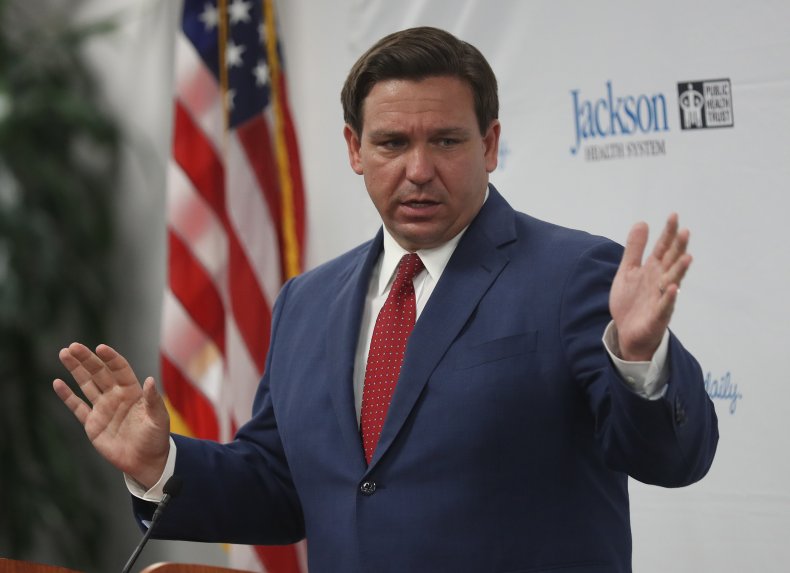 It also prohibits making people "feel discomfort, guilt, anguish, or any other form of psychological distress on account of his or her race, color, sex, or national origin."
The bill would allow teachers to facilitate discussions on topics including sexism, slavery, racial oppression and racial segregation in "an age-appropriate manner."
But it states that classroom instruction and curriculum "may not be used to indoctrinate or persuade students to a particular point of view inconsistent with the principles of this subsection or state academic standards."
Although the legislation doesn't explicitly mention critical race theory, it echoes a call from DeSantis, who recently said he would push for legislation that would ban teaching of the concept in schools and allow employees to sue private employers if they receive training on critical race theory.
In 2021, the Florida State Board of Education under DeSantis banned critical race theory from being taught in K-12 public classrooms.
Critical race theory examines history through the lens of racism and argues that racism is embedded in the nation's institutions.
Randi Weingarten, president of the American Federation of Teachers, has said that it is taught mostly in universities and not in elementary, middle or high schools.
But conservatives have criticized it as an attempt to rewrite history and make white people feel they are inherently racist.
State Senator Shevrin Jones, the sole Black lawmaker on the Florida education committee, told the Associated Press the legislation was designed to make white people "not feel bad about what happened years ago" and would lead to censorship in schools.
Jones, a former teacher, also told the Orlando Sentinel: "All this legislation is going to do is to promote ignorance of race-related content and other content that children should know about and should have access to."
But State Senator Manny Diaz, a Republican lawmaker and the bill's sponsor, told the AP that the legislation was not about ignoring the "dark" parts of American history, but ensuring that people were not blamed for the nation's past sins.
"Governor DeSantis condemns discrimination," DeSantis' press secretary Christina Pushaw told Newsweek.
"Senator Diaz's bill makes clear that no Floridian—student, worker, or anyone else—should be made to feel inferior on the basis of race, color, sex, or national origin. These immutable characteristics have no bearing on an individual's character. It is frankly disturbing that anyone would find these ideas controversial in the year 2022."
Diaz and Jones have been contacted for additional comment.
UPDATE 01/20/22 6:00 a.m. ET: This article has been updated with a comment from Christina Pushaw.
UPDATE 02/15/22 5:15 a.m. ET: This article has been updated to add Randi Weingarten's comment on critical race theory.