A prominent Republican donor with close ties to Ron DeSantis has suggested that the Florida governor "may have gone too far" in his feud with Disney.
Dan Eberhart, the CEO of oilfield services company Canary, LLC, told The Washington Post that DeSantis may have overstepped the mark by stripping Disney of its social privileges and tax breaks after the company voiced opposition to HB 1557, the legislation critics have dubbed the "Don't Say Gay" bill.
Eberhart, whom the Post described as "close" to DeSantis, said that the governor's ongoing battle with Disney over the bill, which bans the discussion of sexual orientation and gender identity in certain grades at Florida schools, is similar to Virginia governor Glenn Youngkin's gubernatorial campaign in which he made education and the teaching of Critical Race Theory (CRT) a key policy concern.
Youngkin beat his Democratic opponent Terry McAuliffe last November after vowing to ban the teaching of CRT in K-12 schools and promising to give parents more input on what their children are being taught.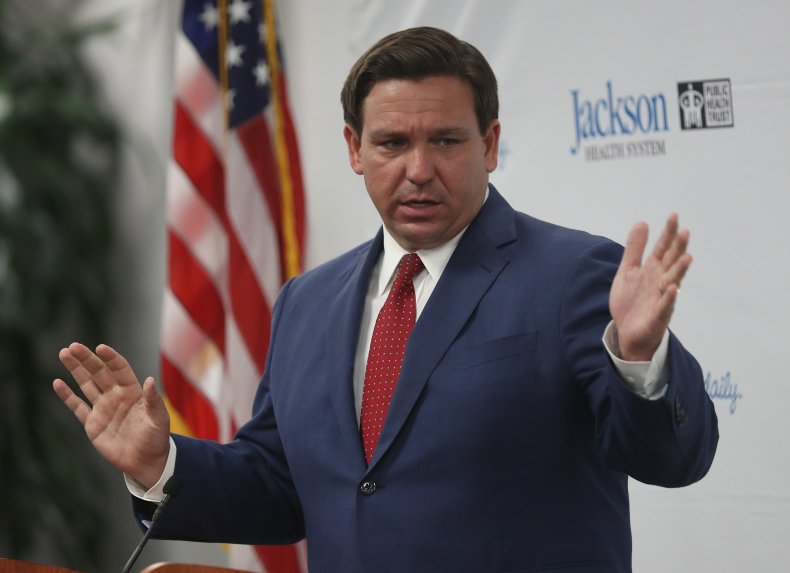 Eberhart said DeSantis is now using a similar tactic of stoking the culture wars to appeal to parents' concerns about their children's education for political gain.
This includes the backing the "Don't Say Gay" bill and signing the Stop the Wrongs to Our Kids and Employees Act (Stop WOKE) bill, which bans lessons that could make students feel "guilt, anguish, or other forms of psychological distress" because of historic wrongs due to their race, color, sex or national origin in K-12 classrooms.
"Youngkin invented this, and DeSantis has perfected it," Eberhart said.
However, Eberhart added that DeSantis "may have gone too far" in revoking Disney's special tax privileges protected under the Reedy Creek Improvement District, which essentially allows Disney to run as its own self-governing authority in Florida.
Eberhart said that Democrats could now suggest DeSantis is damaging Florida's economy by targeting Disney, the largest on-site employer in Florida with nearly 80,000 workers.
In a statement to Newsweek, DeSantis' spokesperson Christina Pushaw said that Eberhart is "entitled to his own opinion and free to express it as he sees fit."
Pushaw also noted that issues surrounding the privileges the Reedy Creek Improvement District provide Disney and not other corporations in the state have been raised for decades.
"How is it 'going too far' to pass legislation that repeals these privileges to create a more even playing field for all businesses to compete and thrive?" Pushaw added.
DeSantis defended the move to strip Disney of its special privileges in the state before signing the bill to remove the Reedy Creek Improvement District into law on Friday. DeSantis also said the decision will mean Disney will end up paying more taxes in Florida and dismissed reports that local residents may have to foot the bill.
"You're a corporation based in Burbank, California, and you're gonna marshal your economic might to attack the parents of my state," DeSantis said at a ceremony in Hialeah Gardens. "We view that as a provocation, and we're going to fight back against that."
This is not the first time that a member of the GOP has suggested DeSantis may have gone too far in going after Disney, which is a major source of pride and income in the Sunshine State.
David Jolly, a former Republican congressman who left the party in 2018, previously told The Washington Post that the Florida governor targeting Disney was a "foolish move politically" which could ultimately backfire.
"Disney will be fine. But what this does is show Americans that Ron DeSantis is a governor with a glass jaw who cannot tolerate criticism," Jolly said. "That's what this is about, nothing more than that."
Update 04/25/22, 10:14 a.m. ET: This article was updated with comment from DeSantis' office.