Ron DeSantis Strips Disney of Special Tax Status
Disney will officially be stripped of its self-governing rights more than 55 years after a state law granted it the special status.
Florida Governor Ron DeSantis signed a bill into law Friday that will dissolve Disney's district, known as the Reedy Creek Improvement District, on June 1, 2023. The special rights granted under the state law in 1967 allowed Disney to self-govern the district by collecting taxes and operating its own services such as fire protection and utilities and planning, Newsweek previously reported.
The law became the newest development in a public feud between DeSantis and Disney, who have clashed for weeks ever since the entertainment giant spoke out against a controversial piece of DeSantis-backed legislation commonly referred to as the "Don't Say Gay" law by critics. The officially-titled Parental Rights in Education law, which DeSantis also signed recently, restricts "classroom discussion about sexual orientation or gender identity in certain grade levels."
Amid outcry from critics over the "Don't Say Gay" legislation, Disney also came under fire for initially refusing to publicly condemn the law when it was still a bill, and after it was discovered that the company had donated at least $250,000 to senators that voted for it. The company later shifted its stance and announced that it would be pausing all political donations in Florida.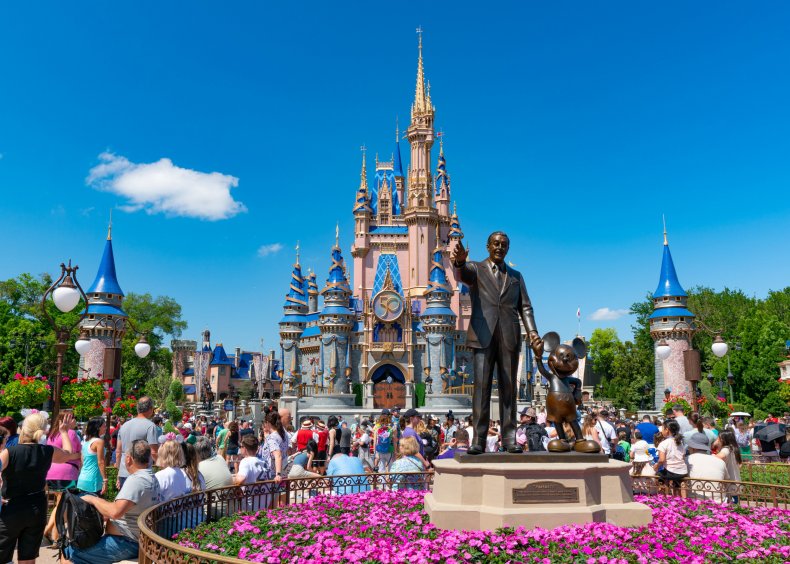 "I truly believe we are an infinitely better and stronger company because of our LGBTQ+ community. I missed the mark in this case but am an ally you can count on — and I will be an outspoken champion for the protections, visibility, and opportunity you deserve," Disney CEO Bob Chapek said in a statement announcing the donation pause.
Disney also said in a statement after "Don't Say Gay" was signed into law that it "should never have passed and should never have been signed into law." It added that the company's "goal" was for the law to be repealed or struck down.
Disney's stance has angered Republican figures like DeSantis.
He said during a West Palm Beach press conference shortly after signing "Don't Say Gay" into law late last month that Disney "has alienated a lot of people now."
"And so the political influence they're used to wielding, I think has dissipated. And so the question is, why would you want to have special privileges in the law at all? And I don't think that we should," he said.
His suggestion came full circle when he signed the legislation [insert day at publication time]. Previously, the Florida Senate passed the legislation on Wednesday, and the Florida House did the same on Thursday.
According to the Associated Press, the law left open the possibility that Disney's district and others also set to be dissolved could be reestablished with a reworked deal, though it was not immediately clear what such a deal would look like.