In Win for DeSantis, Florida Senate Votes to Strip Disney of Autonomy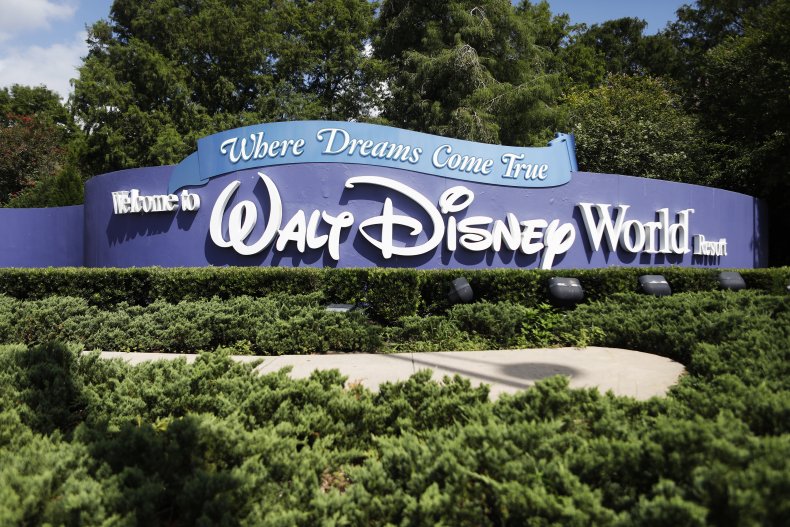 The Republican-controlled Florida state Senate has voted to strip Disney of its special governing status, delivering GOP Governor Ron DeSantis a win in his escalating culture war battle against the company.
DeSantis has recently taken aim at Disney due to the company speaking out against a new Florida law that limits sexual orientation and gender identity lessons in education, which critics call the "Don't Say Gay" law. On Tuesday, the governor urged the state Legislature to consider the "termination of all special districts that were enacted in Florida prior to 1968," including the Reedy Creek Improvement District, where Walt Disney World operates.
The Senate voted 23-16 in favor of stripping the status from Disney on Wednesday. For the change to take effect, the bill will still need to be passed in the House and signed into law by DeSantis. A vote in the House, which is also controlled by Republicans, is expected to take place on Thursday. If the bill is passed, Disney's status could be revoked by June 1, 2023.
The special status allows Disney to appoint the government responsible for regulating property in the district, including the ability to impose taxes on the land and run its government services with the revenue it gains from those taxes. The entertainment giant operates its own fire protection, utilities and planning, and security services at Disney World.
While DeSantis and his allies may see removing the special status as a win in his quest to punish Disney for criticizing what many see as an anti-LGBTQ law, others have warned that the move could backfire, with residents of the counties that currently host the district forced to pay a heavy price.
Florida Senate Minority Leader Gary Farmer, a Democrat, warned on Tuesday that residents of Orange and Osceola counties may have to assume Disney's liabilities of anywhere between $1 billion and $2 billion if the Reedy Creek district is dissolved.
Senate Democrats attempted to amend the bill to include the requirement that a study be conducted on the potential impact. However, the amendment was defeated in a voice vote on Tuesday.
Multiple experts told Newsweek on Tuesday that removing the special status would likely have less of an impact on Disney than some might expect, despite possibly scoring points in the political battle between the company and DeSantis.
"This strikes me as a tempest in a teapot," said James O'Rourke, a business professor and expert. "This is not as big a deal as the governor's office or the Legislature are making it out to be, and while this will cause Disney some financial heartburn, it is not crippling. It's not all that damaging."
"Disney Land in Anaheim [California] doesn't have any of these powers, and it does pretty well," added Richard Foglesong, a retired Rollins College political science professor and author.
Regardless of whether Disney World's special governing status is revoked, friction between the company and DeSantis may be set to continue for the foreseeable future.
Disney pledged to help efforts to repeal the "Don't Say Gay" bill after it was signed into law by DeSantis late last month, saying in a statement that it "should never have passed and should never have been signed into law." DeSantis complained that the company had "crossed the line."
Newsweek reached out to The Walt Disney Company for comment.