Ron DeSantis Sparks National Wave of 'Don't Say Gay' Bills
Several Republican-led states are considering its own "Don't Say Gay" bills sparked by Florida's controversial law.
Florida Republican Governor Ron DeSantis signed the legislation into law last month, which prevents topics including sexual orientation and gender identity from being taught to the state's youngest students. The law brought significant backlash from LGBTQ advocates, who argue it is intended to silence the community. Supporters of the legislation, however, say young children should not be taught about topics of sexuality while in school.
Despite those criticisms, more lawmakers from across the country are pushing for their states to pass similar legislation.
In a statement to Newsweek, DeSantis' office wrote: "Quite simply, Governor Ron DeSantis does what is right for Floridians, and in this case, he stood up for Florida's parents and children. Other states may indeed want to follow the lead on this common-sense legislation."
Last week, Alabama Governor Kay Ivey signed two separate anti-LGBTQ bills into law. One of the bills would criminalize gender-reassignment surgeries for transgender youth, while the other would only allow people in schools to use bathrooms that correspond with the gender listed on their birth certificate.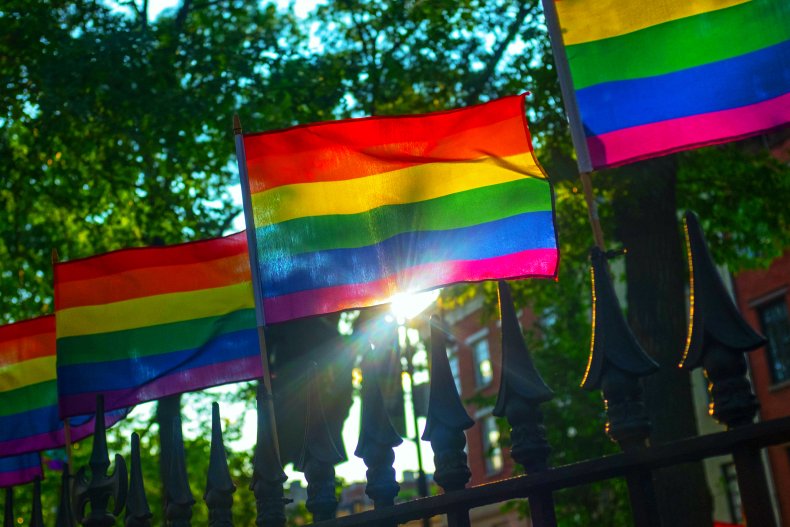 "There are very real challenges facing our young people, especially with today's societal pressures and modern culture. I believe very strongly that if the Good Lord made you a boy, you are a boy, and if he made you a girl, you are a girl," Ivey said in a statement to Alabama Live.
Iowa Governor Kim Reynolds signed a bill into law in March banning transgender girls from participating in school sports for girls. Before signing the legislation, she claimed that "forcing females to compete against males is the opposite of inclusivity" and that it's "absolutely unfair," local news station WHO-DT reported.
Louisiana state Representative Dodie Horton, who filed a "Don't Say Gay" bill last month, previously told Newsweek that she filed the bill "to protect our children from conversations that are not age-appropriate." The law received criticism from many in the state, including Democratic Governor John Bel Edwards, who could threaten to veto any anti-LGBTQ legislation.
"Some of the bills being brought up this session do nothing to make lives better. Nothing to continue moving us forward. They only serve to divide us," Bel Edwards said during his State of the State address last month.
An Ohio bill introduced earlier this month by state Representatives Mike Loychik and Jean Schmidt would not allow Ohio school districts to "teach, use, or provide any curriculum or instructional materials on sexual orientation or gender identity" for students between kindergarten and third grade—the same grades that Florida's bill restricts the lessons for.
Meanwhile, introduced legislation in Georgia in March would not allow private schools to "compel, or encourage classroom discussion of sexual orientation or gender identity in primary grade levels or in a manner that is not appropriate for the age and developmental stage of the student."
A Tennessee bill revived in February would ban instructional material that would "promote, normalize, support, or address lesbian, gay, bi-sexual, or transgender issues or lifestyles." Chris Sanders, executive director of the Tennessee Equality Project, described it as among the "most discriminatory" bills ever introduced in a statement to The Advocate.
Update 4/12/22, 9:26 a.m. ET: This story has been updated with a statement from DeSantis' office.