Amid his ongoing feud with Disney over its opposition to the controversial "don't say gay" bill, there has been speculation Florida Governor Ron DeSantis may have picked a fight too big even for the political firebrand.
After originally remaining silent on HB 1557, which aims to ban the discussion of sexual orientation and gender identity in certain grades at Florida schools, Disney eventually came out against the legislation and vowed to seek to have it repealed.
In response, DeSantis, who signed the bill into law on March 28, has frequently attacked the company, including saying it had "crossed the line" with its opposition to state legislation.
The Republican governor has also threatened to disband Disney's so-called special benefits protected under the Reedy Creek Improvement District, which essentially allows Disney to run under its own governing body.
On social media, a large number of people have shared the same figures to suggest that if disgruntled Disney workers band together, they would have enough heft to vote DeSantis out of office when he stands for re-election this year.
Florida is home to the vast Walt Disney World, one of the world's most popular tourist attractions.
"Disney employs 77,000 Floridians. DeSantis won his race in 2018 by 32,000 votes," tweeted attorney Daniel Uhlfelder, who is also running for Florida attorney general.
In 2018, DeSantis did indeed beat Democrat Andrew Gillum by 4,076,186 votes to 4,043,723, a margin of just 0.4 percent of the total ballots cast.
However, as noted by political experts, merely adding the amount of people who currently work at Disney to suggest DeSantis is in trouble is too simplistic and presumptuous a view on potential election voting.
For a start, the math would only work if DeSantis and whoever he faces in November's election gain the exact same amount of votes as in 2018. There is also an assumption that everyone who currently works at Disney is a new voter, or would definitely vote against DeSantis.
Sean Freeder, an assistant professor of political science at the University of North Florida, told Newsweek that any hypothetical vote against DeSantis by Disney workers would have a "fraction of that power" in practice, especially in relation to the governor's previous 32,000 vote margin.
"For one, this wouldn't mean adding nearly 80,000 new voters, as presumably these employees already voted in the previous election at the average rates," Freeder said.
"Second, given that the demographics of Disney employees appear to trend somewhat younger and more diverse, it's pretty likely that more than half of those Disney employees who did vote in 2018 voted against DeSantis then."
To win any election, candidates must try to convert people who previously voted for their opponent, as well as attract new voters and maintain their base. With this in mind, Freeder suggested even a successful anti-DeSantis Disney employee campaign would only have an impact of a few thousands, rather than the tens of thousands needed.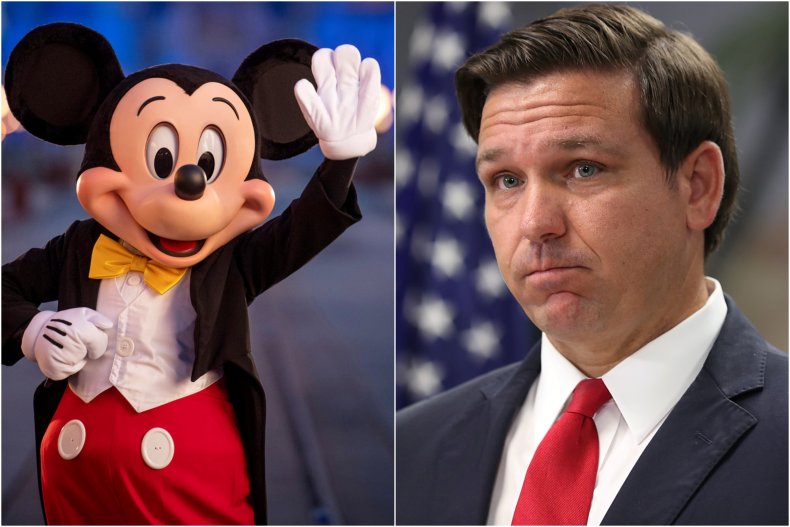 While there is not much potential for a political backlash against DeSantis speared on by Disney workers alone, the governor's battle with the "happiest place on earth" could yet affect how Floridians as a whole decide how they will vote.
Disney is the largest on-site employee in Florida and a major source of income and even pride to those in the Sunshine State. Freeder suggested that if DeSantis continues to fight the company beloved by families, then a "small but meaningful number of swing voters" could end up siding with Disney over the Governor.
Joshua Scacco, an associate professor of political communication at the University of South Florida, also believed that the Republican governor may regret so feverishly going after a private corporation, especially one with such a "profound influence" in Florida as Disney.
Scacco added that Desantis and other Republican figures are now targeting businesses in their culture wars against "woke" because "culturally, conservative values are losing" and this is how they can try to maintain them.
"You're now seeing moves by governments, particularly conservative governments, trying to regulate culture, either explicitly or bringing it to heal in the public square by attacking businesses," he said.
As far as DeSantis threatening to disband the Reedy Creek Improvement District used by Disney, Scacco suggested this could be interpreted as more of an "empty threat" in order to "encourage silence on the part of Disney" and their opposition to DeSantis' proposals.
The outcome of Florida's gubernatorial election this year could have national implications. DeSantis is the most popular option among potential Republican presidential candidates in the 2024 election if former President Donald Trump is not in the race, according to a poll released last month.