Blue Counties in Florida May Foot $1 Billion to $2 Billion Disney Tax Bill
Residents in two central Florida counties could be responsible for a large tax bill after Governor Ron DeSantis signed a measure that eliminates Walt Disney World's special improvement district.
On Friday afternoon, DeSantis signed into law a bill to dissolve the Reedy Creek Improvement District, a special district that came into existence in 1967 that allowed Walt Disney World to essentially self-govern, according to Reuters.
As a result, residents of Orange and Osceola counties, where Walt Disney World is located, could become responsible for the district's liabilities of between $1 billion and $2 billion, which could lead to potential double-digit tax increases for county residents.
On Wednesday, Florida's GOP-controlled state Senate passed a measure to remove the special self-governing status from Walt Disney World in that state by a vote of 23-16. On Thursday, the measure went to the House, where lawmakers voted 70-38 in favor of dissolving the Reedy Creek Improvement District.
The Reedy Creek district allowed Disney to appoint the government responsible for regulating the Disney World property, including the ability to impose taxes on the land and run services such as fire protection and utilities and planning with that revenue.
The elimination of the special district comes after DeSantis urged legislators earlier in the week to consider the "termination of all special districts that were enacted in Florida prior to 1968."
If the district is indeed dissolved, taxpayers in Orange and Osceola counties, the majority of whom did not support DeSantis during his first run for office, could be on the hook for Reedy Creek's debts.
In Orange County alone, property taxes will likely need to be raised somewhere in the neighborhood of 15 to 20 percent to make up the difference, according to Orange County Tax Collector Scott Randolph.
"So Orange County gets at least $58 million a year in debt obligations and probably $105 million a year in maintenance and operation," Randolph told WLFA. "They get all those costs with absolutely zero in revenue coming in from that area and the only way that Orange County could cover that, quite frankly, is to raise property taxes."
In Osceola County, officials told local news station WESH they are currently evaluating their options following the move and "are uncertain of what fiscal responsibilities will be encumbered after June 2023."
According to Politico, DeSantis lost both Orange and Osceola counties by a large margin in 2018.
In Orange County, DeSantis' Democratic opponent, Andrew Gillium, received just over 62 percent of the vote while DeSantis got nearly 37 percent. Likewise in Osceola County, Gillium defeated DeSantis soundly, winning just under 60 percent of the vote to DeSantis' nearly 39 percent.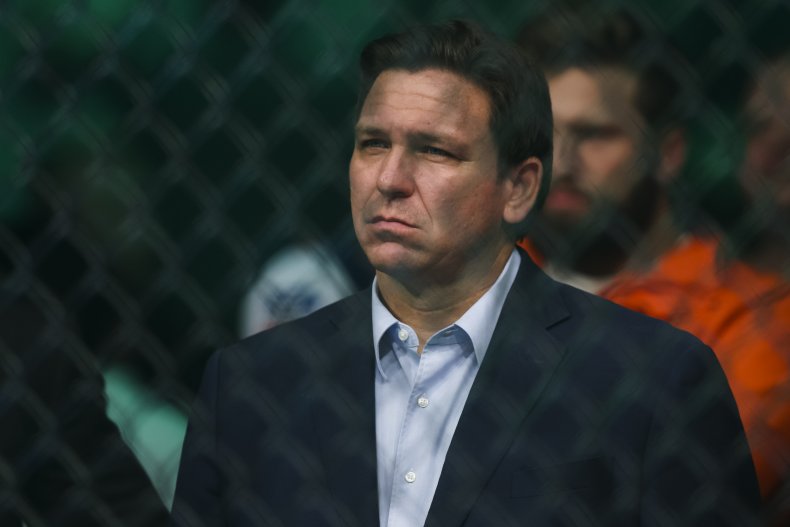 The dissolution of the Reedy Creek Improvement District comes after Disney spoke out about the Parental Rights in Education Bill, which its opponents refer to as the "Don't Say Gay" bill, saying that the "bill should have never passed and should have never been signed into law."
The March statement from the company also went on to say that their "goal as a company is for this law to be repealed."
On Thursday evening, President Joe Biden waded into the DeSantis-Disney feud when speaking at a Democratic fundraising event, commented on the current state of the Republican Party, referring to it as having been taken over by the "far Right."
"It's mean. It's ugly. It's the way — look what's happening down in Florida," he said. "Christ, they're going after Mickey Mouse."
Newsweek reached out to the DeSantis campaign for comment.