Florida Schools Buried By Fake Threats As Parkland Trial Enters Final Phase
Attorneys are delivering their closing arguments in the Parkland school shooting case where the shooter murdered 17 people and attempted to murder 17 others at Marjory Stoneman Douglas High School in 2018 in south Florida. As attorneys speak to the jury, south Florida schools have been inundated with fake shooting threats Tuesday morning.
Last month, in one of the first weeks of school for many in the nation, USA Today found "at least 30 active shooter false alarms and threats made at schools..." School shooting hoaxes were also the result of a TikTok trend late last year, during which some social media posts encouraged students to call in a fake school shooting incident in order to get out of school early.
Licensed professional counselor Rebecca Cowen told Newsweek that fake school shooting calls are often made so students can get out of class.
"These are very similar to what we see when bomb threats are called into the courts," said Cowen, a faculty member at the Walden University College of Social and Behavioral Health. "It's people taking advantage of the situation. It could be to get out of class or to cause some sort of disruption is usually motivation behind those calls."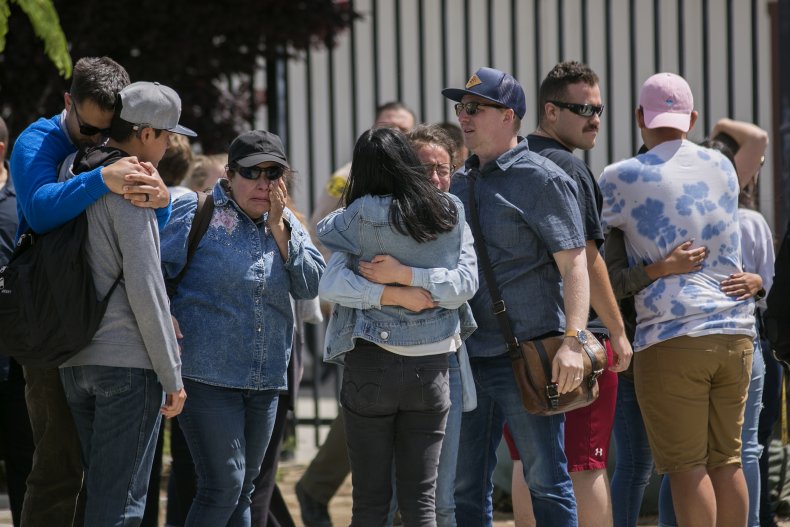 Schools subject to the hoaxes on Tuesday were in south Florida. Marjory Stoneman Douglas Stoneman High School also is in south Florida, where a shooter opened fire in 2018 and killed 14 students and three staff members. That shooter's trial is wrapping up, as is months of media coverage on the trial. As the jury deliberates on whether the shooter should receive the death penalty or life in prison, police resources in south Florida are diverted to the fake calls.
Local Miami broadcast journalist Eric Yutzy tweeted just before 10 a.m. Tuesday morning that Miami-Dade police received a call about an active shooter at Miami Central High School. The call came from out of the country and appeared to be a swatting prank call.
Emmy-award-winning journalist Frank Guzman tweeted a list of south Florida schools that have received swatting calls this morning. In addition to Miami Central, Ronald Reagan High School, West Broward High School, Pompano Beach High School, Dillard High School and Boca Raton High School all were subject to "bogus incidents" as well, according to Guzman's tweet. All the schools were around an hour or less from Marjory Stoneman Douglas High School, some as close as 14 miles away.
According to another tweet from Guzman, all Broward high schools had to be placed on modified lockdown because of the swatting incidents, which includes Marjory Stoneman Douglas. They have resumed normal operations.
Shortly before Guzman's tweet, Boca Raton Police tweeted that Boca Raton High School was cleared and no suspicious activity was detected.
"Please note: Other South FL schools were placed on lockdown after receiving similar reports today," the police department tweeted.
Cowen told Newsweek typically those making threats don't pose actual threats, as someone truly planning a shooting wants to conceal their plans until the attack. However, school districts and police departments respond in full force to any threat, and the hoax calls do cause disruption. The hoaxes consume police resources and disrupt school days, as affected schools rush into a lockdown in case the incident proves to be real.
Update: 10/11/22 12:37 p.m.: This article was updated with additional information about the schools' status.