Florida Science Teacher, 47, Arrested for Allegedly Courting Student, 13, in 'Aggressively Romantic' Manner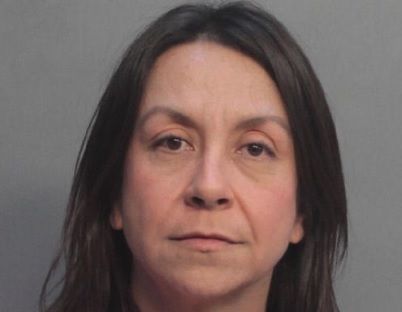 A teacher in Florida has been charged with lewd and lascivious conduct against a child, after she allegedly told a then-12-year-old student she loved him and tried to kiss him.
Andrea Jimenez, 47, grabbed the student's face and attempted to kiss him on the last day of the 2018 school year, according to arrest documents seen by NBC.
Read more: Florida man beat 7-week-old to death after he grew frustrated when changing her diaper
In May, the science teacher at Doral International Math and Science Academy messaged the sixth-grader and "explicitly professed her love for him," NBC reported, citing South Florida's Doral Police Department. She also expressed "her desire to engage with him in an intimate manner."
Jimenez "lured" the sixth-grader into her classroom at the end of the school day on more than one occasion, police said (via CNN Wire). Downloading social media applications such as Snapchat and Instagram over the summer with the intention of messaging her student, Jimenez was "aggressively romantic" and had an "obsessive tone."
In one message she stated: "I will go to hell for u. Die for u stop eating to feed you. My love for u is so real and huge!!! I don't mind facing the devil himself for u."
She also told the child to ignore other girls his own age, according to NBC.
The teacher often bought the child gifts, including shoes, clothing, electrical devices, books and toys, according to the arrest report seem by NBC. It was these items that sparked worry in the child's parents, prompting them to check his cell phone. They discovered messages, which police linked to Jimenez's phone, the Miami Herald reported.
"They found the gifts suspicious coming from a teacher," Doral Police spokesperson Rey Valdez told the Miami Herald.
Doral International Math and Science Academy did not immediately respond to Newsweek's request for comment. The institution told NBC Jimenez had been fired.
In a statement on the school's website that did not name Jimenez, principal Victoria Gomez wrote the administrative team was made aware of an "inappropriate situation involving a teacher."
She said staff were "not aware of any... individuals being involved" other than those identified by police.
Jude Faccidomo, Jimenez's attorney, accused the police of not carrying out a "valid investigation."
Jimenez was arrested after she presented herself to officers on Friday. She had previously told colleagues she feared for her job, CNN reported.
Police set a bond of $17,500. Jimenez was unbonded on Friday, according to NBC.