Florida Sees COVID Cases Triple as 27 Percent of Those Eligible Have Booster Shot
Florida is experiencing a spike in COVID-19 cases ahead of the holidays.
Data from the Centers for Disease Control and Prevention show that the number of daily new cases the state is reporting has tripled over the last week or so.
The CDC reported that Florida saw 6,846 new cases on Wednesday, December 15. On December 7, the state reported just over 1,900 new cases, and over the last few days new case numbers had generally hovered between two and three thousand.
The increase in cases comes as the Omicron variant of COVID-19 has begun spreading throughout the U.S, though it's unclear how many of the new cases stem from the new variant.
Omicron was first detected in Florida last week. However, officials in Orange County, the home of both Walt Disney World and Universal Orlando Resort, said this week that they are detecting the variant in wastewater samples.
A spokesperson for Orange County Utilities told the Associated Press Thursday that samples from the county tested showed Omicron as the dominant variant, representing nearly 100 percent of the COVID strains found in the samples.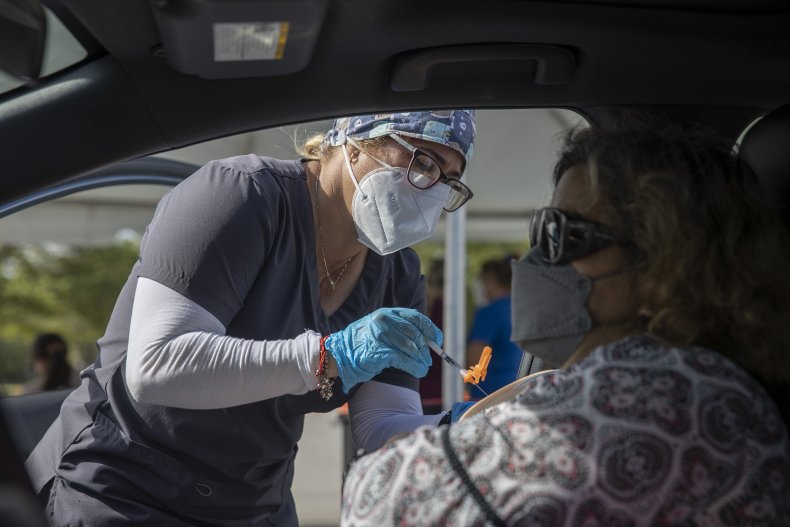 The Omicron variant was first discovered in South Africa in November, and scientists are still studying the new, highly contagious strain of the virus. A South African study on Omicron published this week found that the variant appears to be more resistant to vaccines, but that it's causing less severe illness.
The spike in Florida cases also comes as only 3.6 million people in the state have received COVID-19 booster shots— which represents 27 percent of residents in the state eligible to get a third vaccine dose, according to Florida news site WFLA.
Public health officials are urging people to get their booster shot to protect against both the Omicron and Delta variants. The Delta variant still remains the dominant strain of COVID-19 in the U.S. though that could soon change.
This week, Delta's prevalence throughout the globe declined for the first time since April.
"We do know Omicron is spreading fast and it has a growth advantage over Delta in some countries," Maria Van Kerkhove, COVID-19 technical lead for the World Health Organization said on Wednesday.
"We don't have all the answers yet, but we do see Omicron is growing fast in countries where it's detected," she added.
Studies have shown that booster shots will increase protection against the Omicron variant. An Israeli study published this month showed a Pfizer COVID-19 booster shot added protection against the new strain by "about a hundredfold."