Florida Sets Another Single-Day Record of New COVID-19 Cases, Nearly 40,000 This Week
The coronavirus crisis has escalated rapidly across Florida as the state has set yet another single-day record of reported positive cases, totaling nearly 40,000 new cases just in the last week.
According to data made available Saturday morning by the Florida Department of Health's COVID-19 response page, the state reported 9,585 new positive cases, its largest number of cases reported in one day since the crisis hit Florida in March.
The numbers are particularly staggering if compared to those of New York, which was once considered the virus's epicenter in the U.S. That state reported its largest number of cases in a single day on April 4, with a total of 12,274 new cases.
Florida's caseload is now the fastest-rising out of any other U.S. state based on its population size, according to NPR. It has seen a 250 percent increase in positive cases in just two weeks.
In the last week alone, Florida has gained a total of 38,748 positive coronavirus cases. It is currently reporting 132,545 overall cases since the crisis began, with 3,390 deaths.
Newsweek's request for additional comment was not immediately returned by the health department or Florida's division of emergency management.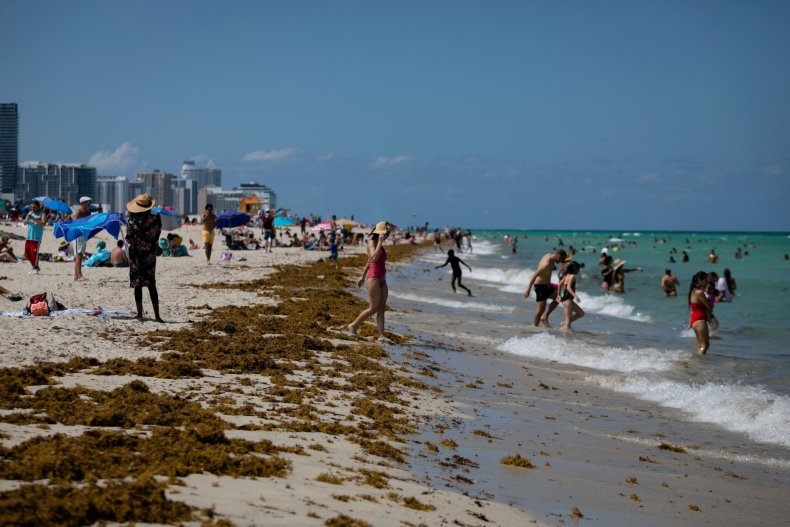 The record numbers come one day after Florida Governor Ron DeSantis said during a press conference in Fort Myers that he does not believe a statewide mask mandate is necessary to quell the virus.
DeSantis said Friday that Florida's sharp rise in positive cases was due to increased testing and young people, who he claimed do not wear masks or follow proper social distancing guidelines.
Several municipalities throughout the state are taking matters into their own hands, deciding to issue their own mask requirements or impose additional social distancing measures.
Florida's St. Lucie County Commission held a meeting Friday to discuss a proposed countywide mask order. "I will not be muzzled like a mad dog," said one man during the public comment session, CBS 12 News reported.
Miami Mayor Carlos A. Giménez will sign an emergency order Saturday closing all beaches in Miami-Dade County from July 3 to 7 in an effort to keep people away from mass gatherings for the Independence Day weekend.
The order could be extended "if conditions do not improve" and residents continue to ignore safety guidelines, Giménez said in a statement. The county continues to be Florida's biggest hotspot for the coronavirus.
Florida's Department of Business and Professional Regulation (DBPR) announced Friday that it would suspend the consumption of alcohol at bars across the state, effective immediately.
In a press release emailed to Newsweek, DBPR Secretary Halsey Beshears stated the department's decision was based on the recent increase of coronavirus cases and "non-compliance with previous orders."
"DBPR believes this is a necessary step to take to protect public health as we continue working in partnership with industry and health officials to combat COVID-19," according to the press release.