Florida Sheriff Tells Residents to Shoot Looters Breaking Into Homes As Local Police Officers Offer Protesters Free Hugs
A Florida sheriff warned residents that looters could be shot amid protests over the death of George Floyd, while other police officers in the county held signs offering "free hugs" to demonstrators.
Sheriff Grady Judd of Polk County extended the area's curfew on Monday while also noting that potential rioters could face retaliation from local gun owners. He cautioned would-be agitators against provoking or causing any destruction.
"The people of Polk County like guns, they have guns," Judd said, WFLA News Channel 8 reported.
"I would tell them, if you value your life, you probably shouldn't do that in Polk County," the sheriff warned. "I encourage them to own guns, and they're going to be inside their homes tonight with their guns loaded. And if you try to break into their homes tonight and try to steal, to set fires, I'm highly recommending they blow you back out of the house with their guns."
Meanwhile, officers with the Auburndale Police Department in Polk County attended a local demonstration on Monday while holding signs offering "free hugs" to protesters. Another officer held a sign reading: "don't blame all for actions of few."
The peaceful protest also featured a moment where police officers and protesters kneeled and prayed together while being led by a priest in Auburndale Park. "Protesters, police, and a priest are all praying together now. This is happening at Auburndale Park in #PolkCounty," journalist Catherine Hawley from WTVT FOX 13 tweeted, sharing an image of the moment.
When reached for comment, a spokesperson for the Polk County sheriff referred Newsweek to his comments on Facebook.
"I have determined that there have been acts of violence or a flagrant and substantial defiance of, or resistance to, a lawful exercise of public authority and that, on account thereof, there is reason to believe that there exists a clear and present danger of a riot or other general public disorder, widespread disobedience of the law, and substantial injury to persons or to property, all of which constitute an imminent threat to public peace or order and to the general welfare of the affected jurisdiction," Judd, the sheriff, wrote in a declaration of a local state of emergency posted to Facebook.
Judd also extended a county curfew from 8 p.m. Monday to 5 a.m. Tuesday, while calling the death of Floyd in Minneapolis, Minnesota, "outrageous."
"The death of George in Minneapolis at the hands of that police officer was outrageous," Judd said. "Had that police officer done here what he did there, he would have been locked up in the county jail by sundown."
Then the sheriff cautioned: "But please understand, that if you come here to riot, to loot, to injure people, we're going to lock you up in the county jail."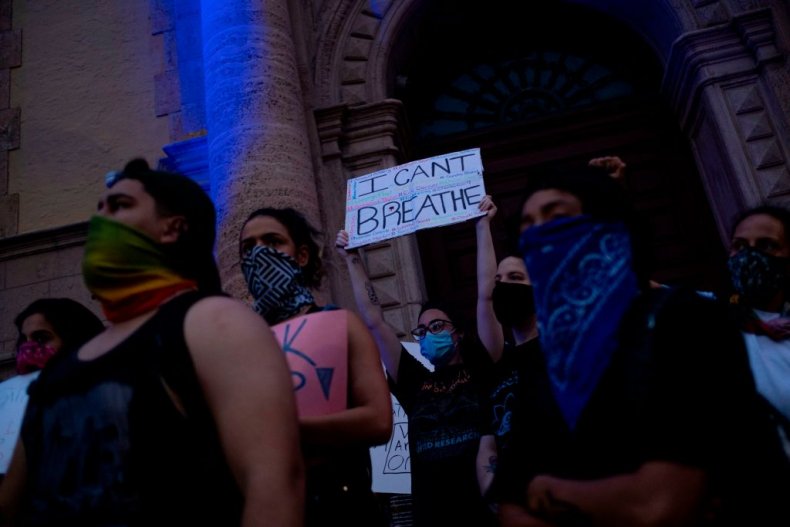 K. Andy Ray, chief of police for Auburndale, told Newsweek that the signs were made by a female demonstrator who coordinated with officers at the protest.
"One of our officers asked her if she could make him a sign and she said she would be glad to. He asked her to make him a 'Free Hugs' sign and she gladly did so. She made another one or two as well," Ray explained.
"We felt like they were mostly received positively. We weren't kidding. Sometimes, we just have to remind people that we are human, just like everyone else, which makes us approachable, relational, friendly, and fallible," he added. Ray said that he felt the signs were "helpful" and "brought a smile to the faces of some" protesters.
Floyd, a black man, died last Monday while in custody of officers from the Minneapolis Police Department. A video of the arrest went viral online, showing officer Derek Chauvin pinning down Floyd with his knee on his neck for nearly nine minutes. Floyd repeatedly yelled: "I can not breathe" and onlookers raised concerns while urging the officer to stop.
Floyd was later pronounced dead at a nearby hospital. Chauvin and three other officers involved with the incident have been fired by the Minneapolis Police Department. Murder and manslaughter charges have been brought against Chauvin, as well.
But Floyd's death has spurred nationwide demonstrations against what participants see as systemic racism in policing across the country. Although the protests have been largely peaceful, many in major cities have erupted into unrest as some individuals have vandalized, looted businesses and set police facilities on fire.
This article has been updated with comment from the Auburndale police chief.