Florida is So Cold Freezing Iguanas Are Falling Out of Trees, Officials Warn
Residents of Florida are being warned to prepare for some rare precipitation by the National Weather Service (NWS); frozen iguanas.
The NWS in Miami tweeted that the unusual forecast was due to temperature lows of between 30 and 40 degrees Fahrenheit last night: "This isn't something we usually forecast, but don't be surprised if you see Iguanas falling from the tree tonight."
While an odd forecast, there is genuine concern for people living in parts of the state such as south Florida. Iguanas, or Common Green Iguanas, are cold blooded animals and go dormant in colder conditions.
They sleep in trees during colder weather conditions, so can end up falling from branches into the streets when they enter a dormant state, potentially landing on cars, into pools—and even on people.
According to Reptiles Magazine, adult male iguanas can reach 6 or 7 feet in length and weigh up to 20 pounds, so it could be dangerous if one falls on top of someone.
Weather warnings for freezing conditions and wind chills were issued by NWS yesterday, with temperatures predicted to drop to 30 degrees Fahrenheit. The warnings meant several water parks closed their doors to the public including Universal Orlando and Walt Disney World Resort.
Freeze warnings remain in effect in Florida until 8:00 a.m. EST this morning—9:00 a.m. for other parts of the state—according to NWS. Sub-freezing temperatures as low as 30 degrees Fahrenheit are expected through to sunrise, as well as north winds ranging between 15 to 20 miles per hour.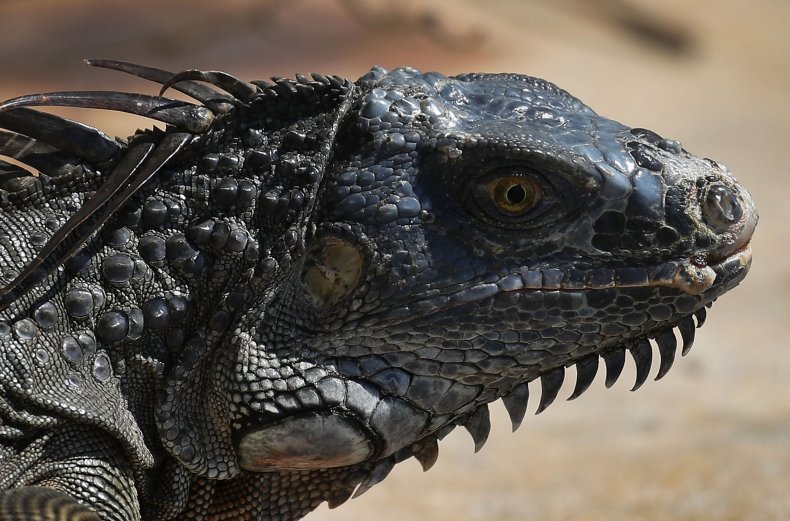 While iguanas are not considered endangered species, populations are under pressure from both habitat destruction and their popularity in the pet trade, according to INCU Red List, which rates the species as "least concerned". There is at least one conservation project to protect these iguanas, Fundación Pro Iguana Verde, which is based in Costa Rica.
Given the rainy season finished in October in Florida, there could be more danger to vulnerable younger reptiles. According to Encyclopaedia Britannica, male iguanas become territorial during the rainy season and find themselves a mate. By the end of the season, the female will lay eggs in groups of 30 to 50. As eggs can take as little as 70 days to hatch, baby iguanas could already be roaming the state.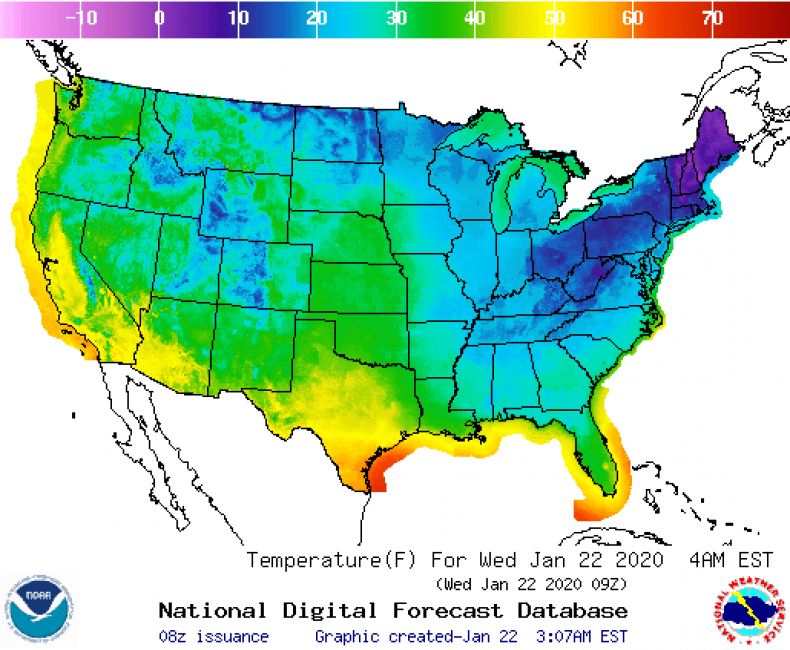 As the above forecast from NWS shows, temperatures in Florida could go below 45 degrees Fahrenheit, which is when iguanas go into their dormant state. While they might appear to be dead, they are not. Their whole body slows down in colder temperatures with only critical body functions working.
If the temperatures remain in the 40s for a period of over eight hours, many iguanas could die, especially hatchlings, according to The Bismarck Tribune.
Iguanas are considered pests by the Florida Fish and Wildlife Conservation Commission (FWC) as they are an "invasive species" and are not native to the state.
They can cause damage to residential and commercial landscape vegetation and are "often considered a nuisance by property owners," according to the FWC website. Some green iguanas can "cause damage to infrastructure" by digging burrows that erode and collapse sidewalks, foundations, seawalls, berms and canal banks. They can also transmit Salmonella to humans through contact with water or surfaces contaminated by their feces.
In summer 2019, the South Florida Sun Sentinel reported that a resident could spend up to $3,000 a year for the removal of iguanas and the filling in burrows.