Florida Spends $600,000 to Tell Over 2 Million People They Aren't Registered to Vote—But Some of Them Are
In a mail-out addressed to nearly 2.24 million eligible voters, Florida's Division of Elections sent postcards telling voters they weren't registered to vote. But the $600,000 initiative left many voters who had already registered confused.
The state identified over 2 million potentially eligible but unregistered voters, but the Electronics Registration Information Center (ERIC) used did not exclude the thousands of voters whose information is shielded under Florida law, according to Division of Elections Director Maria Matthews.
The public records exemption request provided by the Florida Department of State allows those holding certain government jobs classified as "high-risk professional class," as well as their spouses and family members, to protect their personal information. The list includes judges, correctional officers, firefighters and members of the military among others.
However, these voters received postcards from the state saying that records indicated they were eligible to vote but had not registered to do so.
The cards included instructions to check their status on RegisterToVoteFlorida.gov and informed voters they can vote either by mail, at any early voting site or at the polls on November 3, according to The Florida Times-Union.
Florida undertook the initiative as part of a requirement to join the 30 states and the District of Columbia in the ERIC consortium. The latter collects data on voter registration and allows states to cross-check information to remove duplicate or deceased voters.
Newsweek reached out to the Division of Elections but did not hear back before publication.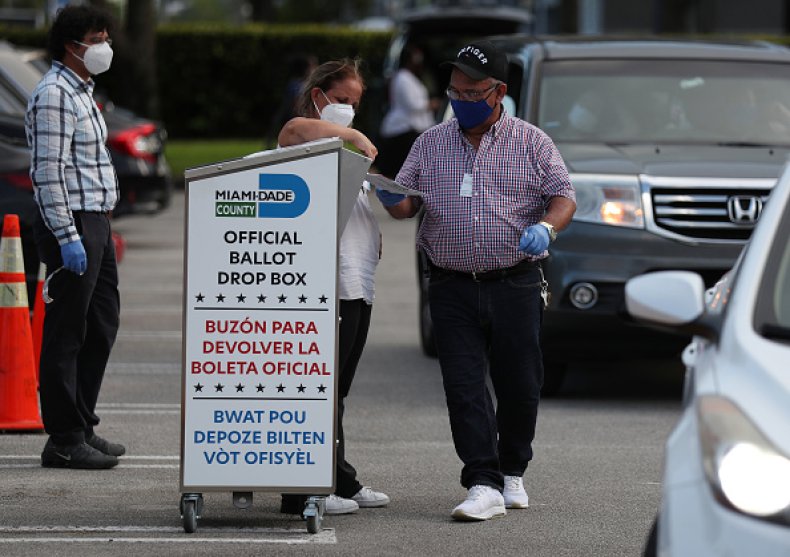 The registration deadline for November's general election in Florida is October 5, two weeks after National Voter Registration Day, which aims to boost voter participation. Since the annual civic holiday was created in 2012, 3 million voters have registered on National Voter Registration Day.
The coronavirus pandemic has presented this election year with a number of challenges. Due to health concerns surrounding the spread of COVID-19, state officials have pushed to expand mail-in voting, a practice that President Donald Trump has both delegitimized and encouraged.
Trump publicly denounced mail-in ballots, claiming they'll lead to widespread voter fraud—an argument disputed by many election officials. Later he encouraged voters in battleground states like Michigan, Florida and North Carolina to vote by mail.
This year's National Voter Registration Day is tackling registration in the age of COVID-19 "by organizing both virtual and safe, in-person voter registration drives," according to a news release from the organization.
Two years ago, Florida also passed a law reinstating voter rights to felons if they could pay all fines and fees owed to the government. This year, billionaire Michael Bloomberg reportedly raised more than $16 million to help 32,000 convicted felons in Florida register to vote, according to Axios.
After dropping out of the Democratic primary for president, Bloomberg has donated millions to party nominee Joe Biden's campaign in efforts to defeat President Donald Trump's re-election. Earlier this month Bloomberg said he will spend $100 million for Biden ads in Florida.