Can Bloomberg Win Florida for Biden? Billionaire to Spend $100 Million In Support of Democratic Nominee
Billionaire and former New York City Mayor Mike Bloomberg plans to spend $100 million to help Democratic presidential nominee Joe Biden beat President Donald Trump in Florida, a key battleground that went for Trump in 2016.
The Washington Post first reported on Sunday morning that Bloomberg, a former Republican who briefly sought the Democratic presidential nomination this election cycle, had decided that spending the massive lump sum in Florida would be the best use of his money at this late stage in the campaign. Multiple recent polls suggest that Biden already has a narrow advantage in Florida, the state where Trump has officially been a resident since late 2019.
But Bloomberg aims to boost early voting turnout, in a bid to show a decisive Democratic victory shortly after polls close on Election Day. The spending will reportedly go largely to digital and television ads targeting Florida voters in both English and Spanish.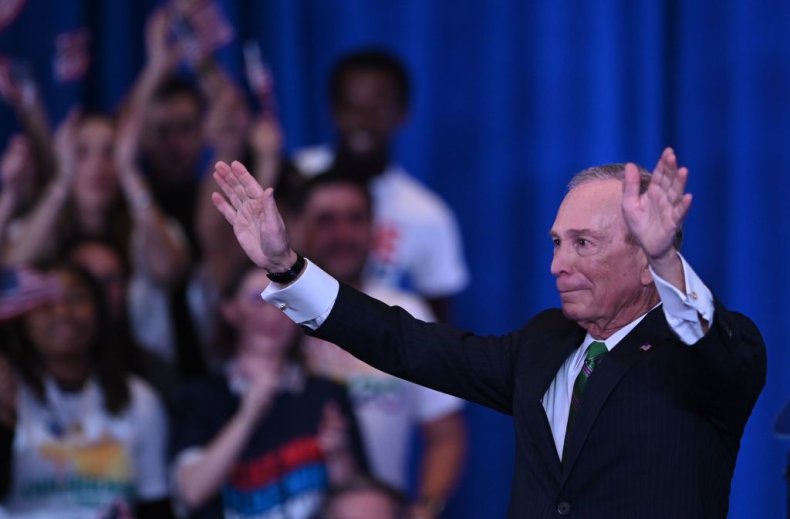 "Voting starts on September 24 in Florida so the need to inject real capital in that state quickly is an urgent need," Bloomberg adviser Kevin Sheekey told the Post. "Mike believes that by investing in Florida it will allow campaign resources and other Democratic resources to be used in other states, in particular the state of Pennsylvania."
Samantha Zager, deputy national press secretary for Trump's reelection campaign, told Newsweek that Bloomberg couldn't "buy" the election.
"As Joe Biden said about Mike Bloomberg in the Democrat primary, '$60 billion can buy you a lot of advertising, but it can't erase your record,'" Zager said.
"Mike Bloomberg couldn't buy the Democrat nomination for himself, and he won't be able to buy Florida for Joe Biden," she added.
During the Democratic primaries, Bloomberg—who ended up spending about $1 billion of his personal fortune on his failed presidential campaign—received substantial criticism from fellow Democratic contenders (Bloomberg is worth an estimated $55 billion). They repeatedly argued that he was attempting to "buy" the election, particularly as he entered the race late and decided to forego campaigning in early primary and caucus states.
On March 4, after failing to win any significant support in primaries and caucuses, Bloomberg dropped out and endorsed Biden.
Trump tweeted his thoughts on Bloomberg's spending a few hours after the news broke on Sunday morning.
"I thought Mini Mike was through with Democrat politics after spending almost 2 Billion Dollars, and then giving the worst and most inept Debate Performance in the history of Presidential Politics. Pocahontas ended his political career on first question, OVER! Save NYC instead," the president wrote, using a racist nickname for Senator Elizabeth Warren to reference a primary debate confrontation between the two former Democratic presidential hopefuls. Trump exaggerated the amount Bloomberg spent on his brief presidential campaign.
Trump narrowly won Florida in 2016, after former Democratic President Barack Obama had carried the southern state in 2008 and 2012. In the last presidential election, Trump won about 49 percent of the votes in Florida compared to 47.8 percent that went for former Democratic presidential nominee Hillary Clinton. Obama, who Biden served under as vice president, won 50 percent of Florida's votes in 2012 and 51 percent in 2008.
The most recent polls out of Florida suggest that Biden already has an advantage. Separate surveys conducted this month by CNBC/Change Research and St. Pete Polls both show Biden in the lead by 3 percentage points. But an NBC News/Marist poll conducted from August 31 to September 6 showed a tied race.
Along with Michigan, Pennsylvania and Wisconsin, Democrats and Republicans see Florida and the other swing states as vital to victory in November. Current averages by RealClearPolitics show Biden leading in all four states. If the Democratic nominee manages to pull off victories in three of these states—while maintaining all the states won by Democrats in the last presidential election—he would be propelled to victory in the Electoral College.
Updated 3:42 p.m. ET: A statement from a Trump campaign spokesperson has been added.