Florida State Rep. Files 'Heartbeat' Abortion Bill 22 Days After Texas Law Takes Effect
A Florida state representative on Wednesday filed a bill that proposes banning abortions after doctors are able to detect fetal heartbeats.
Webster Barnaby, a Republican who represents District 27 in Florida's House of Representatives, filed HB 167, which he titled the "Florida Heartbeat Act," shortly after 9 a.m. local time on Wednesday. The proposed legislation has already begun drawing comparisons to an abortion law in Texas that went into effect at the beginning of September.
The bill says a doctor would be required to check for a fetal heartbeat before performing an abortion. Abortions would not be allowed when cardiac activity can be detected in a fetus, with some exceptions allowed. Experts have said cardiac activity can be detected as early as six weeks into pregnancy.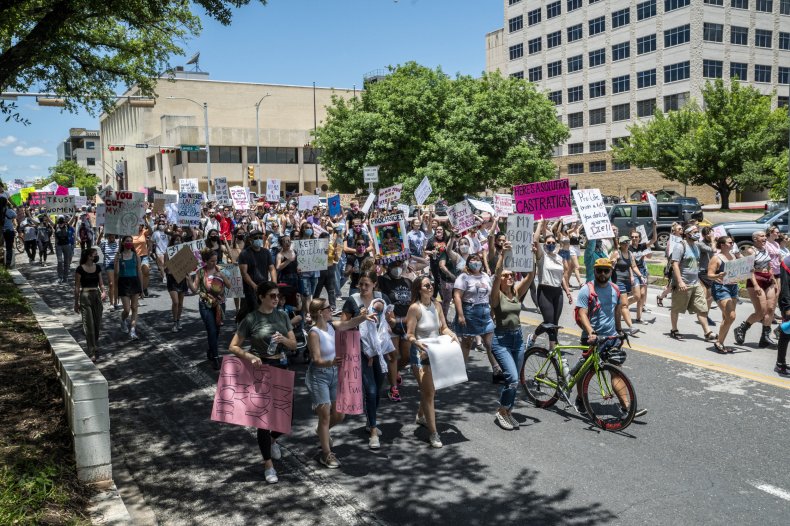 In Texas, the state's new abortion law allows private citizens to file lawsuits against individuals suspected of carrying out abortions in violation of the law. The bill Barnaby filed in Florida similarly "authorizes private civil cause of action for certain violations."
State Representative Anna Eskamani, a Democrat representing Florida's 47th District, referred to HB 167 as a "gross excuse of a bill" in a statement she posted on social media Wednesday morning.
The bill "attacks women and birthing people who are seeking an abortion before they even know they are pregnant," Eskamani's statement said. "It also attempts to mimic Texas by creating a process for civil action towards those that help someone in Florida end a pregnancy after 6 weeks."
State Representative Michele Rayner, a Democrat who represents Florida's 70th District, referred to the portion of the bill allowing civilians to take action against people believed to be in violation as "modern day bounty hunting."
"If someone is able to find out when or how or what, regarding my abortion, it is literally a violation of HIPAA, it's a violation of my personal relationship with my doctor," Rayner said during a conversation with Newsweek.
Rayner said the bill's filing was "unfortunate" but "not unexpected."
"This issue of abortion and access to safe abortions, while it affects all people, it affects the most marginalized, the most vulnerable of us—and those are people of color, those are working-class families," Rayner said.
Like the new abortion law in Texas, the proposed legislation in Florida challenges Roe v. Wade. The U.S. Supreme Court declined to step in this summer to block the new Texas law before it went into effect.
"Roe v. Wade is the law of the land. It hasn't been overturned," Rayner said.
State Representative Angela Nixon, a Democrat who represents Florida's 14th District, told Newsweek abortion "should be a decision kept between us women and our doctors."
"Unfortunately, between implicit bias in adequate health care insurance, inadequate access to healthcare and no access to quality health care, clearly pregnancy can often be a death sentence for too many of us—particularly black women," Nixon said.
Nixon said she and others in the state legislature who oppose the bill plan to fight it.
"It's very unfortunate that this bill has been drafted and filed, and we are going to push back against it," Nixon said.