Florida Woman Tries to Beat Drunk Driving Test by Irish Folk Dancing: Video
A woman's bid to beat her DUI test with flamboyant dances did not fly with sheriff's deputies, body camera footage revealed.
Amy Harrington, 38, was stopped after she rear-ended another vehicle near her home in Madeira Beach, Florida, on April 27. Newly released body camera video showed her attempt at getting around the sobriety test administered by Pinellas County Sheriff's deputies.
Officers arrived to find Harrington using "slurred speech" and emitting the "distinct odor of a consumed alcoholic beverage," according to an arrest report obtained by Newsweek. She was "almost falling" from impaired balance.
"[Harrington] would dance during the walk and turn and one leg stand, doing multiple ballet and Irish folk dance moves," said the report.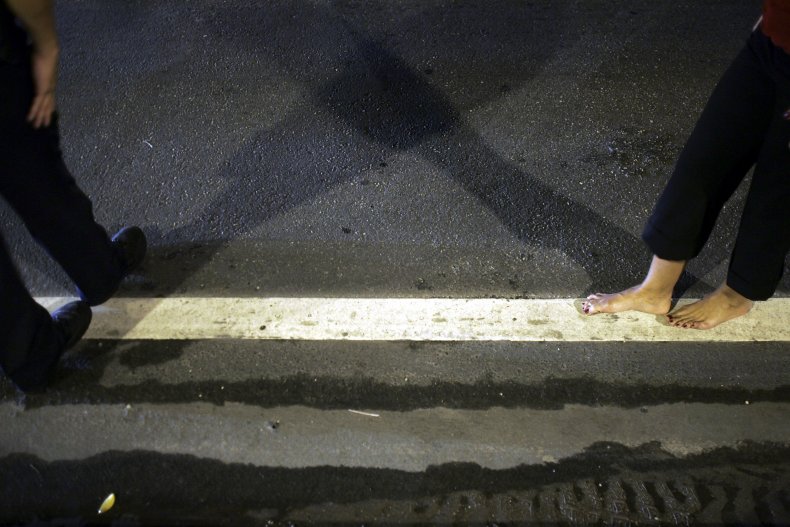 Video captured the woman taking three steps along the straight line test before she abruptly gave up and broke out in an unsteady dance. She proceeded to twirl away from the line altogether, swinging her arms and hopping in circles in front of a deputy.
When the deputy started giving instructions for a one-leg stand test, Harrington moaned, "Oh my god, you sound like my f**king ballet coach."
She then demonstrated what looked like an attempt at ballet dancing.
"Do you want to pay attention so I can give you the instructions?" the deputy asked.
"Yeah, well, you sound like my ballet coach, so, sounds about right," Harrington repeated.
Throughout the tests, Harrington exhibited "multiple ranges of emotion to include crying, anger and apologetic," deputies reported. Her prancing continued until she was eventually handcuffed and arrested for driving under the influence.
The woman later refused to submit to testing of her breath, urine or blood, marking the second time she refused testing after a separate incident in March 2019, according to the arrest affidavit.
In the center cup holder of Harrington's car, deputies said they found a white foam cup containing a "light yellow liquid with an orange" that was confirmed to be alcohol.
Florida is the third-worst state in the U.S. for drunk driving, surpassed only by Texas and California, according to a study from financial company Bankrate. Collectively, those three states account for nearly 30 percent of the country's total alcohol-related driving fatalities between 2008 and 2019.
Alcohol-impaired traffic incidents killed 11,654 Americans in 2020, up 14 percent from 2019, according to the National Highway Traffic Safety Administration (NHTSA). Last year, as part of President Joe Biden's $1 trillion infrastructure package, Congress mandated that automakers implement technology to prevent DUI deaths.