Death Toll Rises in Suspected DUI Pile-Up as Holiday Travel Begins: Police
The death toll from a multi-vehicle crash on Interstate 95 in Georgia, near the Florida border, has climbed to four, according to law enforcement officials.
At around 2:30 p.m. on Friday, police were called to respond to investigate a crash involving a "white International" tractor-trailer and a Nissan Armada, according to a description of the incident the Georgia Department of Public Safety sent to Newsweek on Saturday.
The department said that the driver of the tractor-trailer "lost control of the vehicle, which began to overturn and struck a Chevrolet Silverado."
"The tractor trailer then traveled though the center median into the northbound lanes of travel. The tractor trailer was then struck by a Nissan Xterra, a Honda Pilot, and a black Peterbilt tractor trailer before coming to final rest on Interstate 95 North," the statement added.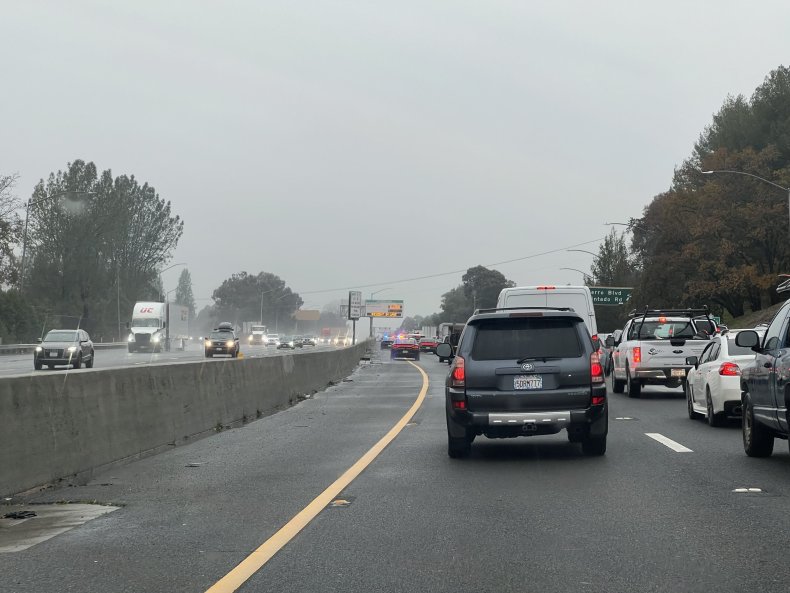 The Georgia Department of Public Safety said that two passengers in the tractor trailer died from injuries following the crash, as did two passengers in the Honda Pilot.
The driver of the tractor-trailer, who was taken to the hospital, was "suspected to be under the influence of alcohol," the department stated, which added that "all charges will be handled by Georgia State Patrol, Troop I Specialized Collision Reconstruction Team (SCRT) at the conclusion of their investigation."
The crash also temporarily blocked travel on the highway ahead of the busy Fourth of July weekend.
"There is a crash on I-95 S at St. Mary's Road CR 61 leaving all lanes blocked. I-95 N at this location also has lanes blocked. Avoid travel in this direction and use alt. routes," the Georgia Department of Transportation said in a tweet at approximately 3 p.m. Friday.
At 9 p.m., the department then tweeted: "ALL LANES NOW OPEN I-95 SB & NB at St. Marys Rd. Congestion is heavy."
According to local news station WXIA, at least 12 people were taken to the hospital following the crash on I-95.
In a separate pile-up crash in Pennsylvania in March involving at least 80 vehicles, at least six people died. In addition to the people who were killed, two dozen others were taken to hospitals following the crash, according to state police. Local law enforcement said the pileup involved 41 passenger vehicles and 39 commercial vehicles.
In another recent crash in New York City in April, a man was left in critical condition after being violently ejected from his vehicle on the Brooklyn Bridge.