Ahead of the upcoming Fourth of July holiday weekend, several states have imposed an increase in state gas taxes.
Since Russia's invasion of Ukraine in February, gas prices in the U.S. have continued to rise with the national average currently set at $4.842, according to data from AAA. In comparison, on the same day last year, the national average gas price was listed at $3.123.
Several states, such as Indiana, South Carolina, Missouri, Maryland, Virginia and California have increased their state gas tax effective Friday, July 1.
The increase in state gas tax across these different areas comes ahead of the Fourth of July weekend, where millions of Americans are expected to travel via car. AAA recently estimated that 47.9 million people will travel via car over the upcoming holiday weekend, driving at least 50 miles. It's not just gas that's increasing though. Some of your favorite July 4 foods have increased prices, too.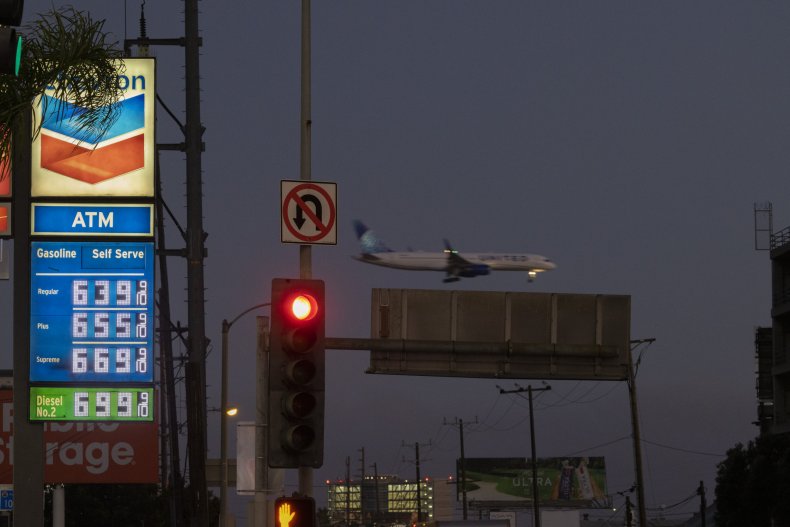 Indiana:
In June, the Indiana Department of Revenue announced that the state's gas tax will be increased by 7 percent. According to data from AAA, as of Friday, the average gas price in Indiana was listed at $4.926.
"Based on the previous calculations, the gasoline use tax rate for the period from July 1, 2022, to July 31, 2022, is twenty-nine and one-tenth cents ($0.291) per gallon," the state's Department of Revenue said in a statement.
South Carolina:
Last month, the South Carolina Department of Revenue announced that on July 1, the state's "motor fuel user fee" will increase by $0.02 per gallon, increasing from $0.26 to $0.28 per gallon.
"This is the final increase approved by lawmakers as part of the South Carolina Infrastructure and Economic Development Reform Act passed by the General Assembly in 2017, which raises the fee by $0.02 each July ending this year. The fee of $0.28 per gallon which begins in July is permanent," the South Carolina Department of Revenue said.
As of Friday, the average gas price in the state was listed at $4.356, according to AAA.
Maryland:
According to WJZ-13 news in Baltimore, the state gas tax in Maryland will increase by $0.07 beginning on Friday. This increase will bring the total state gas tax from $0.36 per gallon to $0.43 per gallon.
Prior to the increase, Maryland Governor Larry Hogan issued a statement calling on elected officials in the state to suspend the gas tax.
"We are once again calling on the Comptroller to use the same authority he has in the past in order to minimize the impact of the gas tax increase scheduled for July 1," the statement said. "I am prepared to swiftly sign a gas tax suspension into law."
AAA data showed the average gas price in Maryland as of Friday was $4.774.
Virginia:
The state gas tax in Virginia is set to increase from $0.26 per gallon to $0.28 beginning on Friday, the state's Department of Motor Vehicles said. According to WVIR news in Virginia, the state's gas tax is imposed on gas stations in the state; however, AAA Spokesperson Morgan Dean told the local news outlet that state gas tax "is ultimately passed on to the customer."
According to AAA data, the average gas price in Virginia is currently $4.653.
Missouri:
Missouri has an annual gas tax increase which begins on Friday, July 1, and will increase the state's gas tax by 2.5 cents. However, Missouri residents will eventually be able to file for a refund claim on these state gas taxes.
In Missouri, the current average gas price is listed at $4.560, AAA data shows.
California:
AAA data shows that California currently has one of the highest average gas prices in the nation, at $6.270 and this number will rise as of July 1 following an increase in the state's gas tax. According to KABC news in California, the state's gas tax, which was previously $0.51, is set to increase by $0.03 on Friday.
States with Gas Tax Increase Delays
While these states are seeing a spike in state gas tax, several others have imposed delays on a gas tax increase.
Officials in Connecticut, Illinois, New York and Georgia have extended a pause period on the state's respective gas taxes in an effort to help residents from paying more at the pump.
What's Biden Doing?
Earlier this year, U.S. President Joe Biden called on Congress to temporarily pause the nation's federal gas tax, citing Russian President Vladimir Putin's invasion of Ukraine as a reason for rising gas prices.
"Specifically, he is calling on Congress to suspend the federal gas tax for three months, through September, without taking any money away from the Highway Trust Fund. And he is calling on states to take similar action to provide some direct relief, whether suspending their own gas taxes or helping consumers in other ways," the White House said in a statement.
Newsweek reached out to AAA spokesperson Morgan Dean for further comment.