Biden's Gas Tax Pause Will Cost U.S. Highways a Big Chunk of Their Funding
A temporary halting of the federal gas tax could deprive the U.S. Highway Trust Fund of a big chunk of its annual funding.
On Wednesday, President Joe Biden called on Congress to suspend the federal gas tax, which is about 18.4 cents per gallon, for three months through September in an effort to ease the impact of soaring gas prices on Americans. A White House fact sheet on Biden's call for a federal gas tax holiday estimated that the suspension will cost about $10 billion.
The Tax Policy Center, a nonpartisan think tank, says the Highway Trust Fund "finances most federal government spending for highways and mass transit." Federal taxes on gasoline and diesel are the primary sources of the fund's revenue. Therefore, a three-month gas tax holiday could deprive it of a fourth of the federal gas tax funds that are collected annually.
Gas prices have been rising across the nation and inflation reached a 40-year high last month, putting Biden under pressure to try to alleviate the impact on consumers. Gas prices in particular are hitting Americans hard in the wallet, spurring the president to consider a gas tax holiday and other measures, like sending gas rebate cards to Americans.
"President Biden understands that a gas tax holiday alone will not, on its own, relieve the run-up in costs that we've seen," the White House fact sheet said. "But the President believes that at this unique moment when the war in Ukraine is imposing costs on American families, Congress should do what it can to provide working families breathing room."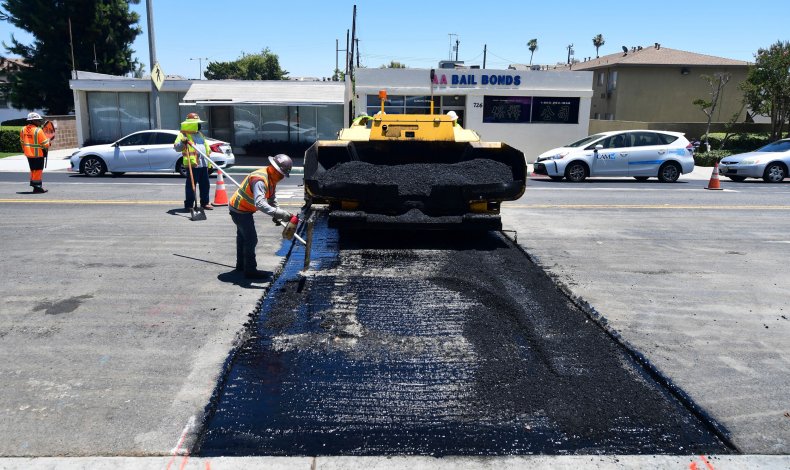 Biden has blamed Russia's war in Ukraine for U.S. inflation, but prices were already on the rise before Russian President Vladimir Putin launched the invasion in late February.
The White House fact sheet acknowledged the potential impact of a federal gas tax holiday on the Highway Trust Fund, saying that Biden was calling on Congress to suspend the tax while also refraining from taking away any money from the fund.
"With our deficit already down by a historic $1.6 trillion this year, the President believes that we can afford to suspend the gas tax to help consumers while using other revenues to make the Highway Trust Fund whole for the roughly $10 billion cost," the sheet said.
The White House did not specify where those other revenues could come from. Several Democratic members of Congress have already opposed the prospect of a federal gas tax holiday because of its potential impact on money for the Highway Trust Fund.
"I'm glad that @POTUS is exploring ways to lower gas prices at the pump," Senator Tom Carper, a Delaware Democrat, tweeted Tuesday night. "Still, suspending the primary way that we pay for infrastructure projects on our roads is a shortsighted and inefficient way to provide relief. We should explore other options for lowering energy costs."
In a letter to Biden last week asking him to oppose a federal gas tax holiday, Representative Earl Blumenauer, an Oregon Democrat, argued that the suspension would cause a "massive hole" in the budget for infrastructure and transportation, particularly for the Highway Trust Fund, The Hill reported.
After peaking at a national average of $5.016 per gallon on June 14, gas prices have eased down below $5, settling at $4.955 on Wednesday. But prices are still significantly up from a national average of $3.069 about a year ago, according to AAA. Some experts are also concerned about the effects of a volatile stock market and increased travel during the July Fourth weekend on U.S. gas prices.
Newsweek reached out to the White House for comment.