President Joe Biden's inflation problem is not going away, with the annualized rate of U.S. inflation hitting 8.6 percent in May, according to new figures released by the Bureau of Labor Statistics on Friday after months of high inflation and a rising cost of living.
The bureau reported that May's inflation represents "the largest 12-month increase since the period ending December 1981."
In April, the annualized rate of inflation was 8.3 percent—down from a 40-year high of 8.5 percent in March but still at levels significantly higher than during the closures caused by the COVID-19 pandemic.
Inflation in May was forecast by some economists to be 8.2 percent, while so-called "core inflation" was expected to slow further. Core inflation does not include food and energy, as these goods are subject to volatile prices.
The annualized rate of inflation for all items less food and energy was 6 percent in May, down from 6.2 percent in April.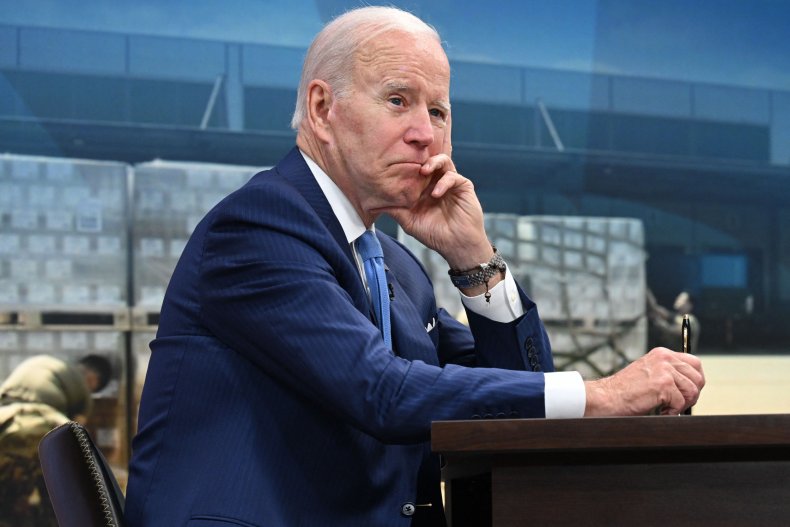 Energy and Food Costs
The cost of energy and food saw significant rises over the 12-month period ending in May. The energy index rose 34.6 percent over that period, which the bureau said on Friday was "the largest 12-month increase since the period ending September 2005."
The situation with food prices was also cause for concern, with the food index increasing 10.1 percent. That's the first increase in food prices of 10 percent or more since the 12-month period ending in March 1981.
Month-on-month, the energy index rose 3.9 percent in March after a decline of 2.7 percent in April, while the food index rose 1.2 percent after an increase of 0.9 percent the previous month.
The shelter index, which measures the cost of housing, rose 5.5 percent in the year ending in May. That's the largest one-year rise since the 12-month period that ended in February 1991.
Many Americans continue to be concerned about the cost of essential goods like food and fuel with just five months to go until the crucial midterm elections when the cost of living is likely to be a major campaign issue.
In what is perhaps a key figure, May's inflation numbers showed that the cost of gasoline (all types) had risen at an annualized rate of 48.7 percent.
The average price for a gallon of gas was more than $4.98 on Thursday, according to the American Automobile Association (AAA).
Inflation Not Peaking
Some economists had argued that inflation had peaked at 8.5 percent in March but Friday's figures appear to suggest otherwise. Inflation is now running far ahead of the Federal Reserve's 2 percent target and it is likely the Fed will press ahead with interest rate hikes in June and July, despite some warnings that doing so could risk a recession.
"So much for the idea that inflation has peaked," said Greg McBride, chief financial analyst at Bankrate, a consumer financial services company, in a statement shared with Newsweek.
"Consumer prices blew past expectations—and not in a good way—with the 8.6 percent annual increase the fastest in more than 40 years. Worse, the increases were nearly ubiquitous. Just no place to hide," he said.
"Any hopes that the Fed can ease up on the pace of rate hikes after the June and July meetings now seem to be a longshot," McBride added. "Inflation continues to rear its ugly head and hopes for improvement have been dashed again."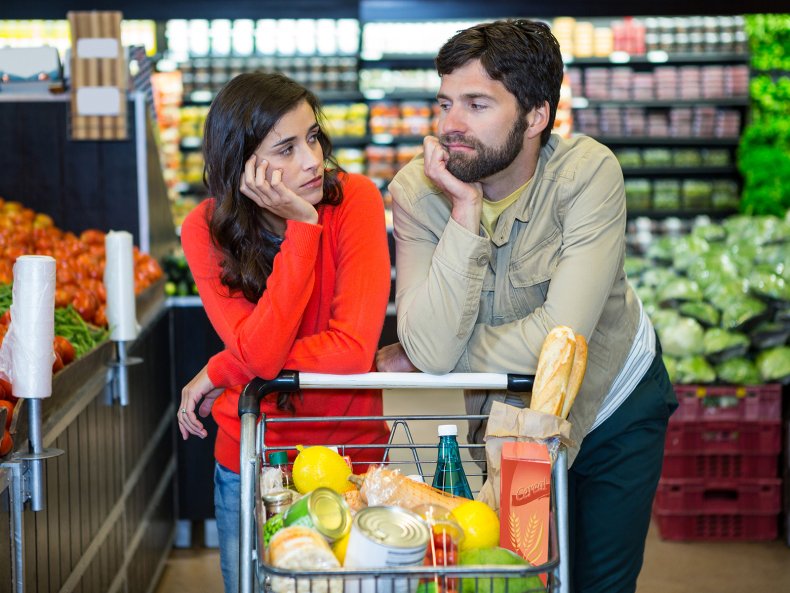 Biden Under Pressure
Friday's inflation figures are almost certainly bad news for the president heading into key elections.
A poll from Pew Research published on May 12 found that 70 percent of Americans considered inflation to be a "very big problem." The survey also found that Americans believed inflation to be the top problem facing the country.
The latest inflation figures also come at a time when Biden is struggling in the polls. Poll tracker FiveThirtyEight analyzes Biden's approval rating based on a wide variety of polls and its own system of pollster ratings.
They found that approval of the president stood at just 40.2 percent as of Friday, compared to 53.6 percent of Americans who disapproved of the job he is doing.
Biden has detailed his plan to tackle inflation, which includes steps such as releasing one million barrels of oil per day from the Strategic Petroleum Reserve for the next six months, lowering food prices by calling for resources to help American farmers boost domestic food, and urging Congress to lower childcare costs.
However, Republican members of the House and Senate were quick to place the blame for inflation at the president's door on Friday. Senator Chuck Grassley of Iowa tweeted the Biden and the Democrats have "fanned the inflation fires & now Americans are stuck w[ith] the bill."
"Wow - inflation off the charts. Joe Biden's destruction of the middle class continues," wrote Senator Josh Hawley of Missouri on Twitter.
Ohio Representative Mike Turner blamed Biden's policies directly, tweeting: "Prices have increased 8.6% from May of last year. President Biden's out of control spending and irresponsible energy policies are not making things better."
Wisconsin Representative Tom Tiffany appeared to compare Biden to former President Jimmy Carter, a Democrat who served one term from 1977 to 1981 and was defeated by the late former President Ronald Reagan.
"Inflation rose 8.6% in May. Gas prices are $5 a gallon. A recession is looming. By the way. @POTUS, Jimmy Carter called to thank you for making him look good," Tiffany said on Twitter.
Republicans are almost certain to make the economy an issue in the 2022 midterm election campaign as Americans struggle with high prices. If the GOP can retake the House of Representatives, Senate, or both, they will be able to stymie President Biden's agenda.
Newsweek reached out to the White House for comment.
Economic Growth
There are also concerns that the U.S. economy will grow at a slower pace in 2022 and 2023 than some of its peer nations. A study by the Organisation for Economic Co-operation and Development (OECD) forecasted that the growth in U.S. Gross Domestic Product (GDP) will slow to 2.5 percent in 2022 and fall to just 1.2 percent in 2023.
Those figures differ from estimates from the Congressional Budget Office (CBO) published last month, which has said it expects the GDP to grow 3.1 percent in 2022 and 2.2 percent in 2023.
Update 06/10/22 10:10 a.m. ET: This article was updated with a new headline and additional information.