Ro Khanna Takes Aim at Joe Biden on Inflation as Public Anger Grows
Democratic Representative Ro Khanna took aim at President Joe Biden over inflation in a new op-ed just over six months before crucial midterm elections that his party may lose.
Khanna, who represents California's 17th district, wrote an article published by The New York Times on Thursday with the headline: "There is way more Biden can do to lower prices."
The United States is currently experiencing what many have described as a cost of living crisis. The annualized rate of inflation in May was 8.3 percent—a slight fall in April but still at a nearly 40-year high. The average price for a gallon of gas has also reached new record highs several times in recent weeks, while Khanna pointed to the cost of groceries, saying inflation was "causing real pain and hardship in my community and across our country."
Inflation has emerged as a major issue for voters ahead of the midterms and with Republicans aiming to retake the House of Representatives and the Senate, GOP candidates are all but certain to make the cost of living a central part of their campaigns.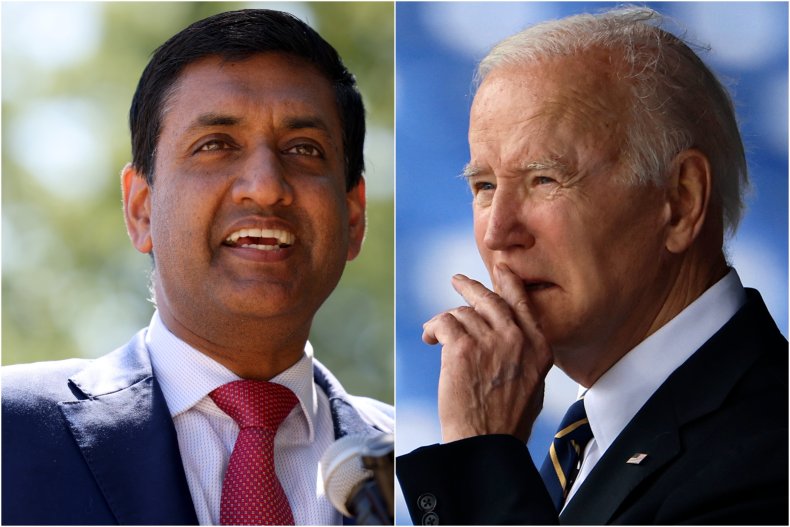 A poll from Pew Research published on May 12 found that 70 percent of Americans considered inflation to be a "very big problem" and the top problem facing the country.
Though Khanna cited emerging from the COVID-19 pandemic and the Russian invasion of Ukraine as factors in high inflation, he also said that the U.S. needs "a bolder vision and faster action" than the president's current plan to tackle the problem.
Khanna argued that Biden "should convene an emergency task force empowered to lower prices and address shortages. We need an all-out mobilization, not just a few ad hoc initiatives reacting to headlines."
He suggested that the Department of Agriculture should buy essential food products on the global market during price dips and the Department of Energy should buy petroleum under the same conditions.
The congressman also said the National Guard and "other military units should be deployed to address immediate worker shortages that have left container ships stuck at sea and warehouses overflowing."
He proposed other steps including improving working conditions to recruit workers, providing wage subsidies during worker shortages, and passing the Bipartisan Innovation Act to allow for the production of more semiconductors.
"There is no patience for incrementalism or political spin about economic numbers in these times," Khanna wrote. "Democrats can't just blame the Republicans for lacking a plan. People elected us to solve problems. We told them that government could improve their lives and they want to see tangible action, movement and energy out of Washington."
Biden's plan to tackle high prices includes steps such as releasing one million barrels of oil per day from the Strategic Petroleum Reserve for the next six months, lowering food prices by calling for resources to help American farmers boost domestic food, and urging Congress to lower childcare costs.
The Bureau of Labor Statistics will publish May's inflation figures on June 13 but it remains to be seen if the annualized rate will have fallen to a significant extent.
Newsweek reached out to the White House for comment.