Facing rising prices on staples like gas and groceries, the White House on Tuesday unveiled a renewed focus on the economy throughout the month of June, with a message that fighting inflation is President Joe Biden's "top economic priority."
Democrats are already concerned about potentially steep midterm losses in November, driven partly by frustration over inflation. And a new Future Majority poll shared first with Newsweek will likely only add to those worries, as it reveals that Latinos in three key battleground states share that frustration with other voters nationwide.
Based on 1,800 interviews of Latino voters across Arizona, Nevada, and Pennsylvania conducted from May 12 to May 18, the state polls found voters identified inflation as the number one issue facing the country.
In Arizona, inflation was the top issue for 28% of voters, edging out jobs and the economy at 17%, and immigration and the border at 8%. In Nevada, the figure was 27%, with jobs at 22% and immigration at 5%, and in Pennsylvania it was 21%, with jobs at 18% and abortion at 8%.
Andres Ramirez, a veteran Democratic strategist for years in Las Vegas who worked with Future Majority on the polls, said the purpose of its Hispanic messaging and research project is to provide factual data about the sentiments of Latino voters and the opportunities for Democrats to shore up their support with them across various issues.
He said the numbers on inflation are consistent with the "economic uncertainty" felt across the country.
"Inflation is probably the number one issue for most voters, not just Latinos," Ramirez told Newsweek, adding that it was likely having a "disproportionate" effect on Hispanics.
But Fernand Amandi, who served as the top Hispanic consultant for Barack Obama's Latino vote efforts and conducted the state polls, said the findings actually hold positive news for Democrats.
"What's interesting is that despite the fact that inflation is the number one issue, it doesn't seem to be impacting Democratic fortunes with Latino voters in these three states," Amandi told Newsweek. "Despite the fact that the Republican Party want to make inflation the reason to disqualify Democrats, Hispanics are acknowledging it's a concern, while also saying it's not enough to make them vote for Republicans viewed as extremists."
Biden began the week with a Memorial Day Wall Street Journal op-ed titled "My Plan for Fighting Inflation," in which he said inflation is "exacerbated" by Vladimir Putin's war in Ukraine, pledged he won't meddle with the Federal Reserve, and called the job market the strongest since the post-World War II era.
On Friday, Biden is scheduled to give a speech tied to the new jobs report.
While the White House is blanketing the airwaves with Biden's top economic officials — with 20 TV appearances scheduled on Tuesday, according to CNN — the economy can be a fickle issue to battle. It is difficult for messaging alone to change economic perceptions, given the weight voters put on how their family is doing economically.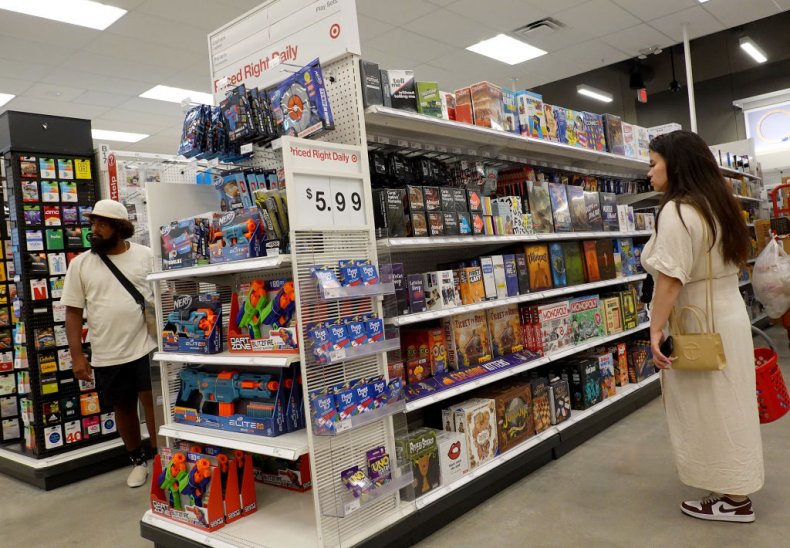 The polls were mixed regarding Biden's approval rating in the critical swing states.
In Arizona, Biden's approval stands at 50%, with 48% disapproving. In Nevada, the number is 53% approve, 45% disapprove, while in Pennsylvania, Biden is doing well with 62% approval and 34% disapproving.
However, those numbers stand in contrast to Biden's standing in Florida, which many political observers believe is slipping away from Democrats. There, Biden's approval stands at just 36%, with a grim 63% of Latinos polled disapproving of the job he is doing as president.
The polls did offer encouraging numbers for Democrats regarding the issue of abortion, providing evidence that the party and its candidates may be able to court Hispanic support by leaning into the issue, rather than avoiding it, after reports that the Supreme Court may strike down Roe v. Wade.
"It upends the conventional wisdom in that, yes Latinos are a little more conservative on issues of choice," Amandi said. "But that does not mean they want to see Roe v. Wade overturned for everyone else."
"It's another example of GOP overreach that could imperil everyone else," he added.
In addition to abortion, the polls found that Latino voters said they trust Democrats more than Republicans to keep them safe. The polls were conducted before the Uvalde school shooting in Texas, which left 19 children and two teachers dead, and 17 others injured. The Robb Elementary School is 90% Hispanic, situated in a town that is 80% Latino.
The shooting, itself coming a week after a gunman in Buffalo set out to kill Black people, killing 10 African-Americans, reopened the raw and polarized conversation about gun violence in America.
"Whether it's attacking our Capitol, overturning Roe v Wade, or allowing lone gunmen to murder people of color, Republicans are not popular with Latino voters and Democrats need to stop acting like they are," Kristian Ramos, a Democratic strategist who worked on the poll, told Newsweek.
Bendixen & Amandi International, which conducted the poll, stressed that it's findings carry weight because it was based on 1,800 interviews, including a representative sample of English and Spanish-speakers. Often, Latino samples on national polls make news, but some are academic polls based on a small sample size, which is then "generalized" as representing the view of all Latinos.
The polls also are testing messages with Latino voters first, before moving on to testing those same messages with non-Hispanic voters to see where there is overlap, a contrast to how Latinos are often polled after general polling of white voters is done first.
Those involved with the polls believe they also go against the conventional wisdom that Biden's approval ratings will drag down the rest of the party, stressing that candidates and their relationships with electorates matter.
In potential November matchups in Arizona, the polls show incumbent Democratic Senator Mark Kelly receiving 63% support from Latinos when facing Republican Mark Brnovich, and 67% against Jim Lamon. In Pennsylvania, polls show Democratic senate candidate John Fetterman receiving 55% of the Latino vote against Republican David McCormick and 64% support against Mehmet Oz.
In Nevada, however, the fortunes of top Democrats appear to be diverging.
Incumbent Democratic Senator Catherine Cortez Masto is leading Republican Adam Laxalt 63% to 25% among Hispanics, but Latino support for the incumbent Democratic Governor Steve Sisolak, whose pandemic leadership faced criticism, has plummeted to just 52%, down from the 66% of the Hispanic vote he captured during his 2018 race.
The polls are of interest not just to the Democratic Party, but also to Latino groups who are keenly following results of the Hispanic messaging and research project for accurate assessments of how Latinos feel as the midterm elections draw closer.
Polls of Colorado, New Mexico, and Texas are still to come.