Will Gas Prices Keep Going Down in the U.S.?
U.S. gasoline prices have inched down below $5 a gallon, but because of a volatile stock market and an expected massive travel weekend coming up, experts are wary about long-term costs at the pump.
The current national average, according to the American Automobile Association (AAA), is $4.968 per gallon, which represents a drop from $4.981 on Monday and $5.016 a week ago. Gas cost about $3.071 on average one year ago today.
Indiana leads the country in the largest weekly decrease, with prices falling 10 cents. It is followed by 9-cent decreases in Florida and Wisconsin, and 8-cent drops in South Carolina, Ohio, Maryland and New Jersey.
Supply and demand have been pivotal to prices, in addition to fears of a global recession sparking dips in oil prices from $122 to $110 per barrel, AAA reported.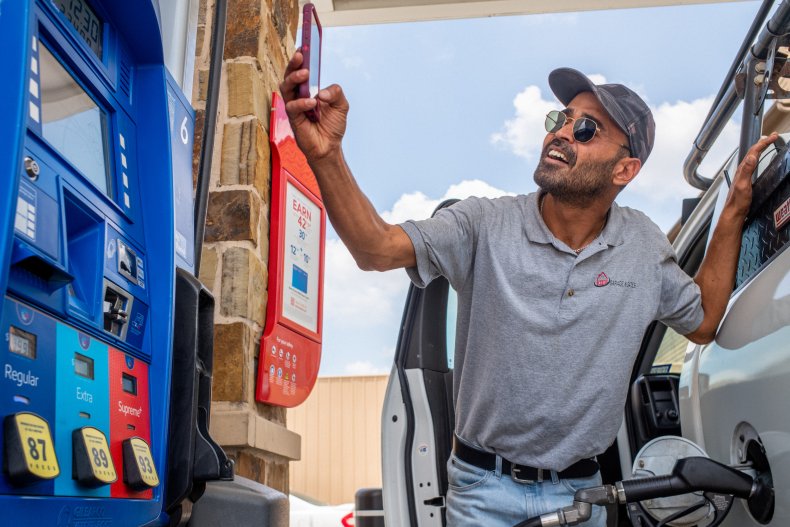 Andrew Gross, a spokesperson for AAA, told Newsweek that while a 5-cent drop in national gas prices is "somewhat notable," fewer motorists filled up their gas tanks last week, which most likely caused the slight decrease in average prices nationwide.
"We don't know why [fewer drivers filled their tanks]," Gross said. "Maybe it's the prices, maybe it's a lull between Memorial Day and the Fourth of July. I'm not ready to say supply is crushing demand."
Independence Day is predicted to be the second-biggest travel weekend since 2000, according to AAA, as a record-setting 42 million motorists are expected to travel 50 miles or more. About 47.9 million Americans in total are predicted to travel, falling short of the 49 million travelers in 2019.
Air travel costs might be encouraging Americans to jump in their cars rather than on planes because the average airline ticket prices is up about 14 percent compared to last year.
Americans throughout the country have experienced disruptions with flights since the start of the post-COVID return to normalcy. Thousands of flights were canceled or delayed over the weekend, causing Transportation Secretary Pete Buttigieg to urge airlines to be better equipped for July Fourth holiday travel.
Gross said the projected elevated number of motorists for the upcoming holiday might be due to many Americans seeing issues with airlines. Car travel gives people more flexibility, including the ability to set departure times and travel with a limited number of people.
"People may be coming out of two years [of a pandemic] and not doing a lot of traveling and are confident navigating a trip without COVID in the world," Gross said. "Maybe folks are changing their vacation a little bit. Maybe it's a near-cation."
In its short-term energy outlook published on June 7, the U.S. Energy Information Administration (EIA) forecasted that the price of Brent crude oil will average $108 per barrel in the second half of 2022 while falling to $97 per barrel in 2023. The average per-barrel price in May was $113.
"Current oil inventory levels are low, which amplifies the potential for oil price volatility," the EIA said. "Actual price outcomes will largely depend on the degree to which existing sanctions imposed on Russia, any potential future sanctions, and independent corporate actions affect Russia's oil production or the sale of Russia's oil in the global market."
Last week, the EIA reported that total domestic gasoline stocks decreased 700,000 barrels of crude oil to 217.5 million barrels overall, in addition to a minuscule drop in gasoline demand that likely led to the current reduced price per gallon.
A variety of factors drive crude oil prices, including OPEC and non-OPEC supply as well as financial markets and spot prices.
Tom Kloza, global head of energy analysis at Oil Price Information Service (OPIS), told Newsweek that about 73 percent of gas stations nationwide are priced below $5 per gallon on average.
"We've been dropping about a penny per day since last Tuesday, but wholesale prices dropped 40 to 60 cents a gallon in the same time period," Kloza said. "Accordingly, for once in 2022, actual station operators are enjoying a 'big inning' with larger-than-normal margins. Average margins are about 60 cents a gallon, whereas more typical might be 30 to 35 cents a gallon."
Patrick De Haan, GasBuddy's head of petroleum analysis, told Newsweek that national gas prices "could continue to inch down," but the stock market and the upcoming holiday could reverse course.
"It's tough to navigate these ups and downs in the stock market," he said.
He said the market presents optimism in that a "significant" uptick is followed by more manageable prices that invigorate the economy and lead to more oil consumption.
Meanwhile, President Joe Biden and White House officials are pondering a gas tax pause that would save Americans about 18.4 cents per gallon. Biden also said he would consider gas rebate cards.
Treasury Secretary Janet Yellen said on Sunday that the gas tax holiday is "an idea that's certainly worth considering."
De Haan said that cutting prices via the gas tax would likely push demand higher, and that could exacerbate the situation.
Gross said that while a federal gas tax holiday was not in AAA's most recent forecast, it's unclear whether local gas stations would pass on savings to consumers.
"A lot of people like to blame the administration, but they're not responsible for Britain and Hong Kong," Gross said. "The driving factor is the high cost of oil."
Kloza believes July could represent the beginning of an "epic" quarter for fuel prices, as vacations canceled during the pandemic "will take place, almost irrespective of price." That demand should taper in August, while hurricanes and high temperatures could become "a severe worry" as compromised electrical grids would hinder refineries.
In addition to believing that a gas tax holiday will go into effect, he said environmental waivers—such as allowing different fuel standards in the summer—could have an impact.