President Joe Biden signaled Monday that he would be open to sending Americans gas rebate cards to help offset soaring gas prices in the U.S.
Speaking to reporters in Rehoboth Beach, Delaware, the president said the rebate cards are "part of what we're considering, that's part of the whole operation," according to CNN. Biden also mentioned the possibility of temporarily suspending the federal gasoline tax.
"I hope to have a decision based on the data I'm looking for by the end [of] the week," Biden said, referring to the potential gas tax holiday.
The Biden administration has been facing heavy pressure to help alleviate Americans' pain at the pump amid Russia's war in Ukraine and surging inflation, which hit a 40-year high in May. On Monday, the national average for U.S. gas prices was $4.98 per gallon, according to AAA. Prices peaked on June 14, at $5.016 per gallon, Axios reported, citing an earlier AAA average.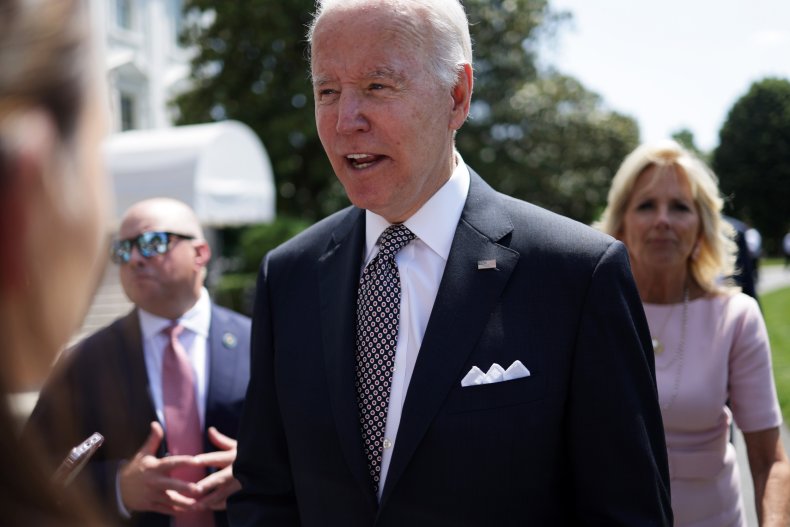 Last week, multiple news outlets reported that Biden was mulling a new economic stimulus plan in which he would send gas rebate cards to Americans. However, the idea is not without criticism. Some officials reportedly worried that recipients would use the cards' funds for purchases other than gas. Additionally, there were concerns that ongoing chip shortages would cause problems for card production.
The White House reportedly discussed the rebate cards earlier this year but didn't end up following through with the idea, Axios reported in March. At that time, concerns also centered on potentially overextending the IRS, which would be charged with distributing the cards.
But despite these potential difficulties, Biden's comments Monday to reporters in Delaware indicated that he has not ruled out the idea. Meanwhile, California has been considering its own gas rebate proposal.
As for the potential gas tax holiday, Treasury Secretary Janet Yellen has also voiced openness to the idea. Appearing Sunday on ABC's This Week, Yellen said that it was an idea that was "certainly worth considering." The federal gas tax is about 18.4 cents per gallon.
Yellen also said that Biden was "ready to work with Congress" on combating escalating gas prices.
"If Congress will work with him to enact some of the administration's programs, we can bring down other costs that are burdening households, like prescription drugs, health care costs and increase the supply of affordable housing," she said.
Newsweek reached out to the White House for further comment.