Stimulus Check Update as Gas Tax Holiday Inches Closer for Americans
President Joe Biden has said he will decide by the end of the week about whether he would support a federal gas tax holiday, indicating some financial relief could soon come for Americans grappling with soaring prices at the pump.
The Biden administration is looking at actions it can take to offset high gas prices. The national average for a gallon of regular gas was just under $5 on Tuesday, according to the American Automobile Association.
A pause in the federal gas tax would save Americans about 18.4 cents per gallon. "I hope to have a decision based on the data I'm looking for by the end of the week," Biden told reporters along the beach in Delaware on Monday.
The president said he is also considering whether to support sending Americans gas rebate cards. "That's part of what we're considering, that's part of the whole operation," he said, according to CNN.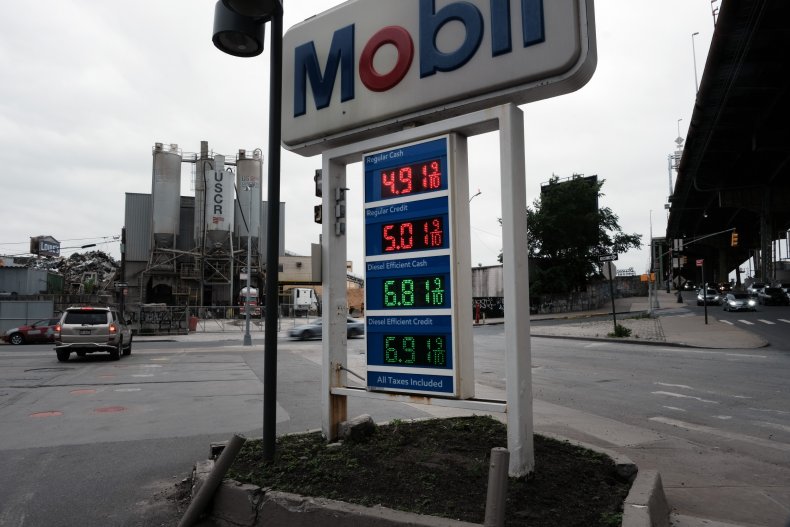 Meanwhile, some cities and states are taking their own actions to alleviate the burden on Americans struggling with rising prices and the worst inflation in four decades.
Indiana Gov. Eric Holcomb will reportedly call a special legislative session next week so lawmakers can take action on his proposal to tap into the state's growing budget surplus and send $225 in payments to taxpayers.
The payments would be on top of the $125 payments that are already going out under the state's automatic taxpayer refund law.
If the plan is approved, Holcomb has said each eligible Indiana resident would receive a combined total of about $350 in payments, while a married couple filing jointly would receive about $700.
"Hoosiers have real needs right now during this period of high inflation, from the gas pump to buying groceries, and everyone should benefit from the state's success," he said in a statement earlier in June.
In Pennsylvania, Gov. Tom Wolf's administration is pushing to use the state's remaining funds from the American Rescue Plan to send up to $2,000 in direct payments to Pennsylvanians.
The PA Opportunity Program proposes spending $500 million to send the payments to households making $80,000 or less a year.
Pennsylvania Democrats have introduced legislation to make the proposal a reality, but Wolf's administration has hit out at the Republican-led General Assembly for being slow to act.
"The cost of everything from gas to groceries is a little higher right now than it was just a few weeks ago and for Pennsylvanians living paycheck to paycheck even a small increase in expenses can mean painful decisions like paying for food or rent," Meg Snead, the acting secretary of the Pennsylvania Department of Human Services, recently said.
"Pennsylvanians shouldn't have to wait any longer. Let's get this money into the hands of our neighbors who need it the most."
In Iowa, one city is moving forward with a plan to send out $700 stimulus checks to residents who were previously excluded from the federal stimulus check program.
West Liberty's city council voted unanimously earlier this month to use $147,000 in American Rescue Plan funding to distribute the payments to 200 city residents.
A formal resolution on the plan is expected on Tuesday, according to local station KCRG.