Democrats Break With Biden on Gas Tax Pause: 'Shortsighted and Inefficient'
President Joe Biden on Wednesday called for a pause in the federal gas tax to ease the impact of soaring prices in the U.S., but several members of his party have voiced opposition.
Congressional Democrats such as House Speaker Nancy Pelosi, House Majority Leader Steny Hoyer and Senator Tom Carper have expressed doubts about whether a federal gas tax holiday is the best way to ease high gas costs for Americans.
Biden has been facing pressure to take action to help alleviate pain at the gas pump as prices have surged across the country and as consumer inflation hit a 40-year high last month. After peaking at a national average of $5.016 per gallon on June 14, gas prices have ticked down below the $5 mark, settling at $4.955 on Wednesday. But some experts are still concerned about the effects of the volatile stock market and the upcoming July Fourth weekend, when travel increases, on U.S. gas prices.
Biden's calls for a gas tax holiday came after he mentioned the possibility of such a move while speaking Monday to reporters in Rehoboth Beach, Delaware, where he promised to reach a final decision by the end of the week. The president also signaled Monday that he would be open to sending Americans gas rebate cards.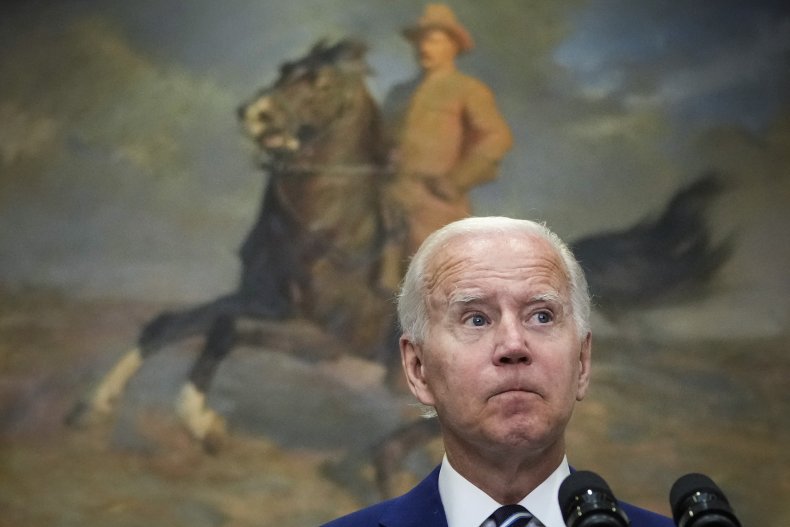 A White House fact sheet issued Wednesday said that Biden was calling on Congress to suspend the federal gas tax, which is about 18.4 cents per gallon, for three months through September.
"He is calling on states to take similar action to provide some direct relief, whether suspending their own gas taxes or helping consumers in other ways," the fact sheet said.
But Pelosi, a California Democrat, has questioned whether consumers would truly feel the benefits of a temporary suspension of the federal gas tax. At a March press conference at the Capitol, she argued that a gas tax holiday wouldn't help U.S. consumers much in the long run because "the con is that the oil companies do not necessarily pass that on to the consumer.... You cannot write a law that requires them to pass it on."
Pelosi suggested that gas rebate cards or direct payments to consumers would be better approaches to the problem.
Hoyer, a Maryland congressman, said in an interview Tuesday night that he has not supported a gas tax holiday, Politico reported. "I just don't know that it gives much relief," he said.
Both Delaware's Carper and Representative Earl Blumenauer of Oregon have expressed concern over how a federal gas tax would affect funding for road infrastructure projects.
"I'm glad that @POTUS is exploring ways to lower gas prices at the pump," Carper tweeted Tuesday night. "Still, suspending the primary way that we pay for infrastructure projects on our roads is a shortsighted and inefficient way to provide relief. We should explore other options for lowering energy costs."
In a letter to Biden last week asking him to oppose a federal gas tax holiday, Blumenauer argued that the suspension would cause a "massive hole" in the budget for infrastructure and transportation, The Hill reported.
The White House fact sheet specified that Biden was calling on Congress to suspend the federal gas tax without taking money from the Highway Trust Fund.
"With our deficit already down by a historic $1.6 trillion this year, the President believes that we can afford to suspend the gas tax to help consumers while using other revenues to make the Highway Trust Fund whole for the roughly $10 billion cost. This is consistent with legislation proposed in the Senate and the House to advance a responsible gas tax holiday," the sheet said.
Newsweek reached out to the White House for comment.