Florida's Ron DeSantis Leads Marco Rubio, Rick Scott by 50% in 2024 GOP Primary Poll
Florida Governor Ron DeSantis would easily defeat Florida's U.S. Senators Marco Rubio and Rick Scott in a hypothetical three-way 2024 GOP presidential primary, according to a new poll.
The results of a private survey by Republican pollster Tony Fabrizio show DeSantis would be supported by 64 percent of respondents compared to 12 percent for Rubio and 10 percent for Scott, according to a Monday report from Politico.
A similar poll conducted by Fabrizio in July showed DeSantis ahead of Rubio by only 11 percent, meaning that the governor's lead has widened by 41 points in about 7 months.
"In order to run for president, you need to have your home state, you need your home base," Fabrizio told the outlet. "And DeSantis clearly has that."
The poll suggests that DeSantis has continued to benefit politically from his outspoken support of former President Donald Trump. DeSantis was narrowly elected Florida governor in 2018 after being endorsed by the former president.
The pollster also reportedly asked respondents which politician they believed was "the biggest Trump supporter," with DeSantis leading by an even wider margin. A 67 percent majority agreed that DeSantis was the most loyal follower of Trump, with 9 percent choosing Scott and 7 percent Rubio.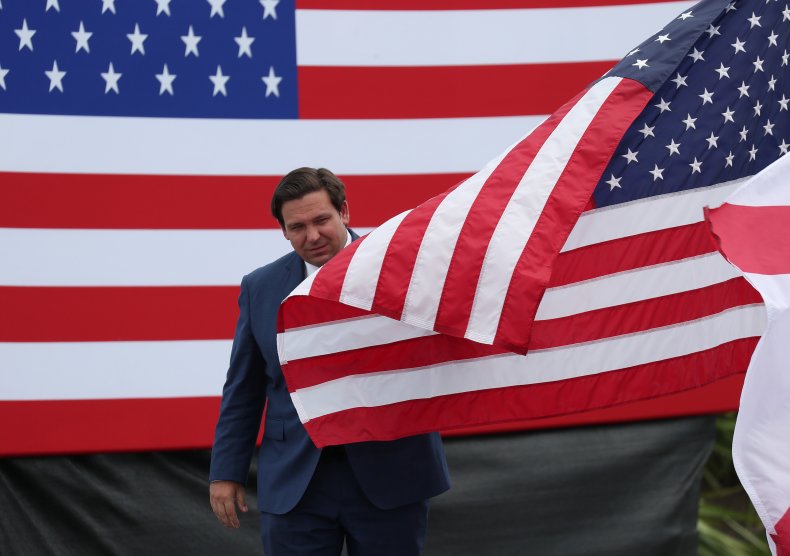 Scott was one of a small number of Senators who voted against certifying President Joe Biden's Electoral College win during the same joint session of Congress that included the deadly breach of the U.S. Capitol on January 6.
Rubio did not vote in favor of objections to Biden's win but was generally supportive of Trump after a bitter rivalry during the 2016 GOP presidential primary, which saw the former president dub Rubio "Little Marco."
"Given the attention in the state to Scott's and Rubio's positions and votes on the outcome of the election, it's kind of startling to see DeSantis, by an even wider margin, is perceived as Trump's biggest supporter of the three," said Fabrizio.
Fabrizio's poll was conducted among 304 Republicans and has a margin of error of 5.6 percent.
None of the three Florida Republicans have indicated that they plan to seek the GOP nomination for president in 2024. Both Scott and DeSantis are up for reelection in 2024, while Rubio is expected to seek reelection in 2022.
Trump has also remained noncommittal on the prospect of seeking a nonconsecutive second term, although several close allies and associates have suggested that he may and he remains the bookmaker's favorite to win the 2024 nomination.
In addition, a Suffolk University/USA Today poll released on Monday found that 76 percent of those who voted for Trump in the 2020 election would vote for him in the next Republican presidential primary if does choose to run.
Newsweek reached out to the offices of DeSantis, Rubio and Scott for comment.