Florida Governor Ron DeSantis' chances of winning the Republican presidential nomination in 2024 jumped this week after he received plaudits from several GOP figures, countering recent criticisms of his state's vaccine rollout.
Florida GOP Rep. Matt Gaetz said DeSantis would be a "strong" candidate, describing him as a potential future "leader of our movement" were Donald Trump not to run.
"He is a strong potential presidential candidate in 2024. The Biden team knows that, and so they're trying to somehow cast aspersions on the Florida experience because you know what, throughout America, there's a lot of Florida envy right now," Gaetz told Fox News.
Others in the GOP have praised DeSantis for his reluctance to embrace tough COVID restrictions and his combative stance with the media.
Josh Holmes, an adviser to Senate Minority Leader Mitch McConnell, said DeSantis was "having a moment with conservatives."
"It's policy and it's partly stylistic, the way he handles the news media and his blue-collar appeal," he was quoted by Politico as saying.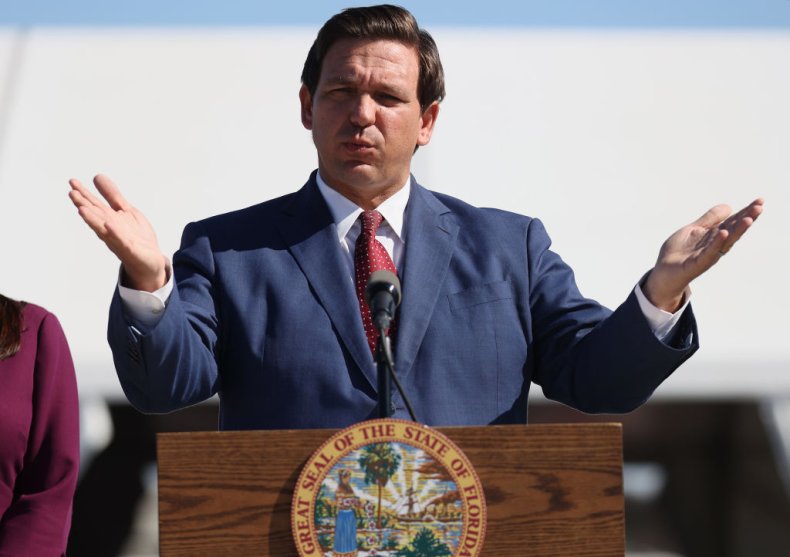 The governor's handling of the state's vaccination program has drawn criticism, however. DeSantis was accused of favoring the "whitest and richest" areas in his selection of locations for vaccine hubs.
On Tuesday, Misty Servia, a Republican commissioner in Manatee County, spoke out about the selection of Lakewood Ranch in Florida to offer vaccines for 3,000 residents in two zip codes.
"You're taking the whitest demographic, the richest demographic in Manatee County and putting them ahead of everyone else," she said, according to CNN.
"The optics are bad ... very bad—I'm really disappointed."
UK bookmaker Betfair said DeSantis' chances of winning the GOP nomination for 2024 had "improved a good bit this week" with odds of 10-1 (9 percent). A week ago, he was priced at 33-1 (3 percent).
Betting expert Covers priced DeSantis at 17-1, an implied probability of 5.6 percent. This puts him fourth among potential GOP candidates for 2024.
Donald Trump remains the bookmakers' favorite to win the nomination, with former United Nations Ambassador Nikki Haley, former Vice President Mike Pence and Donald Trump Jr among the other leading contenders.
"Interestingly, DeSantis' odds have halved—meaning his chances has correspondingly doubled—since the beginning of the month," a spokesperson for Covers said.
Rohit Ponnaiya, a senior writer at the betting and insight service, said: "DeSantis would be a natural heir to the Trump mantle in the Republican Party as he remains a staunch supporter of the previous president but has more political experience and a tighter framework for actual policy than Trump did when he ran in 2016.
"At just 42 years old, he could be the face of the GOP for the next few decades. However, he will need to be re-elected in the 2022 gubernatorial elections if he wants to remain a strong candidate for future party leadership."
DeSantis faced criticism earlier this month after a photo of him at the Super Bowl without a mask was widely shared online.
Last month DeSantis hit back at claims that Florida was not fully administering doses of the COVID-19 vaccine.
"The insinuation that Florida is underutilizing vaccines is totally disingenuous," DeSantis wrote in a statement posted on Twitter. "Florida is No. 1 in the country among the top 10 most populous states for vaccine doses per capita.
"Additionally, Florida is averaging more than 300,000 first doses per week but we are not going to divert second doses away from our seniors.
"We are committed to ensuring our seniors are the priority and get their second dose, and if the White House is suggesting that we shouldn't be doing that, I don't think that's a good suggestion."
DeSantis' comments came a day after White House press secretary Jen Psaki had suggested that Florida had unused doses.
"I will note, because we're data first, facts first here, they've only distributed about 50 percent of the vaccines that they have been given in Florida," she said.
"So, clearly, they have a good deal of the vaccine. That supply will need to continue to increase as they are able to effectively reach people across the state."