Florida's Sarasota County Becomes First Trump Won to Defy DeSantis With School Mask Mandates
Sarasota County in Florida has become the state's first Trump-won county to implement a mask mandate in schools, defying Governor Ron DeSantis' order that banned schools from issuing one.
The 90-day mask mandate passed Friday with a 3-2 vote, WWSB-TV reported. The mandate applies to all students, staff, vendors and parents. Only medical exemptions will be permitted.
The mandate will be lifted if the COVID-19 positivity rate drops below 8 percent. At the end of the 90 days, if the positivity rate remains above 10 percent, the mandate will be reinstated.
In a statement to Newsweek, DeSantis' office said, "It is disappointing that any school district would violate Florida law by reversing its mask policy, which had previously protected parents' rights and complied with state law by offering an opt-out provision.
"There is no authority more 'local' to children than their own parents. Governor DeSantis trusts Floridians to make the best choices for themselves and their families. If local officials overstep and infringe on individual rights, intervening to protect individual rights is indeed a legitimate use of state executive power."
Shirley Brown, who voted in support of the mask mandate, told Newsweek that the numbers were just too high to not have a mandate. She said that by the end of the month, the school district's number of cases may exceed the total number from last year.
Brown said, according to the school district's constitution, they must provide a safe learning environment
"With COVID going through there, that's not safe," she said. "When you have to quarantine the students who are nearby, you have to have so many students out."
She said the number of cases has left some classrooms with as few as five to seven students.
"There are just too many kids that have to be out for COVID," she said.
Brown also called out DeSantis over his handling of rising COVID-19 cases and his policies surrounding mask mandates. She specifically criticized him for threatening to withhold school board members' salaries if they pass a mask mandate.
"If he thinks we're doing this for the salary, he's lost his mind," she said. "Anyone on the school board would put the child's health above their salary."
Bridget Ziegler, a school board member who voted against the mandate, told Newsweek she is concerned about the legality of the mandate and parental choice.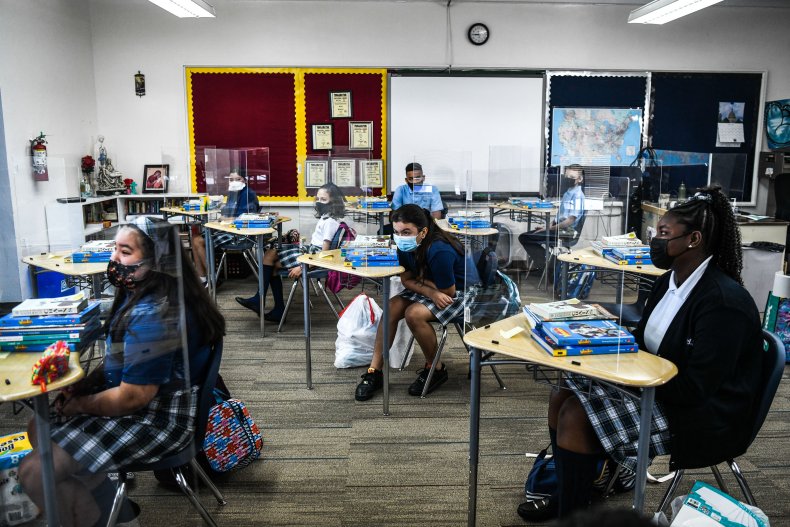 "I recognize that this is a very serious situation, but as you can see, there are different viewpoints on this," Ziegler said. "I am a staunch supporter of parental rights."
She said she would have preferred more flexibility and "innovative ideas" by allowing smaller learning pods or allowing students to learn remotely temporarily as COVID-19 cases surge. She also said some school employees are concerned that by enforcing the district's mask mandate they would be in violation of state law.
Ziegler said it is unfortunate that students and staff are caught in the middle of the "chaotic" situation.
"There's nothing more heartbreaking getting e-mails from parents who are genuinely terrified to send their children when we see numbers surge," she said. "There's no real ideal or optimal situation when you're in the middle of rising numbers in a pandemic."
Brown disagreed that there is a legal issue, saying that Florida's Parents' Bill of Rights law allows them to take action if there is a "compelling state interest," which she said includes the rising COVID-19 cases.
Sarasota County joins several others in Florida, including Miami-Dade County and Hillsborough County, home to Tampa, in issuing a mask mandate in schools despite DeSantis' ban on doing so.
Sarasota is the first county won by former President Donald Trump to require masks in schools. Trump won the county with 54.8 percent of the vote, compared to President Joe Biden's 44.4 percent, The New York Times reported.
On Friday, Sarasota County had a 7-day-average of 408 new cases per day, compared to an average of 72 one month earlier, according to the Times. The school district's dashboard says 778 students and 168 staff members have tested positive for the virus since July.
Newsweek reached out to the Sarasota County Public Schools and the school board.
Updated 08/24/2021, 4:31 p.m. ET: This story has been updated to include a statement from DeSantis' office.