'Flower Man' Steals the Show at Wedding As He Dances Down the Aisle Throwing Petals
A bride and groom created a new tradition after shunning a conventional flower girl at their wedding, and having a hilarious "flower man" instead.
As couples attempt to make their big day stand out from the crowd, Kyle and Nichole Drzewiecki may have achieved just that with their unusual choice for the wedding ceremony.
The pair, both dog trainers from Arizona, tied the knot in a gorgeous ceremony in Burnet, Texas, which their friend, Morgan Starr, captured and shared on TikTok.
Along with a highlight reel from the big day, Starr, who is also thought to be a dog trainer, filmed the aisle at the al fresco wedding as a man dressed in a floral suit jacket approaches.
Sporting a slick pair of sunglasses, he stops just before the guests and dramatically swivels a fanny pack around, which matches his tie, as he undoes his jacket button.
He proceeds to perform a few moves as he reaches into the bag and begins chucking flower petals on the floor, to the delight of the crowd.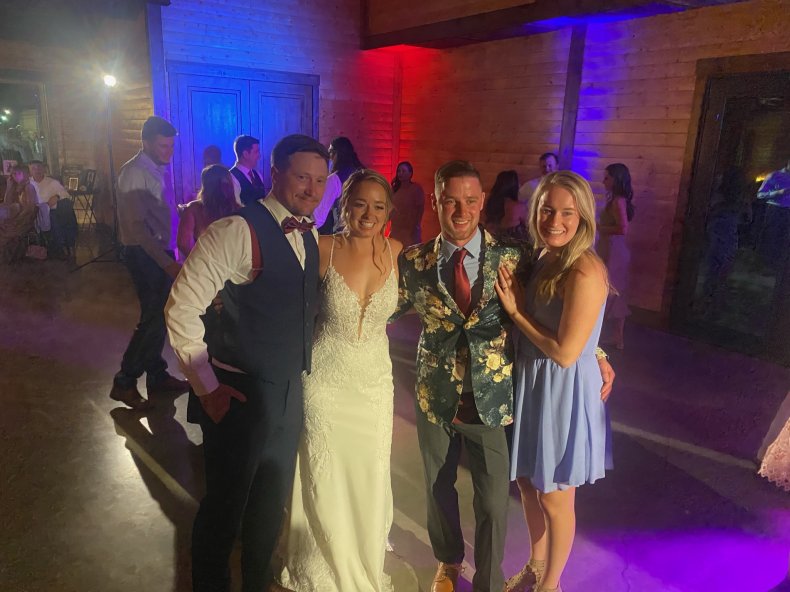 The guests cheer and clap as he walks down the aisle, chucking flowers to each side, pausing strategically every few steps.
The clip was set to Come and Get Your Love, by Redbone, more commonly known from the Guardians of the Galaxy soundtrack. Nichole confirmed it was playing at the time.
Starr simply captioned the footage, shared on Monday, with "flower man," while her follow-up video shows the newlyweds dancing, cutting cake and driving into the distance on a golf cart covered in cans.
Nichole, who confirmed three of their dogs were on the guestlist for the wedding, revealed the dancing man was one of their close friends.
She told Newsweek: "He is one of our very good friends and his name is Ben McLaughlin. My husband already had his groomsmen picked out but we wanted to show a fun side of ourselves in the ceremony instead of it being normal. So of course we came up with Ben being the flower man, his personality is so outgoing and any time we're all together he dances and is just so much fun! We told him to be himself and have fun with it."
"Our wedding definitely was unique to other weddings. My husband, his best man and our officiate ran onto the dance floor with costume animal heads from the photobooth and danced with those. For the garter dance instead of icing my husband, I put a fireball mini shot bottle in my garter, then my friends and family took fireball shots behind him. We also had Ben rap Ice Ice Baby."
The original clip has since gone viral, having been watched more than 25 million times, and was uploaded to Reddit. It was also shared more than 246,000 times across Facebook, WhatsApp and Twitter.
The flower man has proved a hit online, as Ryan Kelly raved: "The matching fanny pack, tie and glasses are the perfect topping to the gloriousness."
Reaklessness stated: "If my best friend doesn't do this I guess he ain't my best friend."
While Loretta Gille reckoned: "If someone has done this at my wedding I would have been laughing so hard I would have had to postpone for make-up check."
TikToker Ofelia Gonzalez wrote: "Something different love it congratulations on your wedding day."
Volunteer Dom Archer joked: "I want to be a flower man."
While Billy Crites thought: "I can't! He stole the whole entire day! Nothing could compare the Star Lord owning that isle. Love this! Get it flower guy. [sic]."
Nichole had been posting on social media in the run-up to her wedding, sharing snaps from her bridal shower as well as engagement photos.
Standing next to a bride-to-be sign back in March, she gushed: "Yesterday was so amazing and I just can't thank everyone enough for coming out to the bridal shower. I loved seeing everyone and I can't wait to celebrate Kyle and I both in 61 days!!"
Newsweek reached out to Starr and Drzewiecki for a comment.
Update 5/19/21, 11:30 a.m. ET: The article was updated to include comments from Nichole Drzewiecki and additional details.