'Flower Man' Upstages Bride and Groom With Hilarious Wedding Entrance
A Maryland man came close to upstaging the bride and groom after being enlisted as a "flower man" at his cousin's wedding.
In a video shared to TikTok by newlywed Brittany Waters-Havenhill, her cousin Marcus Adams can be seen strutting his stuff down the aisle of an outdoor wedding, much to the delight of those in attendance—as well as those watching along on social media.
Dancing along to an instrumental version of the late J Dilla's "Crushin,'" Adams is in his element, dropping flowers left and right in time to the beat. But while the vast majority were in awe of his efforts, a vocal minority accused Adams of committing the cardinal sin of overshadowing the bride.
As fashion designer and industry expert Mehru Khan explained, it's crucial that events focus on the bride. "The wedding day is a big day for a bride and she belongs to it. Everyone should respect this and leave her alone to shine like a prominent figure," she told Social Lifestyle magazine. "Remember that is not your big day and you need to be prepared for it in such a way that everyone can see that you are happy for the bride."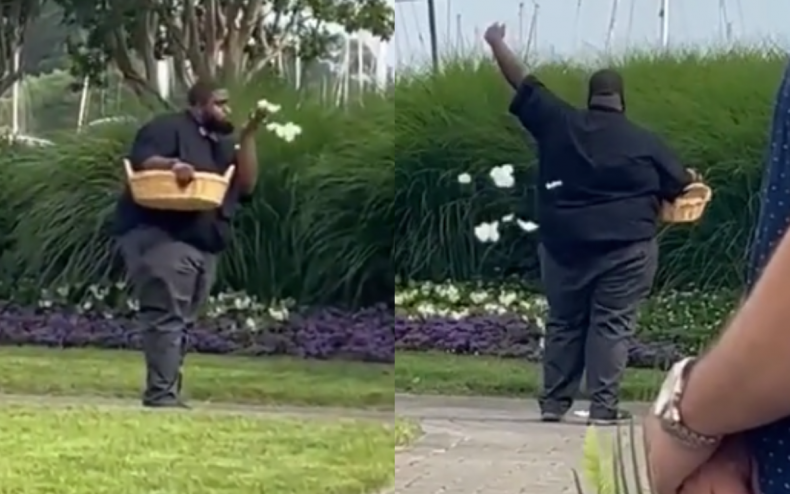 While Adams' efforts may have been extravagant, few can deny he appears happy for his cousin on her big day or that she was similarly impressed, having titled the video "Flower Man of the Year."
The footage, which can be watched here, has proven a resounding hit, racking up more than 3.7 million views in a matter of days. More incredibly still, it would appear that the whole thing was improvised.
Speaking in an interview with WMAR-TV, Adams revealed that the ceremony took place at Herrington on the Bay in North Beach and he had no time to practice or rehearse after his car broke down on the way. "I just had to wing it and do it," he said.
Whatever the circumstances, his efforts evidently paid off, if the comments posted to the video are anything to go by. RandomHero said: "He set the standard'' with Wendyo993 adding: "He's fantastic! I'd be willing to bet people would hire him."
Jodiifaiith asked: "Can your cousin be my flower man too? He KILLED it!" while Anna Choi wrote: "I need to have w another wedding and have this dude be my flower guy! Best job ever!"
Some were less impressed, of course, with one user, posting as randomaxel commenting: "i'm sorry but who's day is it again?" Brian Kyllonen22 was similarly scathing, writing: "The bride and groom should be the only people getting attention at their wedding. It's a serious ceremony not a carnival."
Reacting to the naysayers, Waters-Havenhill told Newsweek: "We always expect some to have a negative comment but we, myself and my husband and Marcus all expected him to absolutely perform. Our wedding was all about fun so to us it was perfect."
"I'm super surprised this went viral. we did not expect it to blow up this way. maybe a few laughs here and there but that's it. The wedding is definitely very memorable now. We had a lot of fun."
In a follow-up video, Waters-Havenhill said the couple married on May 4 and had a special Star Wars-themed ceremony to mark the date. She also confirmed that Adams improvised much of his entrance.
"He did not practice all," she said. "He ran some ideas by me and I was like you have your full creative ability to do whatever you want. I don't care. I know you're gonna kill it."
She added that since going viral Adams has received several offers to serve as "flower man" at other weddings and has even setup social media accounts with his new moniker.
Newsweek has contacted Adams for comment.