Did Floyd Mayweather Actually Knock Out Logan Paul? Some Fans Think So
The highly anticipated exhibition boxing match between Floyd Mayweather and Logan Paul is being labeled a huge disappointment after no real winner was declared.
However, some fans think that champion Mayweather actually knocked out the YouTuber at one point but held him up to continue the fight.
One brief snippet from Sunday's fight, which took place in Miami, is going viral on Twitter on Monday morning. It appears to show the 26-year-old unconscious after a hit from Mayweather.
Sports account Foot Basket, tweeted the moment with the caption: "Floyd Mayweather actually knocked out Logan Paul, but held him up during the fight to carry it through 8 rounds."
The clip shows an exhausted Paul going limp and slumping onto his opponent after being hit—but Mayweather doesn't let him hit the floor.
The fight is being mocked for the amount of hugging it contained, with Paul constantly grappling Mayweather in an attempt to avoid the blows. The influencer managed to last all eight rounds at the Hard Rock Stadium.
Paul was previously defeated by fellow YouTuber KSI in another exhibition match.
The clip has been viewed more than 1.2 million times at the time of publishing and received more than 16,000 likes.
Despite this speculation, the official ruling was that there was no official winner, in line with exhibition rules.
The Florida State Boxing Commission announced the rules for the event in the lead-up to the match, which included knockouts being made legal, no headgear, no judges, and no official winner being read at the end.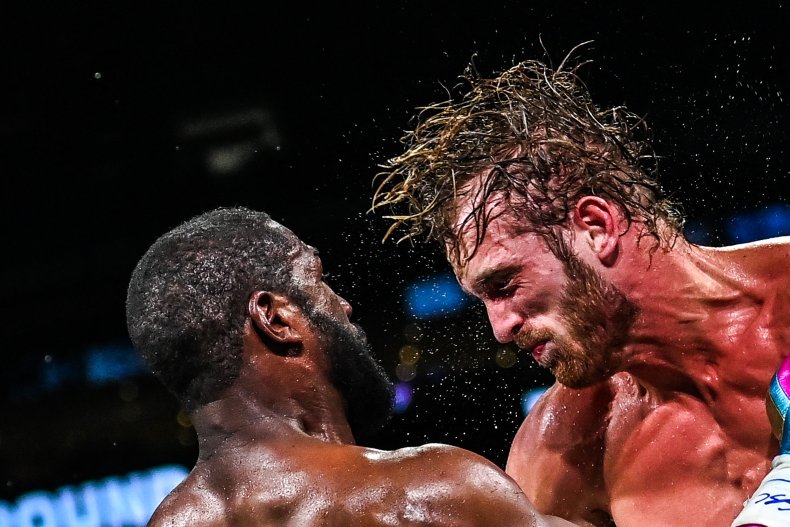 "I don't want anyone to tell me anything is impossible ever again," Paul said following the match. "Everyone has it in them. Floyd Mayweather, it was an honor.
"You never know with this guy. I'm going to go home thinking: 'Did Floyd let me survive?' This is the coolest thing ever."
Mayweather added: "Just going the distance was a win for him."
He also said: "I had fun, I'm not 21 anymore. He's a great, young fighter better than I thought he was. He's a tough raw competitor, I was surprised by him tonight."
The result for the pay-per-view left many fans disappointed.
Mayweather previously estimated that he was expecting to earn between $50 million and $100 million from the fight, while Paul is said to have earned a $250,000 paycheck for the spectacle along with 10 percent of the pay-per-view income.