Floyd Mayweather Rules Out Boxing Return After Logan Paul Fight: 'I'm Never Coming Back'
Floyd Mayweather has ruled out a return to professional boxing, insisting he would "never come back" to the sport after fighting YouTube star Logan Paul in an exhibition bout in Miami on Sunday night.
A world champion in five different classes, Mayweather retired with an unblemished 50-0 record after defeating UFC star Conor McGregor in 2017. The 44-year-old had previously retired in 2007 after stopping Britain's Ricky Hatton in 10 rounds to retain the WBC and The Ring welterweight titles, before returning to the ring in July 2009.
Mayweather retired for a second time in 2015, after defeating Andre Berto by unanimous decision to retain the WBA, WBC and The Ring welterweight titles.
The prospect of a mega-fight with McGregor, the then-UFC lightweight champion, eventually convinced him to make a second comeback, before leaving boxing for a third time shortly afterward.
The bout against Paul at Hard Rock Stadium was the second exhibition Mayweather has taken part in since retiring, following his win over kickboxing star Tenshin Nasukawa in December 2018.
Speaking on Sunday, Mayweather was adamant he would not return to boxing professionally and appeared to suggest chances of another exhibition fight were also rather slim.
"I'm never coming back to boxing. I'm absolutely not," he told the media after the bout.
Asked whether he would consider doing another exhibition fight, Mayweather replied: "Probably not."
Mayweather and Paul went the distance on Sunday, with the YouTube star lasting all of the eight three-minute rounds and surprising his opponent. Ahead of the fight, Mayweather had suggested he may knock Paul down in the first round, but was full of praise for the latter after the fight.
"I had fun. You've got to realize I'm not 21 anymore," Mayweather said after the fight. "He was strong, tough and better than I thought he was. I was surprised by him tonight. Good work. Good little guy."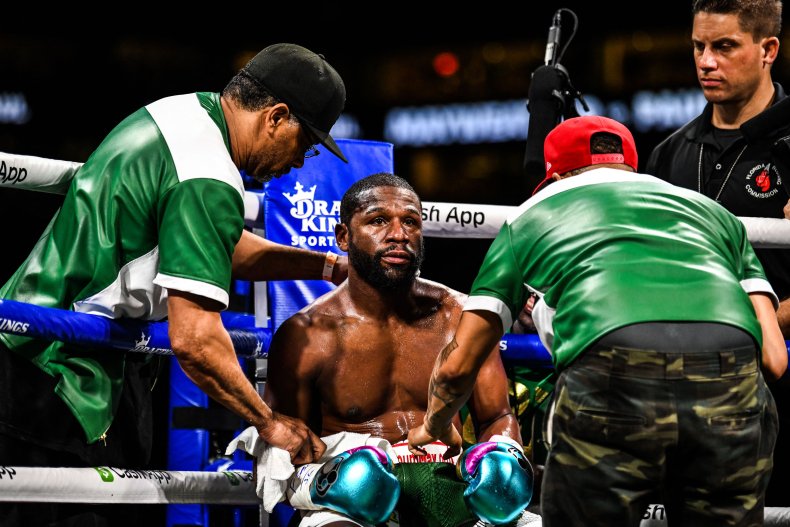 The Florida State Boxing Commission did not officially sanction the bout, due to the large disparity in size—Mayweather tipped the scale at 155 pounds, while Paul weighed in at 189.5 pounds—and the level of experience—this was only Paul's second fight and his professional debut ended in a loss to fellow YouTube star KSI in 2019. While knockouts were legal, there were no judges, meaning there was no winner as neither fighter hit the canvas.
The bout won't go on either fighter's record and its only lasting legacy will effectively be a large payout for both. Which, one could argue, was the plan all along.
"When the money comes, we'll see who is the real winner," Mayweather said. "At the end of the day, I'm going into the Hall of Fame for boxing. I have nothing to prove."
Mayweather said he had already made $30 million for the fight, with a larger purse still to come. Speaking to the Disruptive Entrepreneur Podcast back in March, he suggested he could make "$100 million or more" by fighting Paul, while the latter told TMZ in May that he could earn as much as $20 million from the event.
According to SportingFree, Mayweather is guaranteed $10 million in base salary and 50 percent of PPV shares, while Paul will receive $250,000 guaranteed on top of 10 percent of PPV shares.
For his part, Paul felt his decision to get into the ring with one of the greats of boxing was perfectly validated.
"I don't want anyone to tell me anything is impossible ever again," he said. "The fact that I'm in here with one of the best boxers of all times proves the odds can be beat."