Why 'Flux Gourmet' Creator Wants You to Take Farting Seriously
While farting can be hilarious, movie maker Peter Strickland aims to showcase the serious side of flatulence in his new movie Flux Gourmet.
The movie, out now, sees a group of experimental performance artists create unique sounds using the sounds of food and catering. The off-kilter dark comedy stars Gwendoline Christie (Game of Thrones) as the host of the collective and Asa Butterfield (Sex Education) as one of the group's members.
A recurring theme throughout the movie sees a visiting journalist (Makis Papadimitriou) struggle to hold in his increasingly painful gas, living in fear that he'll make a scene.
Strickland, Christie and Butterfield spoke to Newsweek about balancing the comedy with the severity of farting, as well as the movie's surprising sexual scenes.
Breaking the Taboo of Breaking Wind
"Something for me which is quite interesting is the taboo nature of things like flatulence," Strickland told Newsweek. "I'm not trying to say you shouldn't find these things funny, but a lot of it can be very, very serious.
Strickland lists celiac disease, Crohn's disease and bowel cancer as three notable things to look out for relating to bowel pain. The journalist struggling with gas in Flux Gourmet fears for his health as a result of his condition.
"it just opened up this world that I wanted to explore. I might be wrong, but I haven't seen it dealt with before. Autoimmune issues are becoming so common, also allergies, and it's still written off as comedy in film."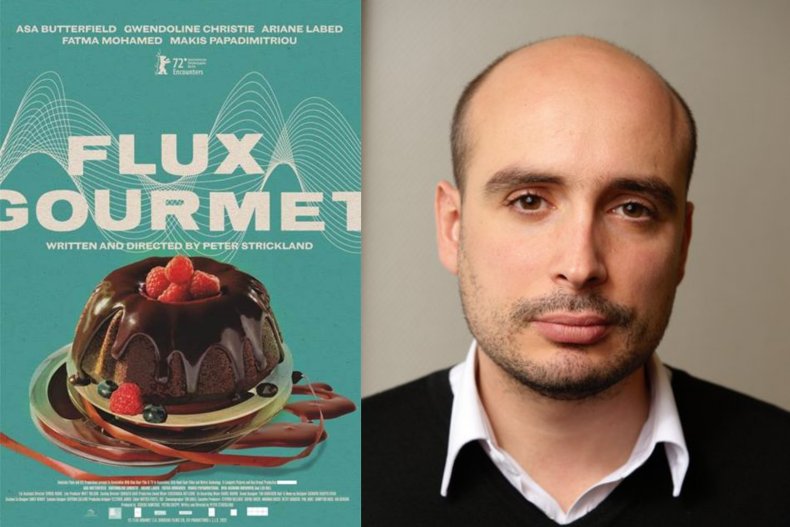 Strickland continued: "You know, someone has an anaphylactic shock and it's played for laughs, so I don't want to be too heavy and didactic but I just wanted to take it more seriously. It's very hard to find the right tone, but I think it's what I was aiming for."
Having said all that, "a well-timed fart at school is great," Strickland said. "I think that's a healthy funny things but for someone who is having serious issues and wants to hide it from people, it causes extreme discomfort."
Butterfield's character Billy Rubin is aware of the movie journalist's discomfort, and admits he also came away with a different point of view.
"It's interesting to put a spotlight on the more serious matters, and nature of it," he said. "Eating is such a huge part of life that we all take for granted. And to have that be so troublesome for people. You don't really think about that."
"The same goes for sex," Strickland said. "Sex is great. Bad sex is trauma. Like anything in life, it's just context."
Making Sex Less Awkward
A lot of unusual things was asked of the cast within Flux Gourmet. Some notable peculiar acts include creating performance art using just the sounds of food, faux scatological acts, and post-performance orgies.
Fortunately for Butterfield, acting in sex scenes has become second nature thanks to his popular Netflix show.
"I'd say Sex Education helped me get through those awkward moments on set," Butterfield told Newsweek. "Sex Education definitely made me more open to, or just made me less embarrassed, and more frank about any sort of sex scene.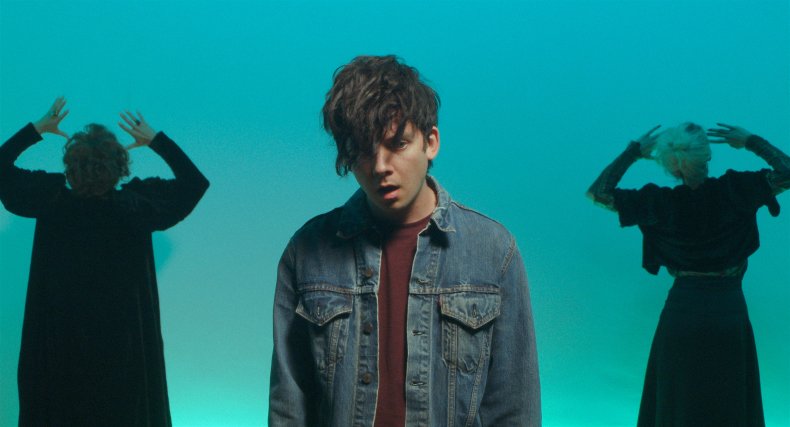 "Sex Education definitely made me more comfortable, and I found those things easier because you can kind of laugh at them."
Butterfield's character Billy gets embroiled in a passionate romance with the host who is funding his band's experimental project, played by Christie.
Christie shared her love of the Flux Gourmet character, Jan Stevens, with Newsweek. "It was the opportunity for me to play a lead. It was also the opportunity to play a character who was really flamboyant and complicated, and also was really experimenting with and living out the limits of control in terms of how far people push themselves in terms of creativity."
She continued: "With myself as an actor, the opportunity for my own expression. I'm very tall,"—Christie is notably 6 foot 3 feet tall—"and it interests me to play things that are perhaps the opposite of what I've played before, so someone very gentle and very delicate, but is simultaneously dealing with a lot of supervised rage."
Jan Stevens' range of emotions are on display often, and Butterfield's character bears the brunt of that expression at various points.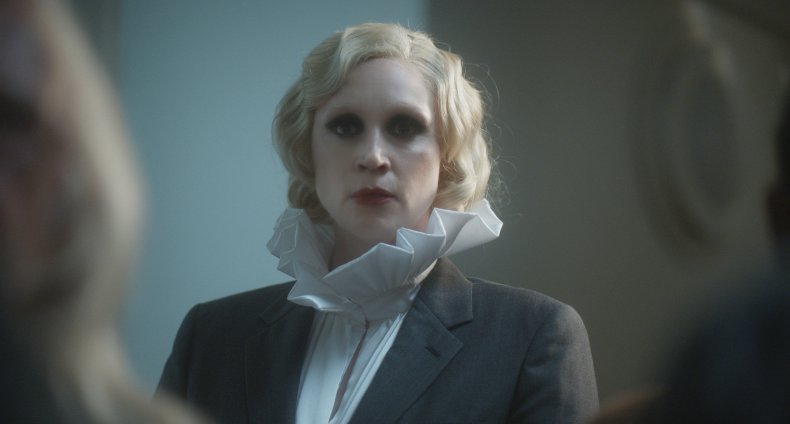 "You have to laugh it off," Butterfield said. "Pretty much any scene that is a little uncomfortable or weird or sexual, I have to laugh at how ridiculous what we're doing is, otherwise it starts to feel weird.
"It's not that difficult when Gwendolyn has the sort of bunny ears on and we're in this crazy mansion in Yorkshire, and I'm there like reading my magazine. Surreal. So it's not hard to laugh at what we're doing."
The creatives on display invite their audiences to join in the post-show revelry with a scheduled orgy, often watched solemnly by the journalist character.
When pressed on what were the strangest scenes to Butterfield highlighted the post-show sex parties as being "quite interesting."
Pulling back the curtain on the creative process, Butterfield continued: "It was shot in such a way that you could shoot with very minimal people, then use mirrors and lights to kind of make it look like there were more people and it was sort of quite trippy. You can't really make sense of what you're looking at. It's just skin or whatever."
Strickland admits there were doubters who didn't think some of the sexual scenes should have been in the movie.
"In the post-MeToo world we're living in where the on screen representation of sexual pleasure is somehow frowned upon. I find that odd, because we see criminal behavior in films, there's no nuance, it's just wrong.
"I think as long as it's regulated, as long as you have intimacy coordinators, and as long as everyone's clear from the beginning."
Several of Strickland's movies feature somewhat unusual narratives and set pieces, and Flux Gourmet is no different, though he assures us there is a reason for including it.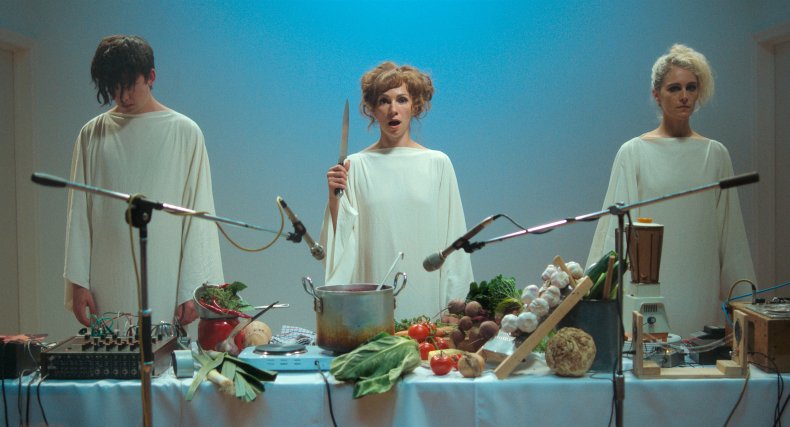 "Taboo is only interesting when you're looking at something which liberates. Again, if someone can walk away from the film and talk openly about their gastrointestinal issues, that to me, that is a good form of taboo smashing, or anything to do with sexual liberation, as long as it's consenting adults.
"Taboo for the sake of taboo doesn't interest me. It's the easiest thing in the world to shock people. But if it's shocking people that opens a door to someone feeling better about their bodily issues, whether that's pleasure, or whether that's somehow some kind of discomfort. I don't think that's a bad thing."
Strickland ended with, "But I'm trying to be this kind of cinematic rescuer, I'm trying to make some kind of entertainment."
Flux Gourmet is out in select theaters and available on digital services now.