How to Fly First Class Without Breaking the Bank
Forget business class - if you play your miles right, you can go straight to first - for almost nothing.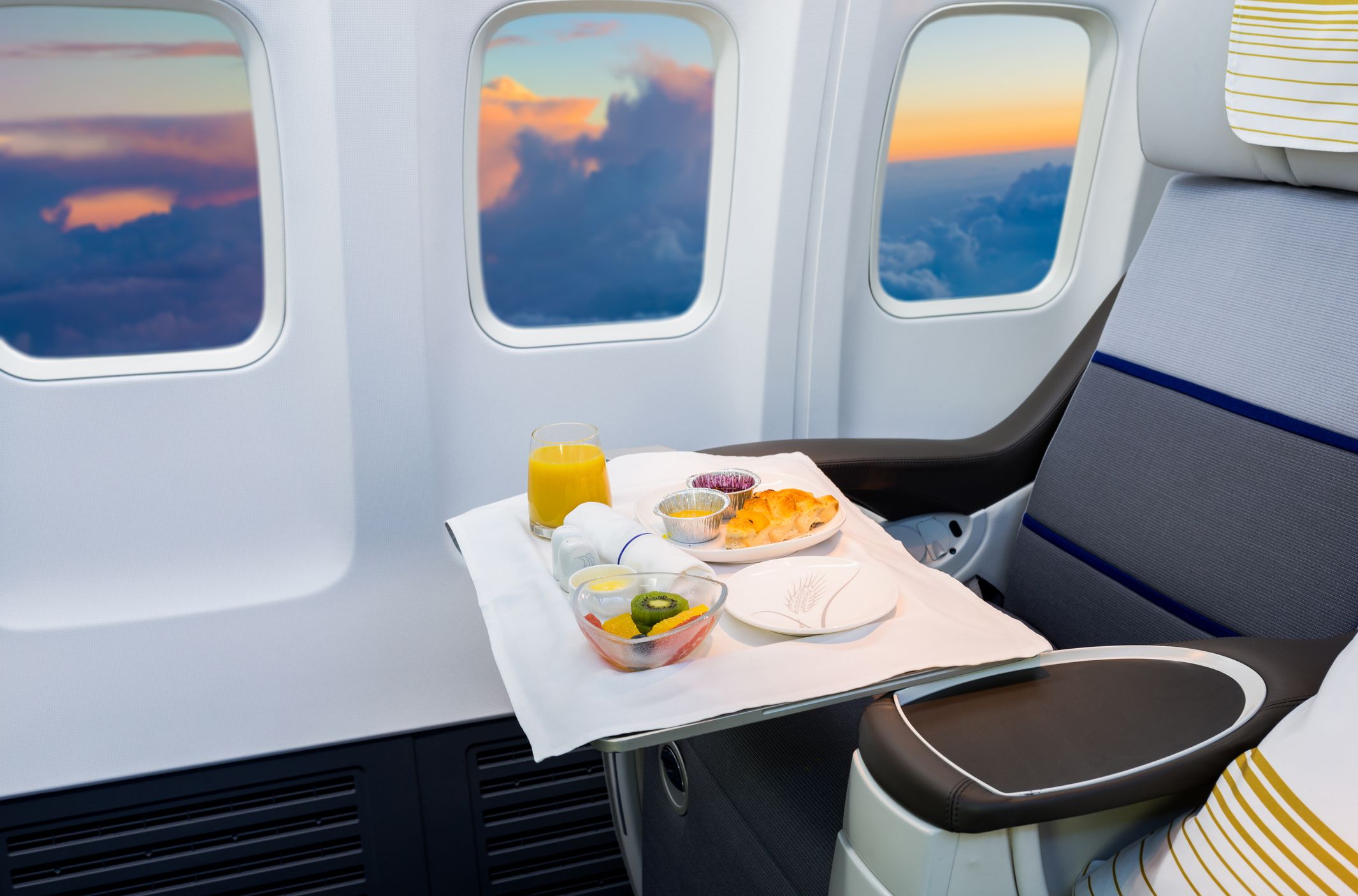 Most respectable business class cabins today offer flat-bed seats, but the ultimate travel experience is first class and all the luxuries that come with it. Car transfers from home to the airport (and sometimes even right up to the steps of the plane), incredible lounges, and onboard experiences offering caviar, showers, and the most personalized service are all some of the luxuries being offered to travelers today.
Even if you don't want to fork over thousands of dollars, everyone can experience true first class on the few remaining airlines that offer it by using their miles and points. While it's not as simple in some cases as redeeming for an economy or business class seat (otherwise it wouldn't be exclusive), with some guidance, it's still possible. Here are a few ways you can get up front on several of the best airlines that offer international first class for (almost) free.
Air France La Première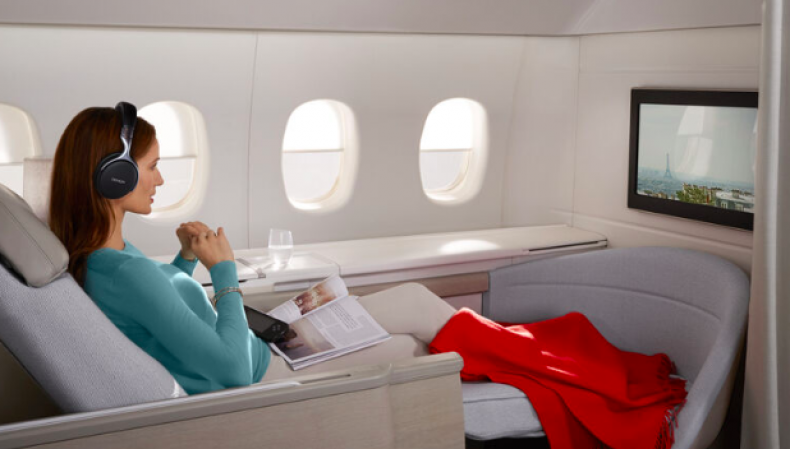 As a founding member of SkyTeam along with Delta, you would think you could redeem Delta SkyMiles for Air France first class—but there are caveats (ex. no award charts to guide you). Delta does not offer international first class redemptions on any carrier through its program.
Even members of Flying Blue (the mileage program of Air France-KLM) can't book first class unless they have elite status. Since Flying Blue is a transfer partner of American Express Membership Rewards, Capital One Venture Rewards, Chase Ultimate Rewards, and Citi ThankYou Rewards, it may be worth crediting a few flights to the program to earn entry-level Silver elite status.
Any SkyTeam or partner airline qualifies for earning Flying Blue miles. This eventually gives you access to first class awards. Given the number of discounts offered through the program's Promo Rewards promotion, it is a decent award program to consider for some travelers, especially if first class is in your future. You can top up your account by transferring miles or signing up for the Air France KLM World Elite Mastercard.
Search for your preferred dates in advance using the Flying Blue search tool to know how many miles you would need since prices for awards are dynamic and can fluctuate by the day—but it's worth it. Air France La Première is incredible with top-notch dining and private suites with chic curtains that close for privacy on many planes.
Emirates First Class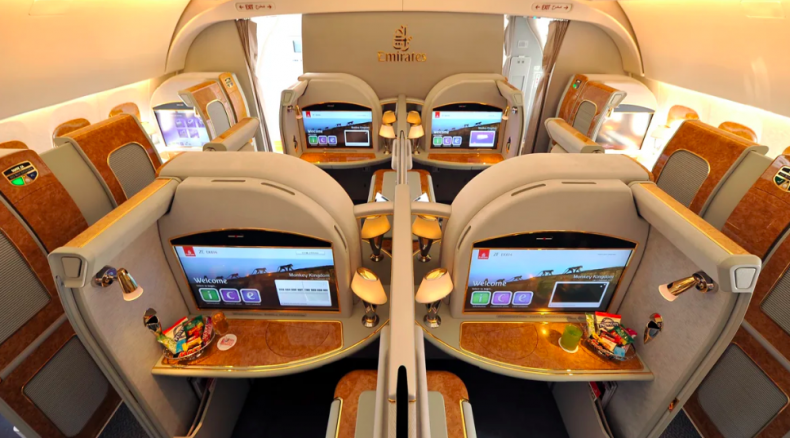 Emirates has numerous configurations for first class, but the most prized is the newest version, an enclosed suite with sliding doors and mood lighting aboard select 777 aircraft. More common though are spacious first class seats with ample stretching room and a complimentary minibar to enjoy as you travel the world.
Alaska Airlines Mileage Plan is a great option for redeeming miles with easily searchable awards on its website. Between the U.S. and the Middle East, a one-way first class ticket is 150,000 miles with only minimal taxes and fees. Alaska still gives fliers miles based upon distance flown, making it a great frequent flier program for travelers. Need more Alaska miles? Consider transferring them from Marriott Bonvoy (60,000 Marriott Bonvoy points becomes 25,000 miles) or signing up for the Alaska Airlines Visa Signature card.
You can also redeem first class awards directly from the Emirates Skywards program, which is a transfer partner of American Express Membership Rewards, Capital One Venture Rewards, and Citi ThankYou Rewards. It costs 136,250 miles for a one-way first class ticket from New York to Dubai, but there are some fuel and carrier-imposed surcharges depending upon the city pair (they can cost as much as $2,000 per ticket). Prices vary depending upon the route, but this handy online calculator can help you determine the cost.
Japan Airlines is another program through which you can redeem miles for first class, but there are some hefty surcharges imposed there too. The biggest surcharges are imposed on tickets originating in the U.S. Consider using Alaska miles on the outbound and Japan Airlines miles on the return if possible. The mileage cost varies depending upon the route, but a one-way flight between Japan and the U.S. would cost 165,000 miles plus taxes and surcharges roundtrip. If you are in need of Japan Airlines miles, consider transferring them from Marriott Bonvoy.
Etihad First Class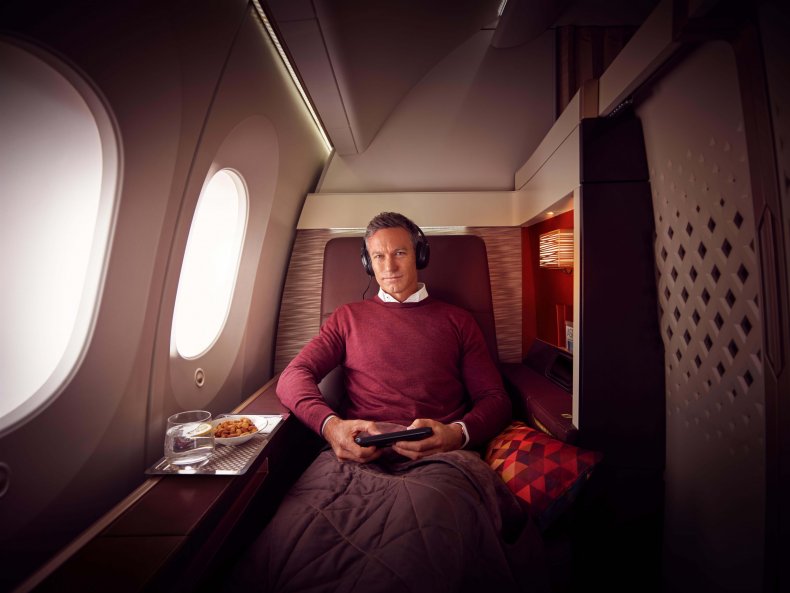 While its famous Residence (featuring a separate living room, bathroom with shower, and bedroom with full bed) reigns supreme, the Apartment is the most premium Etihad product within reach of those with miles. These are found aboard their small fleet of Airbus A380s often flying between New York JFK, London Heathrow, Paris, or Sydney and Abu Dhabi (among a few others) and consist of a small room with lounge chair, separate bed, makeup area, and sliding door for privacy.
These nine private rooms per aircraft are serviced by a dedicated staff and private chef. Windows have electronic blinds that close at the touch of the button as guests reach for their pajamas or a drink from the minibar. Be sure to reserve a time for your onboard shower (reservations for a slot before landing go quickly). Etihad also offers first class on some of its 777s, but it is not as lavish as the Apartment on the A380.
Etihad makes it easy to search for award space through its own website, although Expert Flyer is much easier to navigate. You'll need 115,500 American miles each way to travel between JFK and the Middle East or only 62,500 miles each way to go between Europe and the Middle East. American agents often have trouble booking these awards, but the American Australian call center (call via Skype, for example) has better luck in booking them.
You can also redeem with Etihad miles (transfer partner with American Express Membership Rewards, Citi ThankYou Rewards, and Capital One Venture Rewards). You should check for "Guest Seat" availability before transferring points, but a one-way ticket between JFK and Abu Dhabi can cost at least 136,222 miles, for example. A few hundred dollars in taxes are hard to avoid on these tickets though. You can also buy miles directly from Etihad, which is currently offering a 20% bonus on purchased miles through March 5.
Lufthansa First Class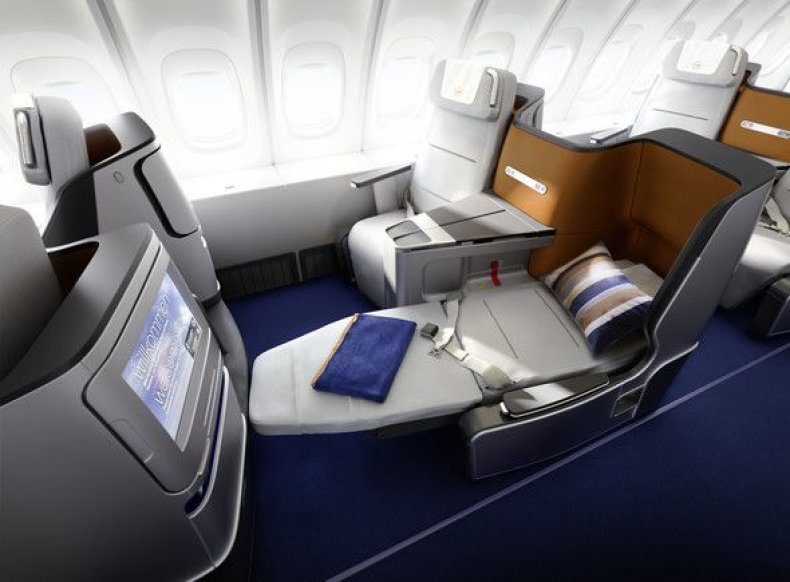 One of the industry's legendary first class products, Lufthansa operates many aircraft with this top cabin. Travelers enjoy perks like a private terminal in Frankfurt where even security and passport control is pleasant, luxury car transfers to the plane, and exceptional onboard service with pajamas and caviar.
First class can be booked with programs like United and Aeroplan although space typically only opens up for partners only within two weeks of departure. If you use Miles & More (Lufthansa and partners' own program), you can access more dates with potential award space by calling 800-581-6400. Mileage prices have soared over the years, but the experience is worth it for those with plenty of miles. While you cannot transfer miles into Miles & More from credit card partners, you can move them from Marriott Bonvoy with a bonus (60,000 Marriott Bonvoy points to 25,000 Lufthansa miles).
Lufthansa would charge 170,000 miles roundtrip between the U.S. and Europe in first plus a hefty surcharge in taxes. While United may not pass on as many taxes, it does charge more miles for the same flights (220,000 miles roundtrip). United's website is fantastic when searching for award space because it is user-friendly and very clear to understand. United miles can be transferred from Marriott Bonvoy with a bonus if you link your accounts through the RewardsPlus partnership; you can also transfer points from Chase Ultimate Rewards.
Aeroplan charges 70,000 miles each way for Lufthansa first class on similar routes, but these come with exceptionally high taxes and fees. If you go this route, you can rack up Aeroplan miles beyond flying by transferring points from Marriott Bonvoy or American Express Membership Rewards.
Singapore First Class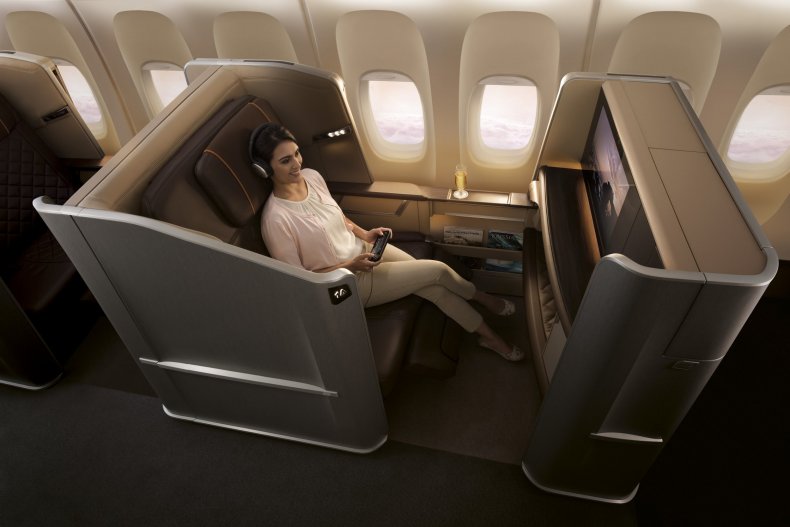 While Thai Royal First is especially easy to book using United miles on flights within Asia, or to Europe and Australia, Singapore operates the newest of first-class cabins. Its latest incarnation is known as Suites Class and features small rooms with sliding doors and both a lounge chair and bed on select Airbus A380s.
Singapore does not make redemptions in first or Suites class available to partner airlines (like United MileagePlus). That's why you should open a Singapore KrisFlyer account, and consider transferring points from credit card partners like Chase Ultimate Rewards, Citi ThankYou Rewards, and American Express Membership Rewards. Be sure to check availability first by using Expert Flyer or Singapore's website. Expert Flyer may show that waitlist space available, but unfortunately, you need sufficient miles in your account to be added. It can be risky if transferring points from credit card programs.
It costs 120,000 KrisFlyer miles to go between JFK and Singapore via Frankfurt in Suites class in each direction.
John E. DiScala runs the website JohnnyJet.com, and specializes in maximizing credit card points, travel deals and travel tips.