Watch the First Video of the New 'Flying Car' from Google Co-Founder Larry Page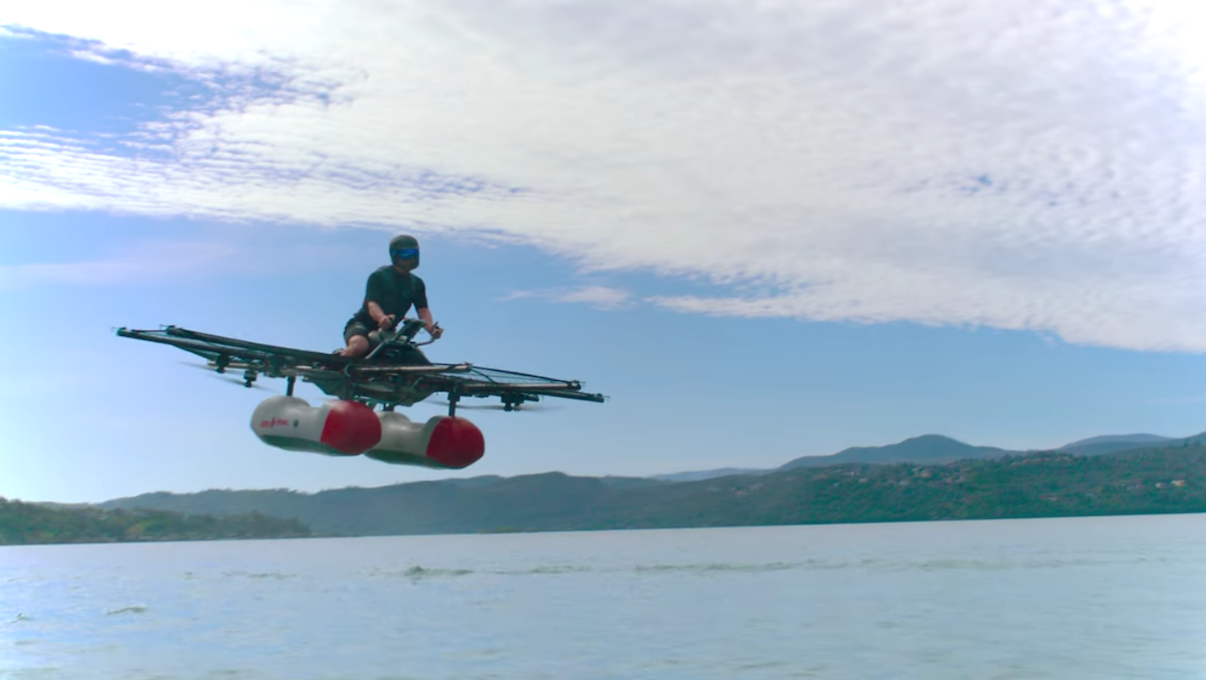 All due respect to teleportation and hover boards, the science fiction trope that has most consistently been used to represent life in the future is the flying car. That future appears to have arrived...kind of.
Related: World's first commercially available flying car to be unveiled
Kitty Hawk, the "flying car" company backed by Google co-founder Larry Page, on Monday released the first video of its prototype in action. Check it out:
It might not be the kind of flying car imagined by movies like The Fifth Element or shows like The Jetsons, but it's pretty damn cool. The Flyer is powered by electricity and is designed to operate over water. The FAA considers it an ultralight aircraft, which do not require a pilot's license to fly. In other words, the Kitty Hawk Flyer is an extremely large drone that can transport humans from one lake house to another.
The Flyer is expected to be available commercially by the end of the year. No price has been set but interested parties can sign up for a three-year membership that grants them priority, as well as a $2,000 discount off the retail price of the craft. This mean that the Kitty Hawk Flyer is likely to sell for many, many thousands of dollars.
Kitty Hawk is far from the only company racing to bring flying cars to market. Last week, Slovakian firm AeroMobil debuted a two-seat flying car at the Top Marques car show in Monaco. The car is expected to ship in 2020 and retail for somewhere between $1.2 and $1.6 million.
In March, Airbus unveiled a concept for a self-flying car which they hope to begin testing this year. Dubbed the Vahana, the automated flying vehicle is not confined to bodies of water like the Kitty Hawk Flyer. Though Airbus is aiming to fly a full-sized prototype by the end of 2017, a "productizable demonstrator" isn't likely to be developed until 2020.
In February, Uber hired a NASA engineer to direct Uber Elevate, an aviation division that was detailed in a 99-page paper released by the company's chief product officer, Jeff Holden. "Recently, technology advances have made it practical to build this new class of [vertical takeoff and landing] aircraft," he writes. "Over a dozen companies, with as many different design approaches, are passionately working to make VTOLs a reality."
The Kitty Hawk Flyer may stretch the definition of "flying car," but it's far more practical than some of the other concepts that have been released. While AeroMobil, Airbus, Uber and other companies vying for flying car supremacy are likely to run into a host of restrictions and regulations, the Flyer doesn't appear to be much more complicated than a Jet Ski. It doesn't crowd airspace, it doesn't require a special license and it isn't at all hard to imagine one gliding over a body of water near you in the future, which seems to be arriving sooner than we expected.