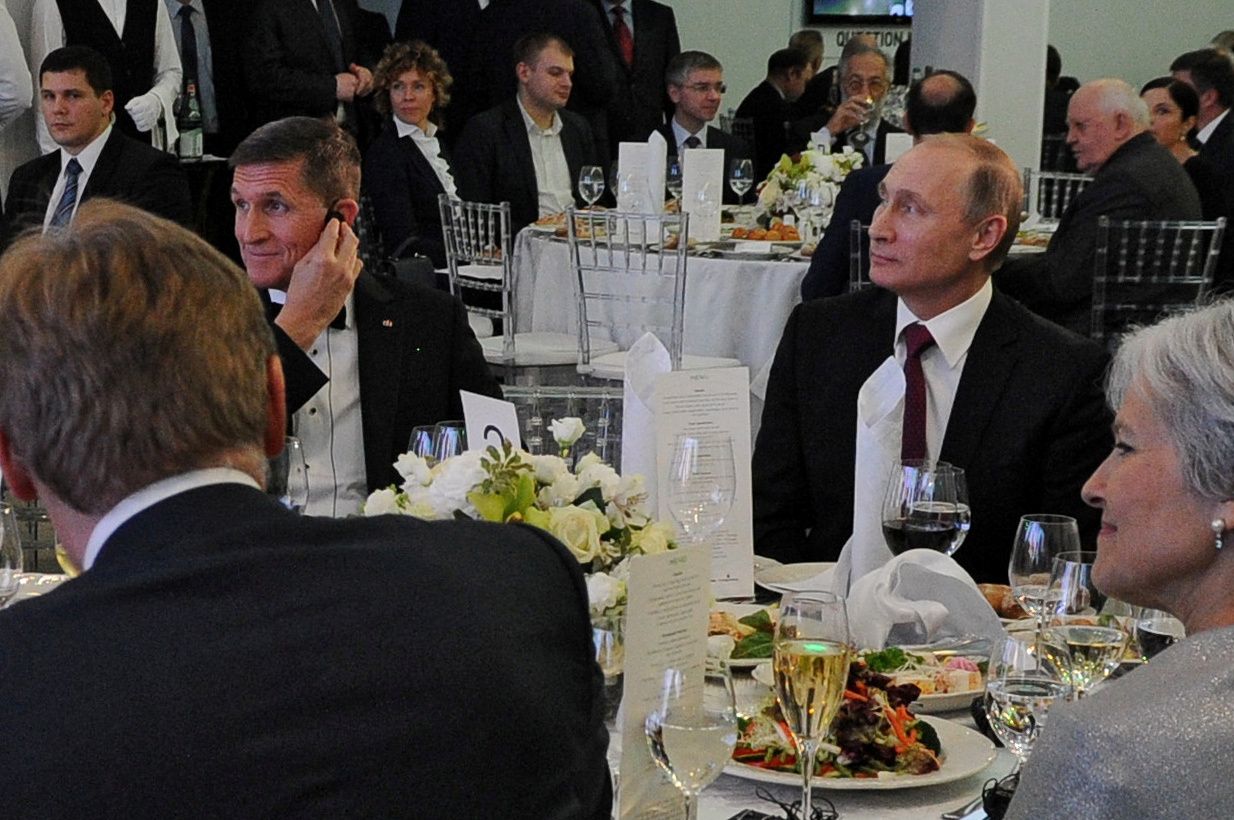 President Donald Trump's former national security adviser Michael Flynn has become a major lead for the U.S. investigation into alleged collusion between the Trump campaign team and Russia.
Flynn was dismissed from Trump's administration in record time earlier this year after misleading the vice president about his contact with the Russian Embassy—and he pleaded guilty to lying to the FBI about the issue Friday.
Flynn's meetings with Russian ambassador Sergey Kislyak was one of a series of events that called into question his positions on Russia—his decision to attend broadcaster RT's anniversary dinner in 2015, where he was pictured sitting next to Putin, also caused controversy.
Since Flynn's plea deal Friday, the photo has resurfaced, with a Russian attendee at the event saying it signifies nohing untoward. The view from Moscow is that the seating arrangement at the state outlet's party was coincidence.
Read more: Putin said that the collusion scandal has Russia persecuted like Jews
Margarita Simonyan, editor in chief of RT, said over the weekend, that Putin and Flynn didn't speak at the gala, Russian state news channel Rossiya 24 reported. ""I sat nearby. [Putin] did not speak to him about anything. We had a program and a loud video on," she said, referring to the presentation in the room. "What is more, Putin did not know who [Flynn] was at all."
Putin has previously made the same claim, saying he was not informed that he would be seated next to Flynn, the former Director of the Defense Intelligence Agency, before the event. Flynn was not there in an official capacity as he had been fired by then-President Barack Obama and chose to attend the event celebrating a broadcaster that the U.S. has since asked to register as a foreign agent.
"On the way to the table I told him, 'Next to you will sit Emir Kusturitsa and Michael Flynn, the former head of the military intelligence of the U.S.'," Simonyan said, recalling her talk with Putin that day.
According to her, an "amazed" Putin responded with: "Military intelligence? Seriously?"
"He shook hands with everyone as he always does, watched our program, gave his speech and left. That is the whole story," Simonyan concluded.
Not only has Flynn's invitation and decision to attend the event been called into question by experts, but former diplomats in Russia have dismissed the idea that a former U.S. security chief would be sat next to Putin at a state function and the president would not be briefed.
"Putin appeared to be at a roundtable of only 10 with Flynn," the ex-British Ambassador to Russia, Sir Roderic Lyne told Newsweek in June. "Kremlin officials will have vetted the seating plan with great care. Putting Flynn in the place of honor to the president's right can in no way have been chance or accident, but must have been intended to flatter him."