Putin's Claims on Meetings with Trump Officials, Analyzed by Experts: "Hardly Believable"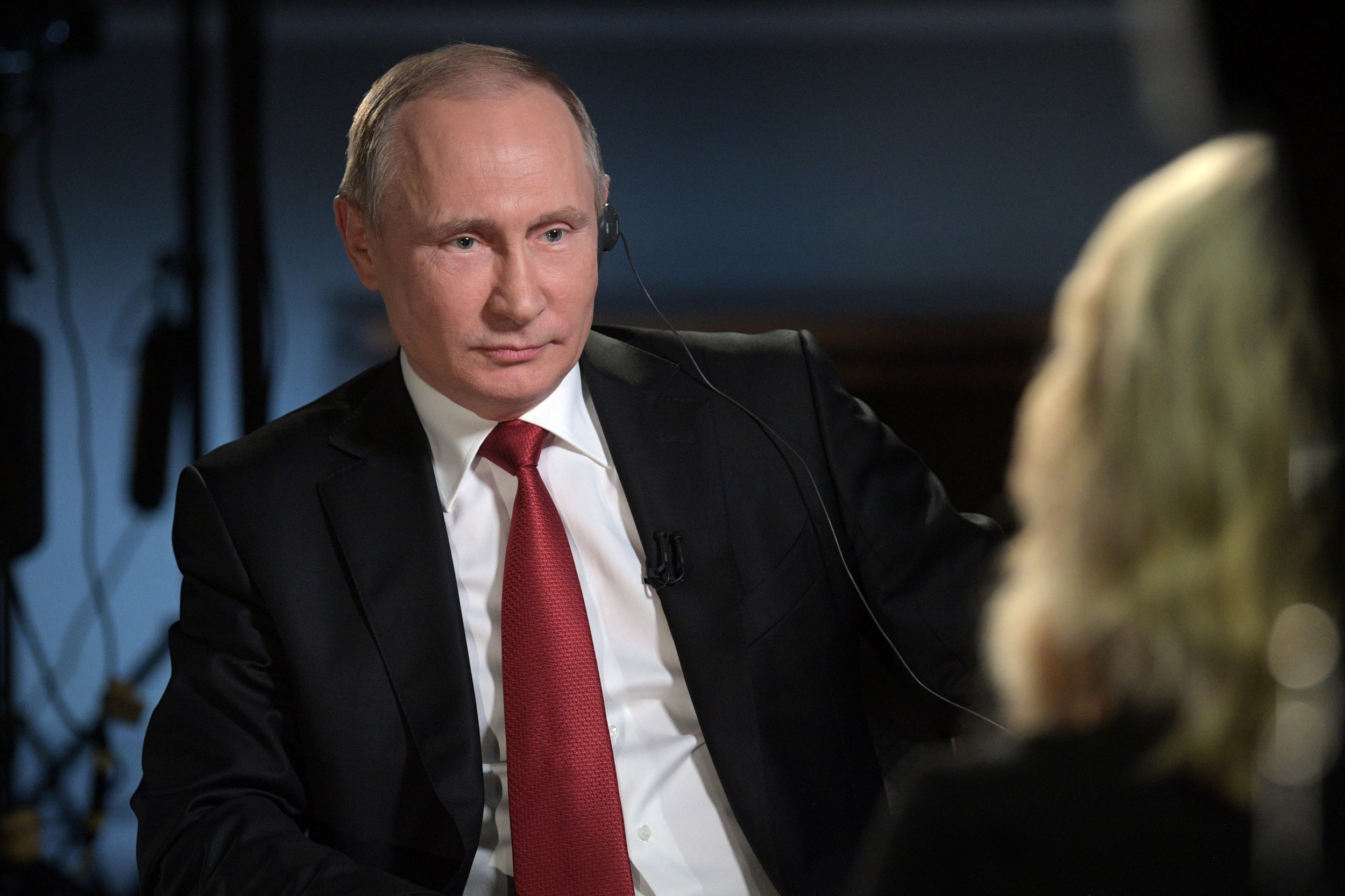 In a couple of televised combative encounters with NBC's Megyn Kelly, Russian President Vladimir Putin made his most holistic response to the Western public yet over the ongoing Russia-related controversies surrounding the current U.S. administration. After answering Kelly's questions at Friday's forum in St. Petersburg, Putin sat down for an interview broadcast Sunday.
Russia has become a hot topic since the election of U.S. President Donald Trump last year, after a campaign during which he repeatedly aspired to "get along" with Russia and dodged questions about the conflict in Ukraine and sanctions on Russia as a result of it, sometimes raising questions about his understanding of the situation. His opposition has complained they were targeted by Russian hackers during their campaign—a claim now supported by 17 U.S. intelligence agencies. Former National Security Adviser Mike Flynn already lost his job over not disclosing the extent of contact he'd had with Russia before Trump's inauguration. Attorney General Jeff Sessions recused himself from the investigation for similar reasons.
Read more: Putin-ally claims the West is trying to influence Russian elections through sanctions
The Russian government, however, has persistently denied any attempt to influence the U.S. election process, and Putin stuck to that line during his interview with NBC. While some of his claims were beyond verification, according to experts, some were highly implausible, while others were contradictory.
"There were no meetings. Do you understand, there were no meetings? When I saw this, my jaw dropped," Putin told Kelly when asked about Russian Ambassador Sergey Kislyak meeting Trump campaign officials last year. Trump's son-in-law Jared Kushner has been named by numerous officials as a participant in such a meeting, while Sessions already confirmed that he met with Kislyak, hence the need for him to recuse himself from the investigation.
Putin's denial, says Ambassador Steve Pifer, former U.S. envoy to Ukraine who was previously stationed in Moscow, flies in the face of diplomatic practice and of Putin's previous statements on the subject.
"He seemed to deny that Kislyak has had any meetings, which is false," Pifer says. "That's not beyond the bounds of the ambassador's role. He needs to understand where presidential candidates stand on issues relating to the country he represents."
"There's a question about what would have come up in those meetings, which is a separate issue," explains Pifer. "When I was ambassador to Ukraine between 1998 and 2000, I was meeting with candidates that were running against the president. The ambassador's goal is to talk to people. The weird thing was that in the interview, Putin denied Kislyak had these meetings; then he walked back on that claim."
"I have no idea. I don't know the routine job of an ambassador," Putin told Kelly after she questioned his previous claim that Kislyak had not met with any Trump campaign officials. "Do you think from all over the world or from the United States, the ambassador reports to me every day on who he meets with or what they discuss there? That's complete nonsense," Putin exclaimed. "Do you understand what you are asking or not?"
Sir Roderic Lyne, a former U.K. ambassador to Russia, says Putin's comments are partly true but evade the heart of the matter. "He will certainly not have been reading all reports from all Russian ambassadors," Kislyak included. As Putin noted, an ambassador's reports go to Foreign Minister Sergei Lavrov; Lyne says that Lavrov and Putin's diplomatic adviser Yuri Ushakov then determine if any of them should reach the president's desk.
But Putin does not need to have read every diplomat report, every one of Kislyak's reports or even a single one of them to know if he met Trump officials. "We don't know what was in those reports, but given the importance of the U.S. to Russia, it seems improbable, at the very least, that Putin was unaware of the encounters," Lyne says. Even if so, this issue, which has been at the forefront of U.S. news for months, could be clarified for Putin by a simple call to the foreign ministry. Putin told Kelly that he saw no need to do so, as he had trust in his team to choose when to inform him.
Equally unlikely is the idea that Lavrov or Ushakov failed to spot important information from the U.S. and ensured that Putin saw it as well. Lavrov, who is now Russia's longest serving post-Soviet foreign minister, and Ushakov—whose services the Kremlin has retained despite him already passing 70, the maximum government official age for retirement—are both clearly trusted and deemed highly capable by the Kremlin. Last month Putin laughed off the idea that Lavrov failed to communicate important intelligence from his own meeting with Trump.
"Afterward I was told, 'You know there was an American gentleman. He used to be in the security services' ... that's it. I didn't even really talk to him... That's the extent of my acquaintance with Mr. Flynn," Putin said of the now famous photo of him dining next to Trump's former national security adviser.
The Russian president did not shed much light on his interaction with Flynn at a meal hosted by Russia's state-media apparatus. All Putin said was that after making his speech and returning to his seat next to Flynn and eight others, three of which were his closest members of staff, the pair "talked about some other stuff," and Putin left. At that point someone notified Putin that Flynn "was involved in some things," perhaps meaning he was once director of the U.S. Defense Intelligence Agency or had endorsed Trump.
"Putin appeared to be at a roundtable of only 10 with Flynn," Lyne says. "Kremlin officials will have vetted the seating plan with great care. Putting Flynn in the place of honor to the President's right can in no way have been chance or accident, but must have been intended to flatter him."
According to Lyne, Putin would certainly have been briefed about everyone sitting at his table, which probably included the main elements of Flynn's CV.
Former U.S. Ambassador to Ukraine John Herbst says it is "hardly believable" Putin would be seated next to a former U.S. military general at a state function without having been briefed about him. Flynn's closeness to a then prospective U.S. leader would have only raised his profile in the Kremlin.
"It is not impossible [that] Putin didn't pay much attention to the briefing [his staff gave him], but Flynn's background would have been interesting to him. It is highly unlikely Putin did not know about him. The DIA is one of our major intelligence agencies. Putin, as a former intelligence guy, would have been interested, and as the president of Russia, he would have been interested in Flynn."
What is more, as the Russian president demonstrated in his interactions with Kelly—referring to her family situation and her children in his answers—he is known for for doing his research before public appearances. "[Putin] prepares carefully for meetings," Lyne says.