Following Biden's Announced Victory, Dow Jones Has Highest Closing Day Since February
The Dow Jones Industrial Average had its highest closing day since February on Monday. The news followed announcements of progress on a COVID-19 vaccine and a weekend announcement of Democrat Joe Biden winning the 2020 presidential election.
The Dow Jones ended the day with a gain of approximately 835 points, having increased more than 1,700 points earlier during Monday's trading session. The S&P 500 also rose approximately 41 points or 1.2 percent, its second-highest close in history, according to The Wall Street Journal.
Today was the Dow's best performance since June. However, the index fell short of its February all-time closing high.
JPMorgan expects the S&P to continue to climb, projecting it will move past its previous target of 3,600 points by the end of the year, according to a report by CNN. JPMorgan projects the index could climb to 4,000 points by early 2021 and to 4,500 points by the end of next year.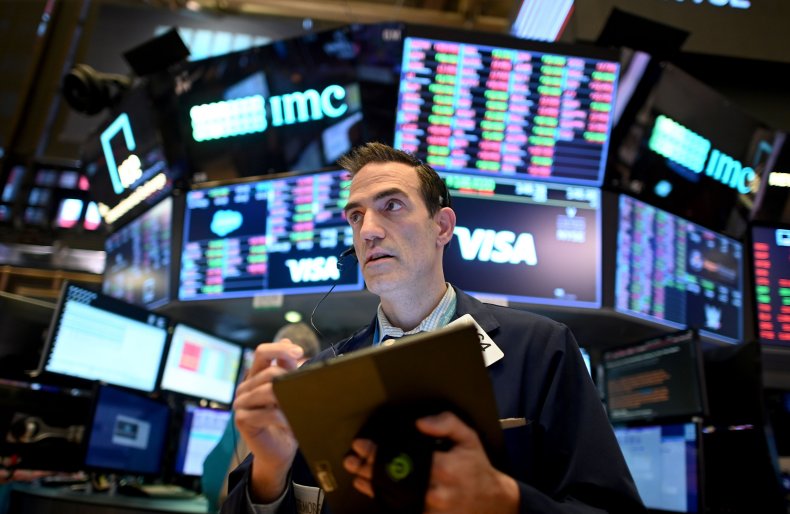 The market's Monday performance followed Democrat Joe Biden's announced victory over President Donald Trump in the 2020 election over the weekend.
Although vote totals are not yet official and Trump has not conceded, the Associated Press and other major TV networks called the election for Biden on Saturday as he narrowly won Pennsylvania. With the state's 20 electoral votes, Biden surpassed the 270 needed to secure the White House.
The Saturday announcement ended the long waited anticipation and with no "blue wave" of Democrats controlling both chambers of Congress, investors have begun redistributing their portfolios, according to NBC News.
With a more balanced legislative power, traders believe that restrictive measures including tightening regulations and raising taxes would be unlikely to pass, according to NBC News.
The market's positive performance also came after Pfizer and German partner BioNTech released a study on Monday that stated their vaccine, BNT162b2, prevented more than 90 percent of COVID-19 infections. Pfizer is the first pharmaceutical company to release data from a substantial Phase 3 trial.
With the trial's data released, Pfizer's stock closed at nearly 8 percent as it brought Wall Street a hope of returning to normal before the coronavirus pandemic caused historic economic turmoil around the world.
"The strong results from the Pfizer vaccine were better than most expected and means we could be opening back up sooner than expected," Ryan Detrick, chief market strategist for LPL Financial, told CNN on Monday.
The vaccine news caused positive ripples in the pharmaceutical stock, including Dow components Merck and Johnson & Johnson. The news also helped industries highly impacted by the pandemic with hospitality, cruise lines, and airline stocks on the rise.
However, stocks that benefited from the new stay-at-home culture, such as Zoom, Amazon and Netflix fell, as shown in the graphic below by Statista.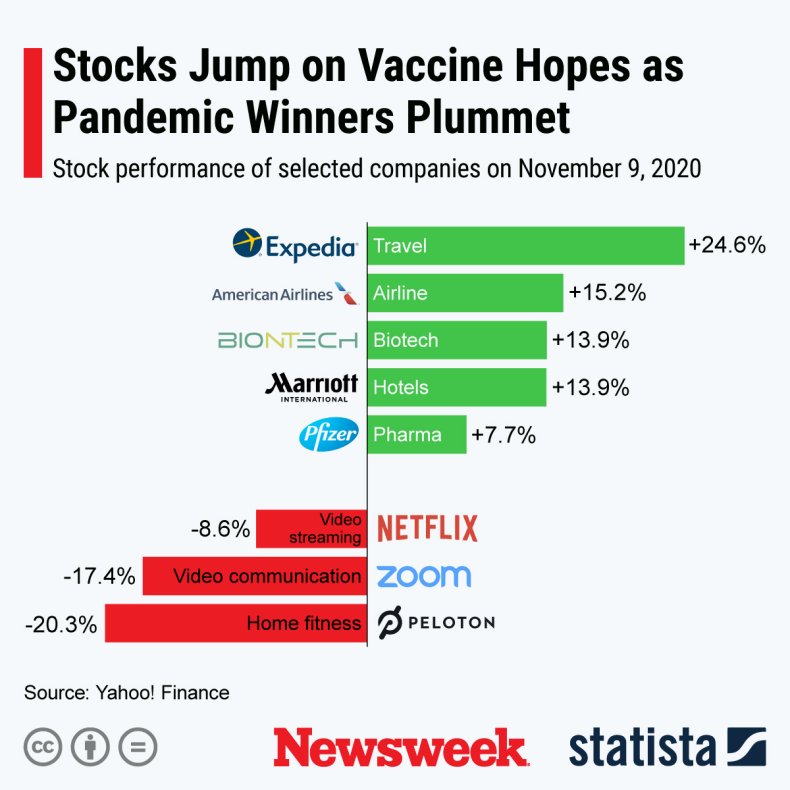 This article was updated to include an infographic.