Following State Of The Union, Dems Push Biden To Launch Reelection Bid
Democrats are eager for President Joe Biden to launch his reelection campaign, coming off a strong State of the Union speech that contrasted his achievements with a divided Republican Party that hasn't coalesced around a winning message — or candidate — for the 2024 election.
Biden hit the road this week to tout his record after addressing Congress, offering a preview of the reelection campaign that he is reportedly considering launching in the very near future.
But Democratic strategists and party insiders argue the president should jump into the race immediately, in order to seize an early advantage over a Republican Party that hasn't settled on its 2024 strategy to win back the White House.
"He should move as quickly as possible," said Tad Devine, a longtime Democratic strategist.
Devine said that with strong jobs numbers, inflation on the decline and the COVID-19 pandemic largely under control, the timing is right.
"I think Biden's going to be very tough to beat," he said, "assuming he stays in the form and condition he was in for the State of the Union. The guy looks pretty good for someone who's 80 years old."
An aggressive early start to his reelection campaign would allay voter concerns about Biden's age, and could help shut down lingering talk about a primary challenge, Devine said.
Leaning into his reelection bid now would also allow Biden to connect directly with voters and distance himself from the challenges he faces in Washington, where House Republicans have launched oversight investigations into his family and administration policies.
The tension was palpable Tuesday, when Biden was heckled repeatedly by Republicans during his annual address to Congress. The angry outbursts from House Republicans served as a reminder that a majority of Americans are unhappy with Biden's performance as president.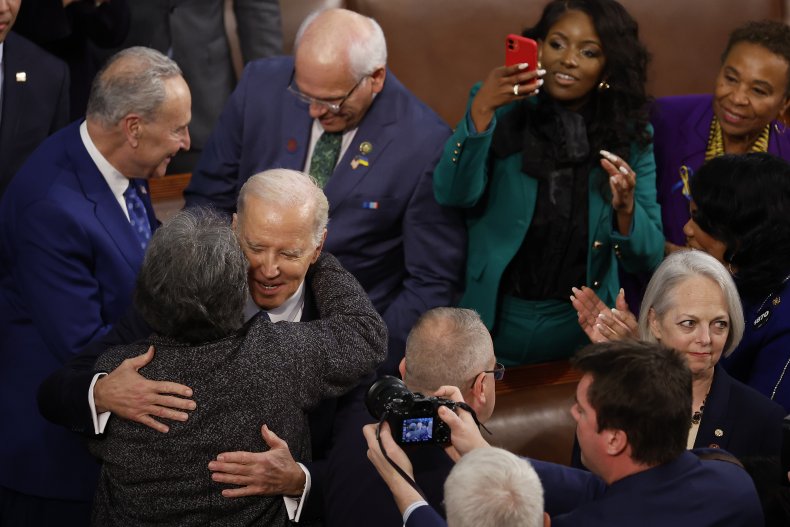 An NBC News poll from late January found that 71 percent of Americans believe the country is headed in the wrong direction. Just 45 percent of adults said they approve of the job Biden's doing, a number in line with his average approval ratings since taking office, compared to 50 percent who said they disapproved.
In another worrisome sign for Biden, voters were more optimistic at the same point in former President Barack Obama's first term in office, the last time a Democrat in the White House was preparing for a reelection campaign. In January of 2011, 53 percent of Americans said they approved of Obama's job as president, according to NBC polling data shared with Newsweek.
"President Biden faces much tougher terrain than did Barack Obama heading towards reelection," said Bill McInturff, a leading Republican pollster whose firm helped conduct the survey. "The mood of the country is worse, and Biden has none of Obama's advantages in terms of personal favorability or job approval."
Danielle Vinson, a political science professor at Furman University in South Carolina, cautioned that Biden's approval ratings aren't necessarily predictive of the level of support he'll get from Democrats in a general election.
"Approval ratings now are really just about partisanship," Vinson said. "The president's own party always thinks he's doing fine, and it's always the vast majority of the other party who think he's doing terribly."
The State of the Union speech in the year before a presidential election has long served as the unofficial kickoff of the campaign season.
Now that the moment has passed, some Republicans said they're just as eager as Democrats to focus on 2024 — even if it means launching a difficult internal debate about whether the party should select someone new as its next standard-bearer or stick with former President Donald Trump.
"A lot of people are anxious for it to get started," said Terry Holt, who served as the national spokesman for Bush's 2004 reelection campaign. "There's been anxiety about why nobody has stepped in yet and why they're waiting in the wings. It's a conversation we're all ready to have."
Trump, who launched his campaign last year, is the only major declared candidate in the GOP field. He'll likely be joined soon by former South Carolina governor and U.S. ambassador to the United Nations Nikki Haley, who is expected to launch her campaign next week.
But a long list of other big-name Republicans with presidential ambitions — including Florida Gov. Ron DeSantis, former Vice President Mike Pence and Texas Senator Ted Cruz — have so far stayed on the sidelines.
The wait-and-see approach is a marked contrast to similar moments in recent election cycles. A wave of Republicans launched campaigns for the White House in early 2015, and the crowded primary field eventually swelled to nearly 20 candidates.
Several high-profile Democrats declared their presidential candidacies in the first few months of 2019. Biden was one of the last candidates to enter the Democratic primary race that cycle. He could afford to wait then. Biden had higher name recognition than anyone else in the field, and a vast fundraising and political network ready to spring into action whenever he declared his plan to run.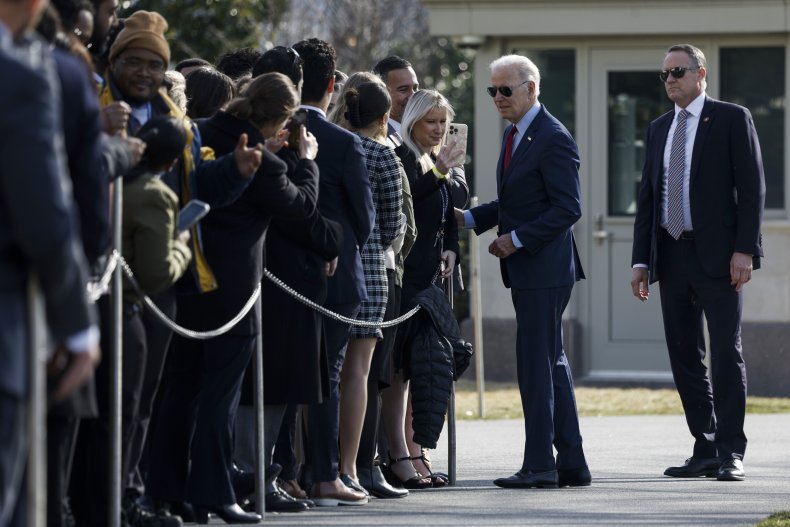 This time there's no reason for Biden to prolong the guessing game, assuming that he's made a final decision to seek reelection, Democrats said. The earlier he announces, the sooner he can start fundraising for his reelection, and setting up campaign operations in battleground states.
A late-winter campaign launch the year before voting begins is roughly in line with the timeline used by most recent presidents. Former President Barack Obama announced his plans to run for reelection in April of 2011.
Former President George W. Bush waited a bit longer, launching his reelection campaign in May of 2003. After he formally declared his candidacy, Bush kept his campaign events to a minimum to bolster his image as a wartime president who had larger issues to contend with than domestic politics.
"President Bush was fairly economical with his campaign trips," said Holt, the former Bush campaign adviser. "We campaigned very hard but there was always a very clear line between the campaign and the White House. Doing his job was always his first priority."
Trump took a different approach from his predecessors. He didn't formally launch his reelection campaign until June 2019. But in a break from tradition, he filed the official paperwork to seek a second term in office on his first day as president. Trump then held countless campaign-style events in his first years in office, effectively running for reelection from the moment he entered the White House.
His decision to announce his comeback shortly after the 2022 midterms also came earlier than expected. The move was viewed in Republican circles as an attempt to consolidate support and establish the former president as the 2024 frontrunner after a disappointing election cycle that underscored Trump's waning influence over the GOP.
With Trump struggling to stay relevant and the rest of the Republican field a big question mark, Biden has a prime opportunity to start making his case to voters, said Devine, who worked as a senior adviser on John Kerry's losing 2004 campaign against Bush.
"He's in a relatively good situation" to launch his reelection, Devine said, arguing that Biden's State of the Union speech "went a long way to answer the question about whether he's up to the job."