Footage Shows 'Absence of Foul Play' in Malcolm Harsch Death, Police Say
The San Bernardino Sheriff's Department (SBSD) says surveillance video has "confirmed the absence of foul play" in the death of Malcolm Harsch, a 38-year-old African American man, discovered hanging from a tree near the Victorville city library and a homeless encampment in California on May 31.
Harsch's family has since said in a statement released Friday that they are convinced that he took his own life.
"The family wants to sincerely thank everyone for their support and prayers," wrote local activist and Harsch family spokesperson Najee Ali in the family's statement.
SBSD detectives obtained surveillance video from a vacant building near the location where Harsch's body was found. Detectives met with Harsch's local family members to show them the video and other evidence from the inquiry into his death, per the family's request.
"Although there remains no sign of foul play, the forensic pathologist is waiting for toxicology results before assigning the cause and manner of death," the SBSD said in a statement released Friday.
The SBSD also says the investigation into Harsch's death remains ongoing.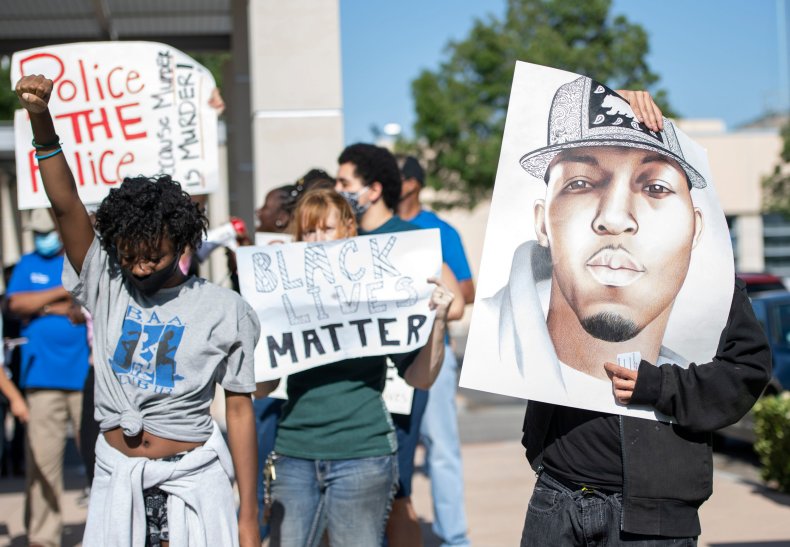 On June 14, San Bernardino Sheriff's Department spokesperson Jodi Miller said, "There were no indications at the scene that suggested foul play."
However, at the time Harsch's family said, "He didn't seem to be depressed to anyone who truly knew him. Everyone who knew our brother was shocked to hear that he allegedly hung himself and don't believe it to be true as well as the people who were there when his body was discovered."
"The explanation of suicide does not seem plausible," they added. "We want justice, not comfortable excuses."
Since stating their belief that Harsch died of suicide, his family has announced their desire to fly his body to his home state of Ohio.
Four Black people have been found hanging in public over the last month. Police in all cases suspect suicides. Amid ongoing anti-racism protests across the nation, the deaths have raised suspicions about the circumstances and evocations of the public lynchings and hangings historically used to strike fear in the Black community.
On Tuesday, May 16, a Black teenager was found hanging in the parking lot of Ehrhardt Elementary School in a town north of Houston, Texas. The sheriff's office said via Twitter, "Based on security video, witnesses and other evidence, preliminary indications are the male hanged himself."
A 27-year-old man named Dominique Alexander found hanging from a tree on Cloister Path in Fort Tryon Park in Upper Manhattan on June 9 was ruled a suicide by police by June 16.
Similarly, a 24-year-old man named Robert Fuller was found dead in a park near Palmdale City Hall in the early hours on June 10. The Los Angeles County Sheriff's Department has said it appears Fuller had committed suicide.
If you have thoughts of suicide, confidential help is available for free at the National Suicide Prevention Lifeline. Call 1-800-273-8255. The line is available 24 hours every day.