Four Black Men Found Hanged in Last Month—Police Say They Are Suicide
At least four black man have been found hanged across the U.S. since May 31—prompting an outcry after authorities said the deaths were all apparent suicides.
The death of a teenager in a town north of Houston, Texas, is the latest report of a black person to die by hanging amid ongoing anti-racism protests across the nation, raising suspicions about the circumstances.
The U.S. has been roiled by weeks of protests triggered by the death of George Floyd, a black man, in Minneapolis police custody last month.
On Tuesday, the body of black teenager, who is yet to be identified, was found hanging in the parking lot of Ehrhardt Elementary School in Spring, according to the Harris County Sheriff's Office.
"Based on security video, witnesses and other evidence, preliminary indications are the male hanged himself," the sheriff's office said on Twitter. "There are currently no signs of foul play." Harris County Sheriff Ed Gonzalez told Newsweek that he had no additional information to share on the case.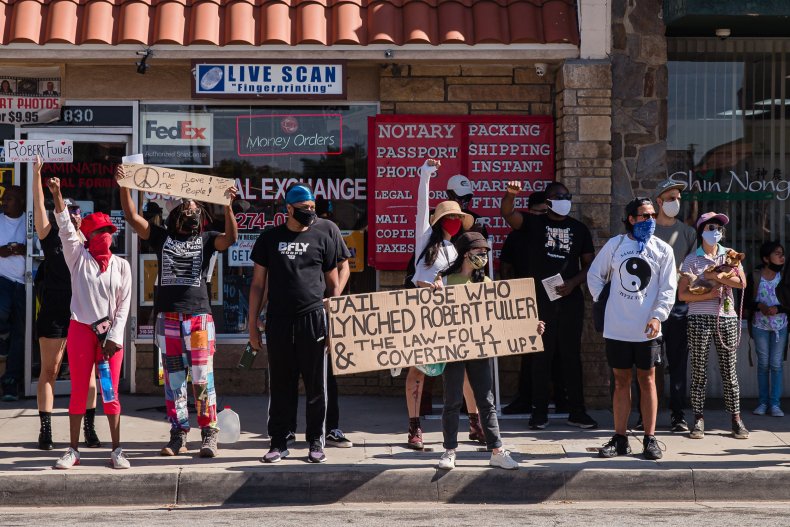 It came as the death of 27-year-old Dominique Alexander was ruled a suicide on Tuesday. Police said a passerby found Alexander hanging from a tree on Cloister Path in Fort Tryon Park in Upper Manhattan on June 9, PIX11 reported.
His death was ruled a suicide by hanging, Aja Worthy-Davis, a spokeswoman for the Office of the Medical Examiner, confirmed to Newsweek. But a march calling for a thorough investigation into his death has been planned for this weekend in Fort Tyron Park, according to local media.
A spokeswoman for the New York Police Department told Newsweek that despite the coroner's office ruling, the investigation into Alexander's death is ongoing.
And it's drawn comparisons to the similar hanging deaths of two other black men in California.
Robert Fuller, 24, was found dead in a park near Palmdale City Hall in the early hours on June 10. In a news release last week, the Los Angeles County Sheriff's Department said that it had appeared Fuller had committed suicide.
The Los Angeles County Medical Examiner-Coroner's office initially ruled Fuller's death a suicide after conducting two autopsies, according to local media. The coroner's officer has now said a cause of death will be deferred pending additional investigation.
The initial ruling sparked an outcry, with Fuller's family saying he was not suicidal and calling for an independent autopsy and investigation.
Protesters also took to the streets in Palmdale, denouncing the rush to judgement by authorities.
In a news conference on Monday, Los Angeles County Sheriff Alex Villanueva said Fuller's death would be investigated as a homicide. He also said the investigation will be monitored by the California attorney general's office and the FBI's Civil Rights Division.
Jonathan Lucas, the chief medical examiner for Los Angeles County added that although there was no evidence at the scene to suggest foul play, authorities "felt it prudent to roll that back and continue to look deeper, which is why currently the case is still deferred and under investigation."
In a statement to ABC News, Jamon R. Hicks, an attorney representing he Fuller family, said the family and community were "enraged" that the sheriff's department had "immediately" ruled the death a suicide.
"For African-Americans in America, hanging from a tree is a lynching," Hicks said. "Why was this cavalierly dismissed as a suicide and not investigated as a murder? We want complete transparency."
Fuller's death drew attention to the death of 38-year-old Malcolm Harsch, who had been found hanging from a tree 50 miles away in Victorville 10 days earlier.
Harsch's girlfriend called 911 after she was alerted by others that Harsch had been "found hanging from a tree and cut down" near a homeless encampment on May 31, the San Bernardino County Sheriff-Coroner's Department said in a news release.
"Sheriff's Department personnel at the scene, including the coroner investigator, did not recover any evidence to suggest foul play," the department added.
Authorities said an autopsy has been conducted, but said the forensic pathologist is waiting for toxicology results before assigning the cause and manner of death.
Harsch's family are concerned Harsch's death will be ruled a suicide and have demanded answers in the case.
"The explanation of suicide does not seem plausible," they said in a statement. "We want justice, not comfortable excuses."
Harsch's sister Harmonie Harsch told The New York Times that she is conducting her own investigation into his death.
The San Bernardino County Sheriff-Coroner's Department has been contacted for comment.
On Monday, the FBI said federal authorities would review local investigations into the deaths of both Fuller and Harsch.
"The FBI, U.S. Attorney's office for the Central District of California and the Department of Justice Civil Rights Division are actively reviewing the investigations into the hanging deaths of two African American men in the cities of Palmdale and Victorville to determine whether there are violations of federal law," the bureau said.